Behind a tone-setting performance from sophomore point guard Caleb Love, North Carolina basketball started the Hubert Davis era with a bang. The Tar Heels defeated Loyola (MD), 83-67.
Love led the way with 22 points, 10 free throw attempts and two steals. Three other Tar Heels scored in double figures: Brady Manek (20 points), Dawson Garcia (12 points) and Kerwin Walton (11 points).
Before UNC gets ready to play Brown this Friday (Nov. 12), let's run through four quick takeaways from the season-opener.
3PA Volume
Welcome to Small Sample Size Theatre! It's November. The season just started. There's plenty of room for both optimism and all different kinds of fun overreactions. So get ready.
With that in mind, though, it's interesting to take a look at North Carolina's boxscore and see 21 3-points attempts — with eight makes. The volume is what's intriguing, though. In total, UNC attempted 55 fields. This translates to a 3-point attempt rate of 38.2 percent.
As Davis took over and Roy Williams left, much was made regarding North Carolina's need to shoot more 3-pointers. In each of the last two seasons, UNC finished outside the top 330 nationally in 3-point attempt rate: 2019-20 (28.9 percent) and 2020-21 (27.9 percent).
North Carolina tonight with a 3PA rate of 38.2% vs. Loyola (MD) tonight: 55 FGA, 21 3PA

Loyola played plenty zone, it's just one game and this is an arbitrary number to pull — but over the last 2 seasons, UNC had only 6 total games with a 3PA rate above 38%

— Brian Geisinger (@bgeis_bird) November 10, 2021
Now, there's way more to modern basketball than shooting lots of 3-pointers. It's also important to remember that 3-point attempts aren't created in a vacuum; certain actions must take place to generate catch-and-shoot looks from deep in the half court. Slash, kick, shoot.
North Carolina opened the game tonight with back-to-back Chin pick-and-roll possessions. This is the back screen for Love from Armando Bacot, who then lifts to set a ball screen for Leaky Black. Both looks resulted in Manek 3-point attempts, including a deep-ball connection on the opening possession.
Here's the very next possession from North Carolina. This time, however, Black rejects the screen and kicks out to Manek.
Of course, in each of the two previous seasons, UNC didn't have a player like Manek — a legit stretch-4/5. In fact, UNC frequently played lineups with multiple non-shooters on the floor. With Walton back, along with the arrivals of Manek and Garcia, that will change, though. UNC will put more shooting and playmaking on the floor.
(Davis should also be pleased to see a free throw attempt rate of 50.9 percent. The Tar Heels pounded the paint, as usual, and went to the line for 28 free throw attempts.)
Double PG Lineup
It's clear that Davis has the ability to mix-and-match lineups with UNC this season. North Carolina can be multiple in how it shifts around combinations. There are plenty of options for starting lineups, as well as those that play leverage minutes and close games.
However, Davis is partial to the double-point guard lineup: Love and RJ Davis. Those two started to together in the exhibition game vs. Elizabeth City State. This, of course, is nothing new. UNC used double-PG lineups with Joel Berry and Marcus Paige a few seasons ago. Plus, Love and Davis played together for 314 minutes last season, according to Pivot Analysis.
In those minutes, UNC outscored its opponents by a combined 15 minutes — with a net rating of 2.8 points per 100 possessions. This comes from a small sample, and lineup data can be noisy; however, that duo must outplay those figures this season.
With a year of ACC hoops under their belts, there are reasons to be bullish when it comes to this duo. Both guys can play with and without the basketball — to a certain extent. Regardless, it's a boon for North Carolina's half-court offense: multiple playmakers and multiple methods for cracking an opposing defense.
Davis also studied famed point-of-attack defenders, like Jose Alvarado and Patrick Beverly. If Davis finds his groove as a pesky on-ball defender, then it allows Love to roam more as an opportunistic off-ball defender.
Love has a tendency to space out and ball watch in these situations. However, when he's geared in, Love can be a dangerous ballhawk, too.
Plus, Davis is steady as a lead navigator in North Carolina's secondary break, which will allow Love to get out and run. Those secondary/transition possessions should turn into advantage opportunities for Love.
Assuming that fixture continues to hum, it'll be interesting to see how Davis manages minutes on the wing. Black started vs. Loyola, but Walton is a superior player and one of the top shooters in the country. He'll get his minutes and start plenty of games when things pick up.
Love to (the) Paint
During Love's freshman season, he was plagued on offense with two overarching concerns: a pull-up 3-point shot that fell off a cliff and an inability to separate from his man when he had the basketball. (According to Synergy Sports, Love posted an effective shooting rate of 36.2 percent on off-dribble jumpers.)
The challenges he faced with creating separation 1-on-1 led to a lot of his struggles finishing inside the arc.
Caleb Love finishes his freshman season with 305 points on 329 FGA — 32 FG%, 35 2P%, 27 3P%, 37 eFG%, 24% FTA rate

Struggled with burst, ability to separate from defenders. Cracking the paint off a live dribble never really came with ease. Pull-up shooting should improve, though

— Brian Geisinger (@bgeis_bird) March 20, 2021
Love simply couldn't reliably create advantage with his handle. Due to his inability to touch the paint, Love took a lot of tough, contested shots or tried too hard to force passes into windows that weren't actually available.
As a result, Love shot just 36.2 percent at the rim in the half court, per Synergy. He also averaged 4.5 turnovers per 40 minutes.
This will be an area of focus all season for Love. If UNC is to hit its ceiling as a team, then Love must get into the paint with greater ease. That type of progress would also do wonders for Love as an NBA prospect.
The Loyola game wasn't perfect; however, there were some good flashes from Love, including this pick-and-roll layup.
Loyola goes under the Bacot screen — as most teams will vs. Love, until he starts to drill his pull-up 3s. Love shows good patience here, plus a little craft with his handle: a left-to-right hesitation crossover, which gets him downhill and in the paint
Later in the game, Love had another nice paint drive — this time without a ball screen. Love doesn't get all the way to the rim, but he weaponizes his first step, which puts his defender on his heels. Love takes advantages and spins back to his right hand.
This is a good demonstration of how Love can utilize his height and vertical bounce to play over a potential contest. It all starts with the initial step, though.
The presence of Manek on the floor is worth mentioning, too. The added spacing removes another tall help defender from the lane, which should further widen gaps to the rim and limit the presence of weak-side shot blockers.
Despite a strong outing, Love didn't pitch a perfect game in terms of paint creation. From early in the first half: Love dribbles into this drag screen/pick-and-roll with Bacot. With a defense in retreat, Love has the right idea: go to the rim. The execution, however, is lacking.
Wade Jackson of Loyola goes under the screen, again. Veljko Ilic, the second defender guarding the ball screen, doesn't even attempt to get in Love's way. Instead, he sticks way too tightly to Bacot. Even without a natural help defender in the picture, Love is still unable to turn the corner on Jackson. Making matters worse: Love settles for a difficult, inefficient 2-point look from outside the lane.
This is the stuff he needs to cut out of his game.
Let's slice em up!
During the 2020-21 season, the Tar Heels started to mix in some Horns sets to their half-court offense. It wasn't anything groundbreaking: two wings in the corners and two big men stationed above the arc, separated by the width of the lane.
This is a super common half-court set; basketball teams all over the globe, regardless of competition level, run Horns. (In fact, as you read this last sentence, 28 teams just ran a half-court possession out of Horns. Don't check the numbers, I'm definitely right.)
Carolina's used several versions of "Horns" tonight; new wrinkle to the playbook.

— Adrian Atkinson (@FreeportKid) November 26, 2020
North Carolina used this set to launch a lot of hi-lo action, which made for a nice blend of newer tactics mixed with UNC basketball fundamentals. At times, the lack of spacing would gum up the action; however, the Tar Heels found success here, too.
Now, UNC is mixing in another old school program feature — the slice screen — with those Horns sets.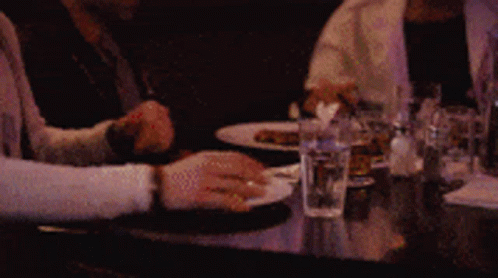 From the looks of things: Davis wants to feature Garcia as low-block target with this action.
Once gain, it's a simple concept: North Carolina's point guard will dribble off a ball screen from the big man opposite Garcia. While that happens, the strong-side wide lifts up and sets a slice screen to help roll Garcia down to the block, with deep initial positioning.
Garcia shot 45.2 percent and scored 0.89 points per post-up possession last season while at Marquette, according to Synergy.
The presence of Manek on these possessions is noteworthy. (Get used to hearing that.) This isn't rocket science; Manek has the ability to drag his defender away from the basket, which eliminates a natural help defender from the Garcia post-up opportunity. If Garcia catches the ball deep in the paint, it's over. It's too late for help; that post defender is food. Garcia will spin off that right shoulder and shoot a layup or hook shot.
However, if teams want to throw a double at Garcia, that second defender may need to cover more ground, which should give Garcia time to skip pass or dribble out and look for an outlet pass/open shooter.
Garcia is more than capable of making these types of plays.
It's also a great idea to use Walton, a sensational movement shooter, as the off-ball screener in this action — or any action, really. Opponents must monitor his movement patterns at all times. When he screens, it forces his defender to make a tough decision: help out his teammate (the one being screened) and risk losing Walton as he relocates for a 3, or stick too close to Walton and watch Garcia collect an easy post touch.
Read More on Caleb Love and UNC Basketball
Manek adds important frontcourt shooting punch to North Carolina's rotation