Dating back to the 2012 NBA Draft, North Carolina has had at least one player selected in six straight drafts. That year: Harrison Barnes, Kendall Marshall, John Henson and Tyler Zeller all went in the first 17 picks. For that streak to continue this year, though, the hopes (likely) rest on one dude: Theo Pinson.
I'm not completely sure how many NBA teams will covet a wing with Pinson's skill set — one that, at least for now, lacks a three-point shot. However, there's a reason why Pinson was invited to last month's combine, and why he's received draft buzz for several months now, too. Let's dive in.
Viva la small-ball revolution
It long ago stopped being a clever observation to point out: the three-point revolution has conquered basketball. Speed, skill and shooting have won out. The game is more slash-and-kick and perimeter-oriented than ever before. College hoops isn't quite on the same level as the ever-spacey NBA, but it's moved in that direction, too.
NBA teams want at least four shooters with three-point range on the floor at all times; in the ideal world of spread-floor nirvana, all five players can launch threes. The Houston Rockets assembled one of the 10 greatest offenses in the history of basketball, and nearly won a title this season — thanks in part to their ability to spread the court with an unending supply of shooters (playing power forwards Ryan Anderson and P.J. Tucker at the 5 at times).
This paradigm — at least on the surface — makes it almost a necessity that all three perimeter positions — both guard spots and the small forward — must be able to hit from deep. In the NBA this season, only two players 6-foot-7 or shorter played at least 800 minutes and attempted fewer than 10 three-pointers: former Duke signee Shaun Livingston and Michael Kidd-Gilchrist.
So, how does Theo Pinson possibly fit into that picture?
Chapel Hill Chuckin'
For his career at UNC, Theo Pinson was a 25.7 percent three-point shooter (46-of-179 3PA). In terms of percentage, that's not great, obviously; however, the lack of attempts is perhaps more disconcerting. Pinson played over 2,600 career minutes and attempted just 179 triples; less than 30 percent of his career field goal attempts from the floor came from beyond the college three-point line.
This season in the ACC, only three players recorded at least 500 minutes of action, and shot under 25 percent from three (minimum of 50 attempts): Pinson, Terance Mann of FSU and Notre Dame's Nikola Djogo.
On spot-up possessions this season, Pinson struggled: 0.76 points per possession (41.7 eFG%), per Synergy Sports. That's…not great (26th percentile nationally). According to Synergy, 75 ACC players in 2017-18 recorded at least 40 catch-and-shoot possessions in the half-court. Of that group, Pinson ranked 72nd in efficiency: 0.71 points per possession, 35.7 eFG%.
The only players lower than Pinson on that list: Djogo, Pitt's Kene Chukwauka and Moses Wright of Georgia Tech. All three of those guys were freshman; Chukwauka and Wright are post players, too. If you're a veteran wing, this isn't exactly the company to keep.
During his 122-game career at North Carolina: Pinson was a combined 39-of-142 (27.4 FG%) on catch-and-shoot attempts, per Synergy — 0.81 points per possession (40.5 eFG%). Again, this isn't a strength of Theo.
This is far from the end of the road, though
If Pinson can turn himself into a three-point shooter — from the NBA corners, especially — it changes the entire thought process on how he projects into the NBA. Heck, maybe he becomes a starter. He shot just under 82 percent from the free throw line this season on a good number of attempts (132 FTA, 6.7 per 100 possessions). That matters in terms of projecting a player's shooting in the pros.
However, we have a lot of data that suggests this will be a struggle for Pinson. It doesn't help, either, that his form is so-so and a bit hitchy.
If that's the case then: is there enough other stuff Pinson can focus on that would allow him to appeal to NBA teams, and also help him carve out a niche in the professional ranks? My answer to that: a definitive yes.
Check some of the boxes
While Theo Pinson lacks the shooting of an archetypal modern NBA wing, man, he does so many other valuable things (winning plays) while on the floor. In many ways, Pinson has a game that's NBA-ready, now.
Perimeter defense is so wildly important in the pro game. That's always been the case; however, with the greater offensive emphasis on three-pointers, wing defenders are, ideally, long, versatile, strong and play with an insane motor. Pinson checks all of those boxes.
Wings can no longer just guard their man; in the NBA now, switching is the name of the game on defense. Look at the league's best teams — Golden State, Houston, Boston; they all switch like crazy — 1-5 at most times. Well, here's what Pinson — who measured in at 211 pounds and a near 6-foot-11 wingspan at the combine — can sell to teams: he can credible defend four positions.
It's not easy to find that level of defensive versatility. This is why Georgia Tech's Josh Okogie and his 7-foot wingspan have shot up draft boards the last month. As a senior, Pinson checked a bunch of positions (while lining up at the 4 for UNC), and recorded two steals and one block per 100 possessions. He's fearless defensively.
Pinson is projected as a second round pick. It's a serious boon for any NBA team if they can find that level of defensive prowess, especially on a cheap second round draft pick salary (or as an undrafted free agent). In this regard, Pinson has serious appeal. I don't think he has stopper potential, but he can be a disruptor and cause all kinds of havoc.
Pass Happy: Theo Pinson
When Roy Williams spoke with the media last week, he mentioned that he hoped NBA teams would view Theo Pinson as a point guard. It's sort of obvious to see why Williams would think this: he knows him best; plus, Pinson was the fulcrum for North Carolina's offense in 2017-18.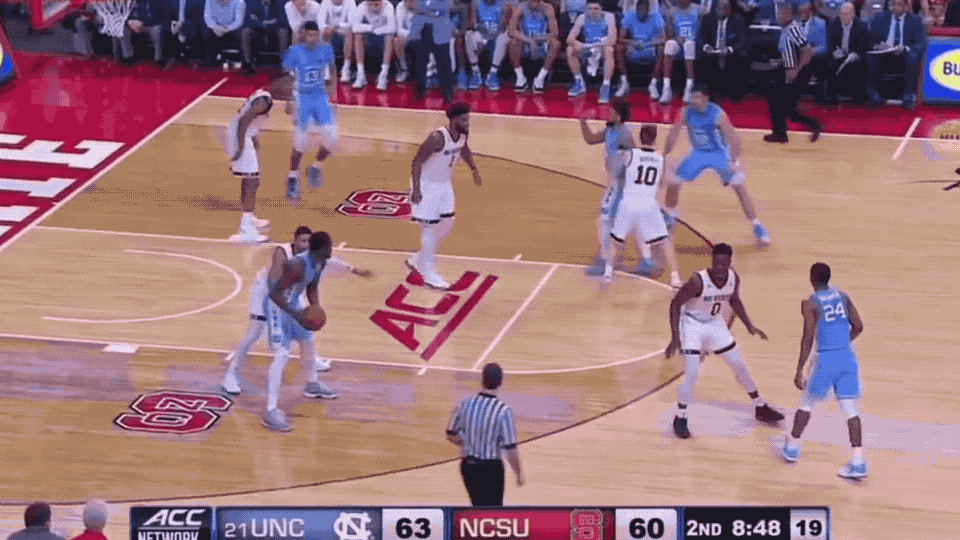 This sort of flowy chaos legitimately looks like Golden State's vaunted split action — right down to the pinch post setup of Pinson.
While on the floor last season, Pinson assisted on over 27 percent of his teammates' field goals; the 6-foo-6 wing dished out 9.5 assists per 100 possessions. These are outstanding numbers, and there's no doubt: this team was at its best when Pinson had the ball, surrounded by four shooters and cutters.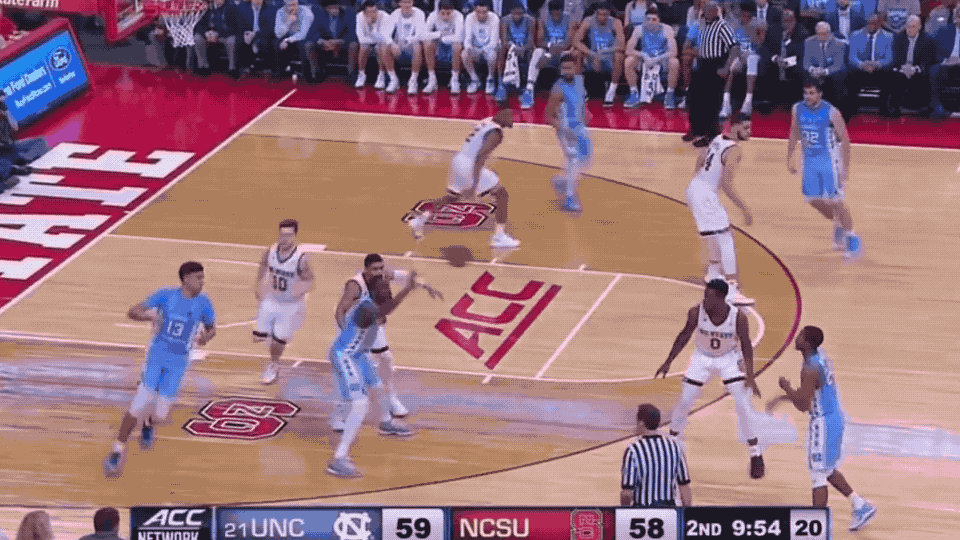 However, I don't think there's much of a point to label Pinson with a textbook positional definition. He doesn't have the pick-and-roll chops (86 total pick-and-roll possessions, per Synergy) to be a primary ball handler — even for a second unit. NBA point guards have to be able to shoot off the bounce and get north-south on ball screens. So far, that's not a part of Pinson's game.
That said: unless an NBA team has LeBron James or James Harden (ball-dominant, high-usage/assist players), offenses flow better with multiple creators. (Even LeBron and Harden need help in this capacity to be title-contending great, too.) This is another way Pinson jumps out: his ability to think two passes ahead, to intelligently play the ball into space. He can add to an offense despite a suspect jump shot.
A Thought Process
As basketball fans, we're in the midst of something special with the Golden State Warriors. Whether you like the Dubs or not, we can certainly appreciate their collective greatness, right? Obviously, what truly makes Golden State so special is the collection of stars — four top-20 players in their primes on the same team.
Close your eyes and think of Golden State in full flight, and your mind will likely conjure images of Stephen Curry and Klay Thompson flinging basketballs in the hoop from 25-plus feet; or Draymond Green stuffing someone at the rim and letting them know about it; or Kevin Durant flipping the ball in over another helpless defender.
That's clearly the foundation for the Warriors, and it's what makes them nuclear on both ends of the floor. However, even as we view Golden State through the spectrum of "The Greatest Shooting Team in Basketball History," we can also understand the importance of their role players that double as contributing non-shooters.
Basically, Golden State doesn't hit this level without the contributions of Shaun Livingston and Andre Iguodala. Those two guys have incredible value to this team because of their abilities to defend multiple positions and turn good shots into great shots. Sound familiar?
Look, I don't want to be in the business of comparing Theo Pinson to guys like Iguodala (maybe a Hall of Famer) and Livingston — two all-time great role players. But he can, in the right situation, contribute in similar ways.
Miscast but not lost
After losing out on the Anthony Davis sweepstakes back in 2012, the then Charlotte Bobcats (RIP) drafted Michael Kidd-Gilchrist with the No. 2 pick. It's hard to believe, but MKG has already played six NBA seasons. In that time, Kidd-Gilchrist has seen some highs and lows on the court.
One of the NBA's better perimeter defenders, MKG contributes to the Hornets in a variety of ways: powerful defense, impact on the glass and transition offense (56 FG%). He's also a major part of the team's heart and soul; MKG's effort matters on a nightly basis.
In the half-court setting, though, MKG has never quite found a home. In over 9,500 career minutes, he's attempted just 36 three-pointers; less than two percent of his career field goal attempts have been threes. He's almost a total anomaly in the NBA of 2018.
MKG built himself into a pretty reliable midrange shooter (38 FG% from there this season), but that moves the needle only a little. Most of the time, he sits on the weak-side of the floor, cramps Charlotte's spacing (the Hornets ranked 24th in the NBA in catch-and-shoot 3PA), while All-Star Kemba Walker gets trapped into oblivion.
Look at how Oklahoma City loads up on Kemba here; Carmelo Anthony complete ignores Kidd-Gilchrist on the second-side of the floor.
If MKG could find his way out of Charlotte, and onto a more dynamic roster, he could have a profound impact offensively — similar to Livingston and Iggy: screen, slip, dive and pass.
I bring all of this up for how it relates to Theo Pinson. Teams that take a more traditional approach to offense may make for a tougher fit. However, if he's able to land with a roster that has its fair share of shooters and cutters, Pinson can have a serious two-way impact.
Read More
Perfect Vision: UNC Basketball lands first 2020 commit — power forward Day'Ron Sharpe