Earlier today ACCSports.com released its All-Analytics basketball first time; that post can be found here. Now, here's part two of that installment: ACC All-Analytics second team.
Again, these rosters are created based largely off data from the previous season; therefore none of the league's awesome rookies — Marvin Bagley, Trevon Duval, Lonnie Walker — will land here.
This wasn't easy to do, by the way; there were so many good players that didn't quite make the cut. But that's the reality of a finite amount of spots and a loaded 15-team league.
Without further adieu, here's the second squad.
Matt Farrell, Notre Dame
The ACC is absolutely littered with incredible point guards; Notre Dame's Matt Farrell can make a case to be the best of the bunch, too.
A senior guard, Farrell is the most recent example of Notre Dame's proficiency to develop players. After starting four NCAA Tournament games for the Irish in 2016, he's never looked back. And in 2017, he broke out. Farrell became one of nine Division I players to average 14 points, five assists and shoot above 40 percent on threes.
Mike Brey's mover-blocker offense is the perfect vehicle for Farrell, too. The four-out motion system (at times five-out, thanks to Bonzie Colson's perimeter skills) allows Farrell to function in pick-and-roll action or as a deadeye shooter.
Farrell was one of 39 Division I players to run at least 400 pick-and-rolls last season — as either a shooter or passer. Farrell's 448 pick-and-roll possessions were the most in the ACC, and accounted for roughly 56 percent of the possessions he used. Notre Dame scored 0.92 points per possession on this action. The 6-foot guard shot 40.4 percent out of pick-and-roll — a solid number.
The Irish have two other players that can create off the bounce — highly-rated freshman D.J. Harvey and rising star Temple Gibbs. Rex Pflueger is a ball-mover, too. That plays to Farrell's strengths: he's an elite spot-up player.
Notre Dame likes to run Farrell off flare screens (47.8 FG% off screens) or floppy action to get him good looks at the hoop. The Irish can then run counter action on the weak side while Farrell's gravity draws attention. Watch him hit a cutting Colson here for a dime.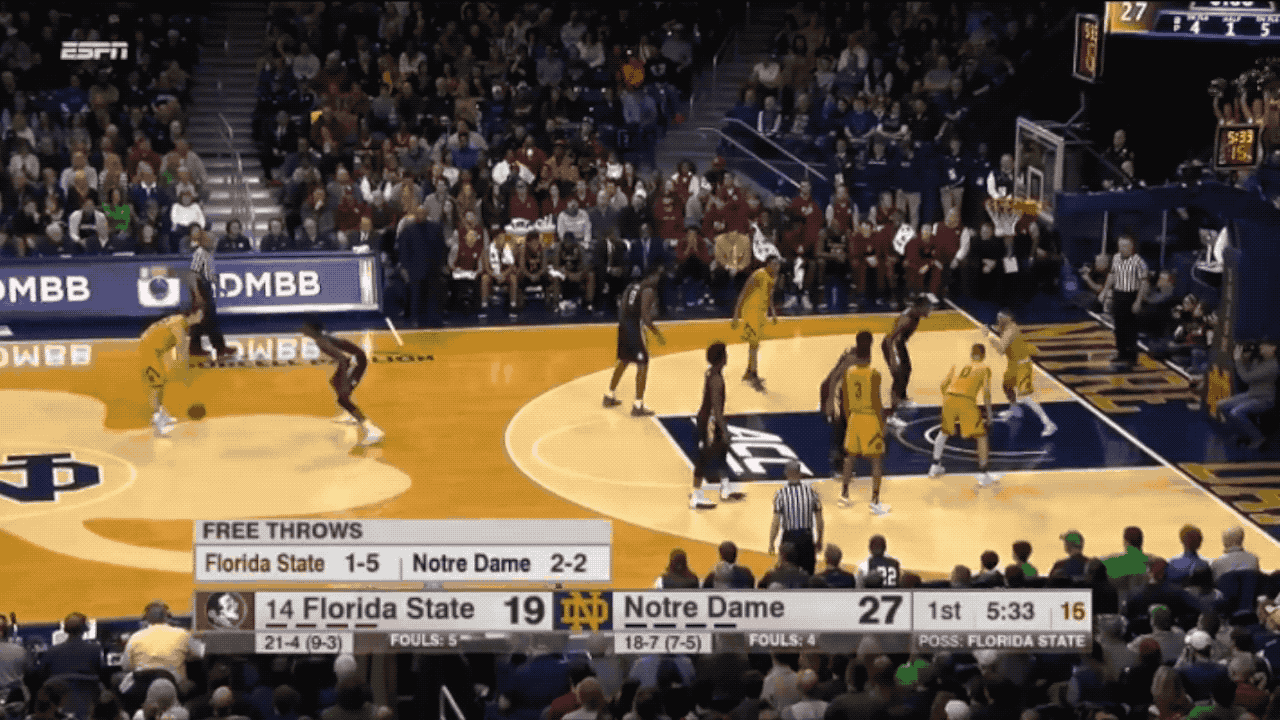 Farrell posted an effective field goal rate of 65 percent on catch-and-shoot attempts, per Synergy — No. 8 in the ACC.
Cameron Johnson, North Carolina
There may not be a higher profile transfer in all of major college basketball; Cameron Johnson is eligible, and ready to help North Carolina at an area of need: shooting.
Johnson is a good finisher around the basket: 60 percent shooting in transition, 56 at the rim, per Synergy Sports. But he knows what he does best: let it fly from deep. Almost 77 percent of Johnson's field goal attempts in the half-court were jump shots in 2016-17 — specifically, three-pointers.
Over 66 percent of his shots a season ago came from beyond the arc. However, if you isolate specifically for jump shots, 91.2 percent of his jump shot attempts were three-pointers, according to Synergy. His effective field goal rate of 56.3 percent was a top-12 number in the ACC (minimum 100 attempts).
Those are the types of numbers that make Daryl Morey and the Houston Rockets want to draft this dude like right now.
As I mentioned back in June, Cameron Johnson was actually more efficient on catch-and-shoot attempts than Justin Jackson — the ACC Player of the Year.
| | Possessions | Points/Possession | FG% | aFG% |
| --- | --- | --- | --- | --- |
| Cameron Johnson | 159 | 1.2 | 40.3% | 60.1% |
| Justin Jackson | 203 | 1.09 | 36.9% | 54.7% |
Johnson isn't a setup guy by nature; he's out there to shoot the basketball. However, he won't hold up an offense, either. Johnson posted an assist rate of 14.4 percent this season at Pitt, per Sports Reference. He will keep the ball moving in what should hopefully be a spacey offense for UNC — a rarity in Chapel Hill.
Deng Adel, Louisville
Outside of the prep prodigies entering the league this season, and maybe Bruce Brown at Miami, you would be hard pressed to find an ACC player with better NBA potential than Deng Adel. Watch this guy play for one minute and it's so painfully obvious — "My god, he looks like he should start at small forward in the NBA, right now."
This will be a strange season for the Louisville basketball program, and that's putting it mildly. For whatever it's worth, though, Adel will shine.
Adel — a rangy 6-7 wing — can stick jump shots; he connected on 40.4 percent (59.6% effective field goal) of his catch-and-shoots, according to Synergy. He's also a great midrange shooter, too: 52 percent from 17 feet out to the three-point line.
The junior uses his superior length and explosiveness to rock the rim in transition. He shot 57 percent on field goal attempts on the break, per Synergy.
His handles could use some tightening, but he does a decent job taking care of the ball, all things considered. According to KenPom, Adel posted a turnover rate of only 13.2 percent. Adel also snagged 13.8 percent of the available defensive rebounds while on the floor — one of the best numbers for a non-center/power forward in the ACC.
Bryant Crawford, Wake Forest
I owe this guy an apology for giving the ACC's pick-and-roll crown to Matt Farrell; that may have been premature. Bryant Crawford is a whiz at this core offensive concept, too.
On pick-and-roll possessions when Crawford either shot or passed the ball, Wake Forest scored 1.01 points per possession. That ranked 12th among 124 Division I players who ran at least 300 of these possessions, per Synergy. One-third of the possessions Crawford used were spent in pick-and-rolls.
This doesn't include pick-and-roll possessions when Crawford was a distributor, though. Crawford was a passer out of pick-and-rolls 160 times, per Synergy. On those possessions, Wake Forest scored 1.16 points per possession — which ranked in the 90th percentile nationally.
Crawford ranked 42nd in the nation with an assist rate of 32.2 percent, per KenPom. Over the last 15 seasons of Wake Forest basketball, only Chris Paul (2005) — the Point God — and Ish Smith (2010) have had higher assist rates.
It helped, of course, that he had John Collins to run this action with; that makes everything easier. Crawford may have to flex his muscles more in isolation this season — as opposed to dragging another defender into the picture. That could be a good thing for Wake Forest.
Crawford ranked No. 1 in the ACC in offensive efficiency on isolation possessions; he scored 1.31 points per possession on 50 percent shooting. The 6-foot-3 guard drew 5.5 fouls per 40 minutes, according to KenPom, which translated here, too. Crawford drew a shooting foul on 15.6 percent of his iso, per Synergy.
Josh Okogie, Georgia Tech
Ben Lammers wasn't the only individual success story of Josh Pastner's debut season in Atlanta. Freshman Josh Okogie came out of nowhere to claim an All-ACC honor; after a summer playing in Egypt for Team USA Basketball, Okogie is a legit NBA prospect.
How exactly did that happen?
Well, Okogie is an excellent offensive player without the ball in his hands, which makes him dangerous next to Lammers — a great passing big man. Okogie shot 66.7 percent and scored 1.33 points per possession on cuts this season.
If his defender overplays or turns his back to him, Okogie is gone — straight to the hoop. He was even better on basket cuts: 1.65 points per possession (No. 5 nationally among players with 40-plus possessions) and 79.4 percent shooting.
According to Sports Reference, Okogie was one of only eight ACC freshman to post a player efficiency rating (PER) above 20 in 2016-17. Four of those players became first round draft picks in June, including three lottery selections: Jayson Tatum, Jonathan Isaac and Dennis Smith Jr.
Okogie does a nice job avoiding turnovers (14.6 percent turnover rate), and draws a ton of fouls — 6.3 per 40 minutes, No. 6 in Division I ball. At this point, Okogie is only scratching the surface as a shooter, but he shot 38.4 percent from deep (two attempts per game). Okogie connected on 24-of-55 (43.6 percent) catch-and-shoots last season — good for an effective field goal clip of 64.5 percent (No. 10 in the ACC).
Toughest Omissions
Ky Bowman, Boston College
Chris Clark, Virginia Tech
Justin Bibbs, Virginia Tech
Isaiah Wilkins, Virginia
Kyle Guy, Virginia
Keyshawn Woods, Wake Forest
Al Freeman, NC State
Tyus Battle, Syracuse
Read More