Outside of Luke Kennard, there isn't a bigger no-brainer for first-team All-ACC than Wake Forest big man John Collins.
Wake Forest hasn't had a player named first-team all-conference since Chris Paul, The Point God, in 2005. It's time for that to change.
Collins is just so active; there are few big man in all of college basketball who move more than the star sophomore. He ranks second in the ACC with 73 offensive rebounds, and according to KenPom, he's No. 10 nationally in offensive rebounding rate. Collins grabs 16.4 percent of Wake's misses while on the court. On putbacks following offensive rebounds, Collins shoots a solid 61.1 percent — better than Kennedy Meeks, Abdul-Malik Abu and Bonzie Colson, according to Synergy Sports.
It's more than just the rebounds, though. His activity in Wake's screen-roll game is incredible.
Collins ranks 71st nationally in usage rate, per KenPom.com. When he's on the floor, more than 29 percent of Wake Forest's possessions end with him shooting, drawing a foul (something he does a lot of) or turning it over.
A rare possession goes by without Collins setting at least one ball screen; even if he isn't the target on the roll to the basket, Collins' gravity frees up drivers to go to the rim and gives the perimeter shooters the additional space they need to hoist those dreamy catch-and-shoot jumpers.
The Demon Deacons are shooting 37.8 percent from beyond the arc this season — by far the best number since Danny Manning arrived in Winston-Salem. Collins has attempted just one three-pointer this season, and he missed it, but his ability to suck defenders into the paint plays a big role in Wake's spacey offense.
The Demon Deacons like to run Bryant Crawford off a down or zipper screen to the wing. From there, Crawford teams with Collins to form one of the more devastating pick-and-roll batteries in the country. Per Synergy, Collins ranks third nationally (minimum 20 possessions) in points per possession as a roller on pick-and-rolls (1.733). He shoots a blistering 91.7 percent on such possessions, which ranks third in the nation and is tops among Power 5 programs. He gets fouled and goes to the free-throw line on nearly 27 percent on these possessions, too, according to Synergy.
Wake Forest also likes to utilize Collins in its Horns offense, which gets him going in mid-screen-and-roll action. Collins and Dinos Mitoglou will come to the top of the key and ready themselves to set ball screens. Whomever has the ball at the top, usually Crawford, can choose to dribble in either direction. If he goes the way of Collins, the sophomore will roll hand to the basket while Mitoglou pops beyond the arc.
Now, Crawford has a bounty of options: Look for Collins on the roll if the defense commits to the dribbler, or he can kick it out to one of the three shooters stationed around the perimeter — depending on where the help defense comes from.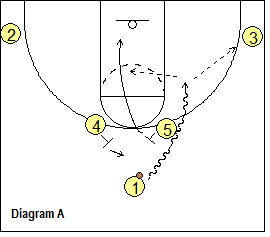 All of this works, and it's largely because Collins is so darn good. Wake Forest ranks No. 12 in the nation in offensive efficiency, according to KenPom: 119.2 points per 100 possessions. The Deacons are one of just 29 teams scoring better than 1.15 points per possession.
Last Saturday in the narrow loss to Duke, the Blue Devils tried to "ice" those side pick-and-rolls, forcing the ball-handler away from the middle screen. Collins, however, had a counter: he either popped out for an open midrange jumper or slipped deftly to the basket and finished through contact following a pocket pass. It was really smart, patient offense. That's the kind of game that could one day make Collins a lot of money playing in the NBA.
He was also too much at times one-on-one for Duke's Amile Jefferson — perhaps the ACC's best post defender — and Harry Giles, the preseason No. 1 projected pick for the 2017 NBA Draft. He has scored 0.97 points per possession on post-ups this season (48.1 field-goal percentage) — good for No. 4 in the ACC of players with at least 30 possessions. Collins also leads the ACC in volume of post-up possessions with 146; only two other players — Meeks and Ben Lammers — have over 100.
His activity is rewarded, too. Collins ranks No. 9 in the ACC in scoring — 17.2 points per game. He also draws 7.6 fouls per 40 minutes, according to KenPom, which ranks 13th in the nation. He's efficient from the free-throw line, especially for a big man: 38-of-51 in league play (74.5 percent).
Now, will Wake Forest be rewarded with an NCAA tournament berth — its first since 2010? That's becoming increasingly unlikely as the record sinks closer to .500. However, if the Deacs can shore up the defensive side of the floor on the fly, then they certainly have the offensive firepower, led by Collins, to go dancing in March.