What formerly was referred to as the Motor City Bowl is now a reference to pizza. Little Caesar's, specifically. How many other pizza chains (in addition to Little Caesar's, of course) will benefit from the desire for pizza this will create? Will the pizza chains be able to move fast enough to meet the urgent demand of its consumers?
(Shouldn't Bowling Green make a bowl game every year? And shouldn't it have a bowl named after it? Like the Bowl of Greens? Or the Mixed Greens Bowl? We'll have to settle for a bowl of pizza, I guess.)
PITTSBURGH (6-6) VS. BOWLING GREEN (10-3)
Time: 6:00 p.m.
TV: ESPN
KEY FOR BOWLING GREEN
Keep up that pass defense! Bowling Green's defense is legit, now. And the Falcons have allowed just one team to rack up 300 yards passing this season (Indiana). Just three teams had 200 or more yards passing. Pitt, meanwhile, passed the 200-yard mark nine times and the 300-yard mark twice. But at times, it was a struggle as there was no consistency in the running game to provide a multi-dimensional attack. It was often inexplicable, because Pitt's weapons at wide receiver – Devin Street and Tyler Boyd – are as good as it gets. Tom Savage even improved quite a bit as the year went on. But there was never anything sustainable in the passing game. Bowling Green will of course want to make sure that continues being the case.
KEY FOR PITTSBURGH
Find a way to disrupt that Bowling Green offense. As good as defensive tackle Aaron Donald has been this year for Pitt, he has 10 of the Panthers' 18 sacks and just isn't getting a ton of help defensively. While Bowling Green is a team that doesn't hurt itself much with turnovers (11 lost all year, +10 in turnover margin this season), it has allowed 34 sacks. Pitt's secondary hasn't been great all year, and facing an offense that can both run and throw will provide an additional challenge. Bowling Green has at least 100 yards rushing in every game this season and 200 or more yards passing in all but one game. It's tough to game plan against one or the other, but the Panthers are going to have to find a way to slow down that offense and give their own offense a chance to keep them in the game.
HERE

'

S A GUY
Matt Johnson. Remember that old chestnut where an in-state guy wants to go to a specific in-state school, only to not get offered by said school, then get a chance for redemption against that in-state school that shunned him? Welp. That's going to be a thing. Johnson insists he holds no ill will, but none of us believe him, now do we? Okay, we believe him a little bit. But either way, Bowling Green's sophomore quarterback has had a pretty good season. He's completed over 64% of his passes for 23 touchdowns and just seven interceptions, averaging 245.8 yards a game. And he has five rushing touchdowns. But Bowling Green has allowed 34 sacks this season, which is not quite in Pitt's sacks-allowed territory (41), but dangerously close. The Falcons had better have a good plan for Aaron Donald. Speaking of which …
THIS GUY
Aaron Donald. We only have one more game to watch Pitt's star defensive tackle, so why not enjoy it? There's no guarantee that whichever NFL team drafts him will understand how to use him, or even appreciate his skill set. I could list all the defensive awards Donald took home a few weeks ago, but why bother? Let's basically just say all of them and leave it at that. The only award he was more or less shafted for (at least in terms of finalists) would be the Heisman. Everyone knows Donald is the guy you have to game plan for, yet he ended this season with 10 sacks and 26.5 tackles for loss. He is as fun a defensive tackle to watch as you will ever see and as ACC fans, we only have one game left to watch. Considering Bowling Green's offensive line has allowed quite a few sacks this year, this week might be the closest we get to answering the question: how many sacks would Donald have had against his own team?
STATS ARE FOR LOSERS
Pitt is looking for its first winning season and first bowl victory since 2010. The Panthers have finished 6-7 each of the last two seasons. … Pitt leads the all-time series with Bowling Green 2-1, but lost the most recent meeting in 2008 at home, 27-17. … Pitt ended this season with two second-half comebacks to win, both in November. It had been nearly four years since the last time Pitt had a second-half comeback (December 2009). … Bowling Green nearly beat Mississippi State on the road in mid-October, and the Eagles have won five straight games by a combined score of 223-44 (27 of which were scored by NIU). … New Wake Forest head coach Dave Clawson, who was at Bowling Green but will leave before the bowl game, rebuilt the program over the last four seasons very effectively. The Falcons were 2-10 in 2010, 5-7 in 2011, 8-5 in 2012 and are now 10-3 this season.
NARRATIVES
Pittsburgh Win:
Pittsburgh Loss:
A bowl loss?
We knew you guys were ACC through and through, Pitt!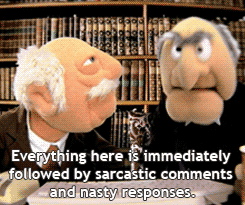 PREDICTION
Bowling Green, 37-29. Just a hunch. But this team is very good, folks.