Charlotte — Theo Pinson has never been more valuable for Roy Williams. The injury this week to star guard Joel Berry puts North Carolina basketball in a precarious position. Over the next four weeks, and for the first time in several years, UNC will have an unproven player orchestrating its offense. Or will it?
Williams has an ace up his sleeve: senior wing/guard/forward Theo Pinson.
This won't be the only place Pinson plays, though. As UNC works to replace a trio of post studs — Kennedy Meeks, Tony Bradley and Isaiah Hicks — Pinson will be relied upon to guard a variety of players.
At ACC Operation Basketball in Charlotte, Pinson told ACCSports.com that he has practiced at four different positions for UNC: 1-4.
PowerPoint Guard
Sophomore guard Seventh Woods is back and has some experience running the offense. Woods, however, had struggles holding onto the ball in 2017. Woods coughed the ball up 20 percent of the time on pick-and-roll possessions, per Synergy Sports. Overall, he posted a turnover rate of 38.6 percent, according to KenPom.
Pinson mentioned to ACCSports.com in Charlotte that Woods has improved his shot and is doing a better job taking care of the ball this season. The "game has slowed down" for Woods, according to Pinson. Freshman recruit Jalek Felton can help, too.
Pinson also mentioned that Jalek Felton is a ridiculous athlete, great driver of the basketball — he can get to the cup whenever he wants.

— ACCSports.com (@ACCSports) October 25, 2017
During his junior season, Pinson emerged as one of the ACC's premier playmakers. Pinson was one of just 15 Division I players this season to have a defensive rating under 100 points per 100 possessions, record at least three assists per game, post turnover rate under 20 percent and a rebound rate over 10 percent. That's outstanding utility.
Miami's Bruce Brown was the only other ACC player to hit these benchmarks last season. Dating back to the 1992-93 season, only two Tar Heels have put together that profile: Pinson and J.P. Tokoto (2013-14).
Four x Four
Roy Williams is reportedly concerned with the team's lack of experience in the frontcourt. To supplant that, though, Pinson is spending some time at the 4, too.
While transfer Cameron Johnson gets used to his new setting in Chapel Hill, the Heels are letting him focus on the team's sets from the wing position, according to Pinson.
This may change as the season progresses, but for now Pinson is the wing in UNC's rotation that may be counted on in the frontcourt as well.
Pinson has the ability to defend all five positions; it's not a coincidence that he compares his game to Draymond Green. Never was that more apparent than the NCAA Tournament game against Oregon. The 6-foot-6 wing put the clamps down on Tyler Dorsey, Dylan Ennis and denied star big man Jordan Bell at the hoop.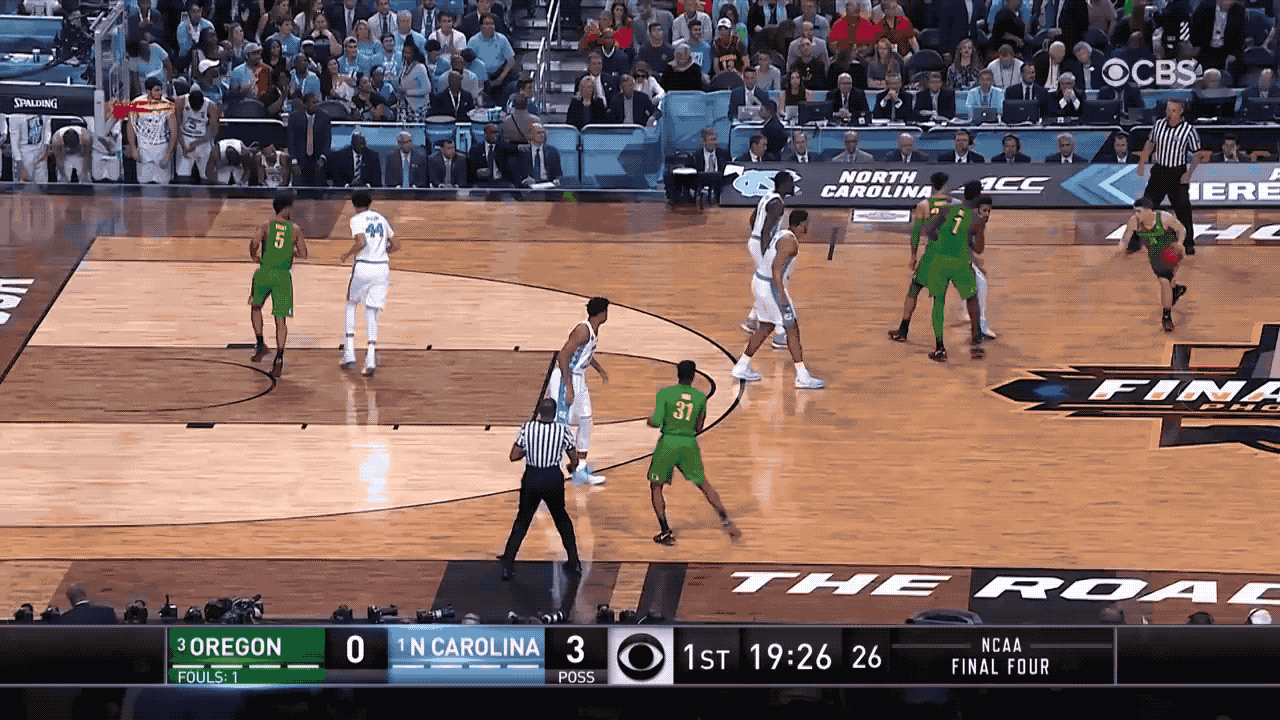 According to to Synergy Sports Bell shot nearly 70 percent on non-post-ups at the hoop. Rejecting this guy from behind is so darn impressive. Get ready to see a lot of Theo Pinson on the floor in 2017-18. To brace for the role, Pinson mentioned that he's bulked up to close to 220 pounds.
Read More