As North Carolina basketball (9-3) heads into a brief holiday break, there's plenty to evaluate with the Tar Heels. However, at this point of the season, it's fair to say that UNC's offense has exceeded expectations — at least slightly. This is where the addition of Brady Manek has been a major boon for Hubert Davis.
North Carolina isn't exactly a bombs-away 3-point shooting offense. The Tar Heels rank 290th nationally in 3-point attempt rate: less than 33 percent of North Carolina's field goal attempts are of the 3-point variety. That's still a big jump, though, over last season: 27.9 percent in the 2020-21 campaign.
When the Tar Heels get the ball in the air, they've shot it at a good clip from deep, too: 39.2 percent on 3-point attempts, which ranks No. 13 nationally.
During the 2020-21 season, UNC scored a measly 0.85 points per spot-up possession, according to Synergy Sports (21st percentile nationally). Currently, the Tar Heels check in as the No. 6 spot-up offense in the country: 1.14 points per possession.
Hit The Manek Button
This is an incredible turnaround, which has largely come with Kerwin Walton — the team's only source of efficient perimeter shooting last season — off to a sluggish start.
Now, several things go into this, including some possible shooting luck. Caleb Love and RJ Davis may cool off from deep. With a variety of schematic adjustments on offense, though, this looks sustainable. Manek has been at the center of all of it, too.
According to Pivot Analysis, North Carolina is +94 in 296 minutes with Manek on the floor this season. Priced into that math is an offensive rating of 119 points per 100 possessions.
When Armando Bacot and Manek play together, UNC has been dominate: +119 in 172 minutes. The Tar Heels, according to Pivot Analysis, have net rating of +42 points per 100 possessions with Manek and Bacot together. This includes an offense that's scoring 1.31 points per possession with Bacot and Manek on at the same time.
Manek isn't just a 3-point specialist; he scores from all levels of the floor (65.5 2P%). However, the Oklahoma transfer does a lot of damage with his perimeter jumper. So far, he's launching 10.6 3-point attempts per 100 possessions. Over 55 percent of his total field goal attempts are from beyond the arc.
The 6-foot-9, 230-pound Manek has connected on 35.7 percent of his 3-point attempts, which is solid. Moreover, it's Manek's gravity as a shooter — his ability to move without the ball while threatening as a shooter — the bends defenses and opens things up for other players.
A Trojan Horns
There's quite a bit of intrigue with North Carolina's offense this season — as Davis pulls the strings. While the playbook shifts and evolves, Davis has mixed in some disguised looks from UNC's Horns set: two wings in the corners and two big men stationed above the arc, separated by the lane.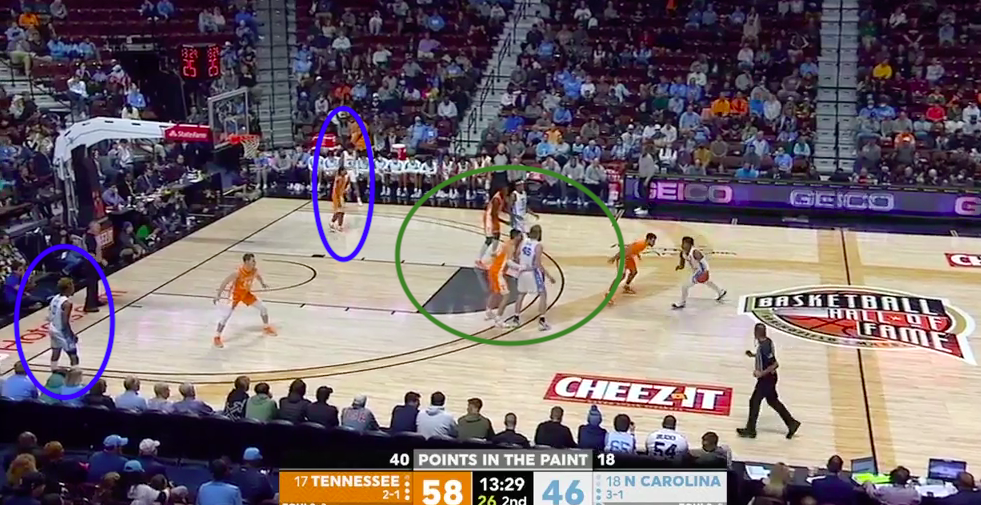 On this possession vs. Tennessee, Love handles the basketball; Davis and Anthony Harris are in the corners; Bacot and Manek hang high. UNC will these Horns sets to launch of variety of actions.
A few weeks back, North Carolina went to its Spain/stack pick-and-roll series to defeat Michigan. Since then, UNC has mixed in more Spain pick-and-roll, including some sets that start in Horns and then flow into a stacked look.
Case in point vs. Appalachian State: Bacot sets the initial ball screen; Manek slides in behind for the back screen. From this, UNC gets to its customary hi-lo action.
Here's that same look again — later in the first half vs. Appalachian State. This time, though, Bacot kicks it out on the short roll to Leaky Black for a jumper.
Yes, you heard that correctly: Leaky, Black, Jumper.
North Carolina wasn't done there, though. During the second half vs. App State: it's another Horns set into Spain pick-and-roll. On this possession, however, the back screen doesn't come from the second big man. Instead, the back screen comes from the wing (Walton) in the opposite corner.
As that happens, Dawson Garcia comes off a corner exit screen from Harris — on the strong side of the floor. This type of occupying action — the exit screen, which warps back-line help defense — is an important concept for UNC this season.
Chin Doctor: Brady Manek
Early on this season, the Tar Heels have generated a lot of offense from their Chin series. In fact, literally the first offensive possession of the Hubert Davis era was a Chin pick-and-roll set. (For these purposes, Chin screen-roll is a back screen into a ball screen, which we see here from Bacot.)
There isn't time to go through all of the machinations of Chin; however, UNC uses it frequently to also get into slice/pindown and post action.
On this possession, Love sets the slice screen for Garcia, which sends him to the opposite block. Love then comes off the pindown from Bacot.
Now that opponents have some this stuff on film, Davis and the Tar Heels have toyed with a few different deviations of Chin.
Here's a second-half Chin possession vs. App State. Davis initiates the dribble handoff with Manek, while Bacot sets the back screen for Walton. It looks as though Walton will set the slice screen for Manek, like Love did in the above clip for Garcia. Instead, UNC inverts the action: Walton slips and comes off a pindown from Manek.
The ability to involve Manek and Walton in actions together — which I wrote about over the summer — could go a long way for North Carolina. Hopefully, after a nice second half vs. the Mountaineers, Walton can find his confidence and a featured spot in the rotation.
UNC has also shown the flexibility to kickstart Chin from its Horns alignment.
North Carolina will start in Horns and quickly shift to Chin with a flip of the ball from the point guard to the strong-side wing. Here's that exact same look vs. App State. Once again, Manek gets a great look from deep coming off a pindown.
Finally, here's another Horns set that molds into Chin. This time, though, North Carolina uses a re-screen ("Ricky") action to get Walton coming off another down screen from Manek. Walton takes the handoff from Davis, swings it to Harris and comes off the Chin screen from Manek.
However, instead of cutting through, Walton v-cuts and Manek flips the direction of his screen for Walton. That's the re-screen action.
Chicago To Miami, And Back
As far as major American cities go, Chicago and Miami are relatively different. From a basketball nomenclature standpoint, though, they can look similar. North Carolina will put both to use.
Generally speaking, "Chicago" action refers to an offensive maneuver that involves three players together. "Chicago" is short for a pindown screen for an off-ball player who runs directly into a dribble-handoff (DHO) with the player who currently has the ball.
Here's UNC unlocking Chicago action from a Horns set — with Bacot, Manek and Love. After Bacot takes the entry pass from Davis, he turns and faces the hoop. Meanwhile, Manek sets the down screen for Love, who then comes into the DHO with Bacot.
Manek pops, which ties up the help defender, while Bacot rolls to the rim for another dunk.
This is a great way to deploy Love, who is a very good offensive player, despite his limitations in terms of burst and pick-and-roll manipulation. By doing this, Love's defender must chase him through two separate screens, placing him further behind Love and allowing the sophomore guard room to gather a little steam before coming off the second screen.
UNC has a nifty counter to this Horns Chicago action, too. During the Kentucky game, Bacot takes the entry from Davis and dribbles left; Maneks heads in the direction of Black. Manek doesn't set the pindown for Leaky, though. Instead, Manek and Black run split action — Manek pops, Black back cuts for a layup.
North Carolina scored twice off this same look vs. Kentucky. That split cut is so hard to defend, especially when one of the players involved is a tall shooter, like Manek or Garcia.
Here's another look at North Carolina's Horns Split action.
Now, "Miami" action refers to another three-person maneuver. When teams run Miami, this means it's a dribble-handoff into a ball screen. So, the player who receives the handoff will immediately dribble into a ball screen.
This is how North Carolina started the game out in Vegas. Garcia screens for Davis and then comes off a flare from Bacot. Davis drives hard to the corner; Love takes the handoff, and then dribbles off a second screen from Bacot, which he uses to get into the paint.
(For whatever it's worth, I've started referring to this set as Horns Flare Miami.)
On this possession, App State puts two on the ball when Davis exits the pick-and-roll with Bacot. Davis threads in a nice pocket pass to Bacot, who catches on the short roll and kicks it out to Black for an open shot.
Once more, here's that look from the App State game. Manek screens for Davis and flares off Garcia. Davis hands it off to Love, who then dribbles into a ball screen with Garcia.
The Mountaineers cover it well, but eventually Love frees himself for an open spot-up 3-pointer. Only 56.5 percent of Love's 3-pointer this season have been assisted — down from 73.5 percent assisted his freshman year.
North Carolina will get to Miami action — DHO into ball screen — from its Thru series, too.
Flip-Floppy
Davis and UNC have also dialed up one of the more popular off-ball half-court sets in basketball history: Floppy.
This is an old school action, but it's used in a variety of ways, by a variety of teams — at all levels of basketball. For instance: as he rewrote the NBA record book, Steph Curry used plenty of Floppy action within Golden State's system.
Warriors go Floppy again ATO, Steph reject vs Top Lock – Bogut swings to Curry opposite and Curry hits Klay right away. This is how the Warriors should look. pic.twitter.com/fJ2PO0zHPj

— Half Court Hoops (@HalfCourtHoops) June 8, 2019
Floppy is single-double action. One player — usually a good shooter — will start the possession underneath the basket. Two off-ball screeners are stationed on one side of the floor, while another screener stands on the opposite side. The off-ball player will pick a side and come off the screen(s) looking to shoot/score.
Here's UNC running Floppy for Walton vs. UNC Asheville.
Floppy can also be a good way to initiate post offense. One of the post players will set the off-ball screen on the low block, turn and seal.
Here's Love exiting out to the wing, while Bacot ducks in against Hunter Dickinson. Love has a great angle for a post entry pass.
Bacot catches with deep post position and spins away from a late-arriving double for two points.
Of course, Davis and UNC will look for ways to construct hi-lo action. Floppy can be a means to that end as well.
During the first half vs. App State, Harris comes off the single screen; Manek fakes a cross screen for Bacot and lifts up. In turn, Bacot ducks in and draws a shooting foul off the dish from Manek.
Look how much spacing Bacot has to work with on this possession. During his time in Chapel Hill, Bacot has improved as a finisher, but UNC features spacier personnel on the floor nowadays, which is good for Bacot's interior efficiency.
This type of Floppy hi-lo concept is something Duke will use a lot as well.
There's a big difference between that hi-lo spacing and what UNC's frontcourt players saw last season. Here's North Carolina looking to hit hi-lo with Bacot and Garrison Brooks — from its continuity ball screen offense. Check how far Manny Bates sinks into the paint off Bacot, who is two steps inside the 3-point arc.
There's no actual passing window for Bacot, who most settle for an open, yet inefficient, long 2-point attempt.
Of course, Garcia helps in similar ways. He can shoot it — 11-of-24 on 3-point attempts this season (45.8 3P%) — and pass.
Bacot: Big Man, Short Roll
Bacot returned for his junior season and has played some really productive basketball. For the second year in a row, Bacot's interior finishing is up: 64.1 percent on 2-point attempts, including 19 dunks and 70.9 percent finish around the cup.
The Kentucky game notwithstanding — when Oscar Tshiebwe pummeled the Tar Heels on the glass — Bacot has been a great defensive rebounder, too. Currently, Bacot ranks No. 48 nationally in defensive rebound rate: 26.3 percent.
There are certainly some areas for critique; Bacot's pick-and-roll defense leaves plenty to be desired.
Beyond the low-post scoring and rebounding, it's been fun to see Bacot get in the act as a mid-possession connector for North Carolina's half-court offense. Bacot has shown flashes as a short-roll passer.
Let's hold off on the Draymond Green comparisons for the moment; however, Bacot's decision-making and passing in these type of short roll opportunities is impressive.
Bacot will screen for one of North Carolina's guards — Love or Davis — and roll into space. If the opponent plays to the level of the screen or wants to trap the ball handler, Bacot is open in the middle of the floor. With a quick pocket pass from the guard, Bacot can catch, face and observe the defense in a 4-on-3 scenario.
During his freshman season, Bacot flashed some of these abilities, too. This is where Manek and Garcia is are game-changers, though.
Now in these 4-on-3 opportunities, Bacot gets to see a well-spaced floor. With two (or three) shooters on the weak side, Bacot has options; defenders must cover more ground, too, in either direction.
This is just a small component of North Carolina's offense, but it's a positive development for the Tar Heels.
Read More on Brady Manek and UNC Athletics
Listen in: Is UNC a contender? Josh Graham delves into the topic on WSJS Sports