North Carolina took a two-point lead into halftime against visiting Michigan on Wednesday night, 29-27. The second half, though, would belong entirely to the Tar Heels. UNC outscored Michigan 43-24 over the final 20 minutes and won going away, 72-51.
Caleb Love sizzled as a pull-up shooter in this contest; he bailed out multiple stagnant possessions with wild off-dribble 3-point bombs. The sophomore from St. Louis led the way with 22 points (4-of-7 3PA), four assists and three steals.
Love wasn't alone, though. Several starters put together solid performances, including Armando Bacot (11 points, 14 rebounds) and Dawson Garcia (14 points).
As North Carolina stretched its lead out late in the second half, Hubert Davis dialed up a series of plays, following the under-12 media timeout, from UNC's Spain pick-and-roll action. North Carolina executed and pushed a 10-point lead up to 15 in the span of 90 seconds.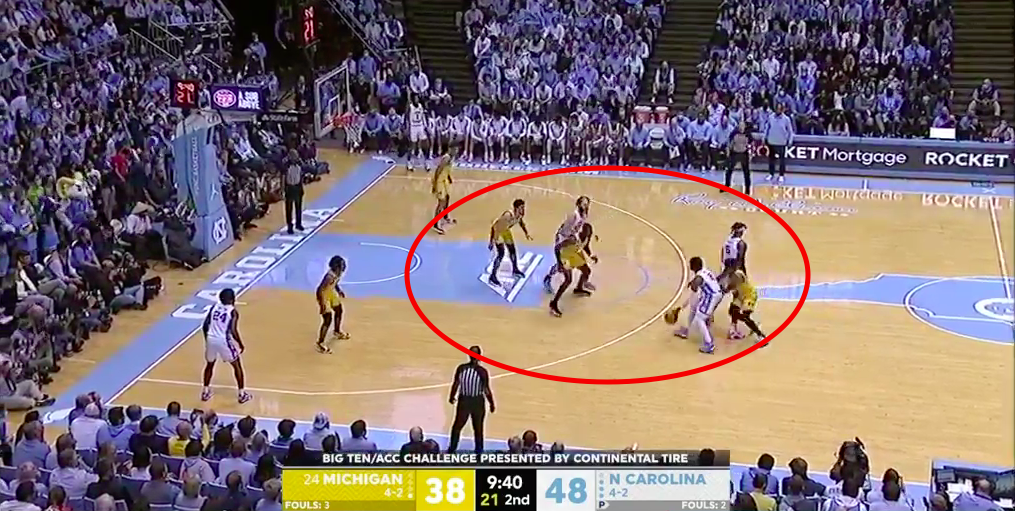 For those who are unaware, "Spain" pick-and-roll is a stack ball-screen formation. It's pick-and-roll action; however, this set also includes an off-ball back screen for the player who set the initial screen. In most instances, the other two off-ball players fill to the corners.
It's also nothing new around these parts: North Carolina, for years, has used Spain action as an important part of its secondary break.
In the above image, this back screener is Manek, who will set a screen on Bacot's defender, Moussa Diabate, while Bacot screens on the ball for Love. Kerwin Walton and Leaky Black space the floor.
Check The Film
Here's that play in action. After Manek sets the screen on Diabate, he doesn't stay put; Manek, a 6-foot-10 movement shooter, pops out and relocates for a catch-and-shoot 3-pointer. This is the beauty of Spain pick-and-roll: scramble the defense and hunt for juicy looks at the rim or behind the arc.
This was the plan all along with Manek: open up the offense, and take full advantage of his combination of heigh and elite shooting. Not many college teams have this type of floor-spacer at the 4-5 positions.
On the very next half-court possession, North Carolina runs Spain action, again. This time, though, in true Tar Heel fashion, North Carolina tries to work hi-lo action between Manek and Bacot, with Michigan switching on the action.
Less than 35 seconds later, on the ensuing possession, UNC runs more Spain pick-and-roll — now with a bit of a twist. Instead of using Manek as the back screener, with Garcia setting the ball screen for Love, the Oklahoma transfers clears out. As this happens, Walton darts up from the corner; he becomes the back screener for Garcia. The seas part for Love, who absolutely loves to dunk the basketball.
With two more dunks vs. Michigan, Love is up to five dunks now on the season. According to Bart Torvik's shot data, Love is shooting 64 percent on close 2-point attempts this season. That's up from 42.4 percent during his freshman season.
Love is still launching his fair share of tough step-back 3-pointers and off-dribble midrange looks. He can also be loose in terms of his handle; there are some decision-making issues as well. With that said, the early-season flashes of rim finishing are encouraging.
The lane being that wide open doesn't happen by accident, either. When Manek clears, he sprints off an exit/corner screen from Black. Love could look to kick it out to Manek for a 3; however, this exit screen is mostly used as occupying action.
Manek's defender, Brandon Johns Jr. (No. 23), fears Manek coming off the screen for a shot. In response to that, Johns jumps out of the paint. Love already has an angle on his defender thanks to the stack ball screen action; now there's no help at the rim.
This is a concept that a lot of NBA teams will utilize. Charlotte Hornets head coach James Borrego is one of the best an implementing exit/dummy actions to occupy help defenders.
Down in the college ranks, UConn does a really nice job featuring those exit screens as a part of its half-court offense, too.
UNC does well to mix this concept in with Manek (a stretch big man) and Black (a non-shooting wing) as the screener. Here's another exit play from North Carolina — an after-timeout set in the first half vs. Michigan: Horns Twist Exit.
Look Ahead
Ultimately, North Carolina won this game on the defensive end, holding a talent Michigan team to 0.78 points per possession, according to KenPom. (Man, it's been a rather discouraging start to the season for Caleb Houstan, a 5-star freshman talent.)
That doesn't diminish an impressive shooting display from the Tar Heels, who scored 1.11 points per possession in this game, despite attempting only three free throws.
North Carolina will open ACC play this weekend; the Tar Heels will be in Atlanta to play Georgia Tech and red-hot guard Michael Devoe on Sunday.
Read More on ACC Basketball
Virginia's Kadin Shedrick emerges as defensive lynchpin for Tony Bennett