A lot of things go into making Notre Dame's offense the wonderful machine that it is. Pristine spacing and passing doesn't just create itself; it takes more than shooting. Smart, talented players must fit into critical roles.
One of the keys for achieving four-around-one nirvana is a rim-running big man. Normally, the man in the middle for the Fighting Irish is star power forward Bonzie Colson. A destructive force, Colson truly is one of the most gifted players in all of college basketball.
However, when he hits the bench, Notre Dame is still be able to keep the good times rolling. That's because Colson's backup — senior center Martinas Geben — produces, too, albeit in a smaller capacity.
Low on usage, high on demand
This past season in the ACC, per Sports Reference, there were only two players that hit these benchmarks: played in a least 30 games, played at least 10 minutes per game, shot above 60 percent from the floor and posted an offensive rebound rate above 10 percent. Those two players were Wake Forest's John Collins — a first team All-ACC force — and Martinas Geben.
Geben played just 12.4 minutes per game in 2016-17, which is a career-high. However, when he was on the floor, he found ways to seriously contribute on offense.
According to KenPom, Geben posted an offensive rating of 124.6 points per 100 possessions. No one on Notre Dame's roster, including Colson, recorded a higher offensive rating than Geben.
In fact, John Collins led than nation in offensive rating amongst qualified players — 124.8 points per 100 possessions. We can see just how impactful Geben was in shorter bursts of playing time.
Power Points
In many ways, Martinas Geben is the prototypical modern day center, which is ideal for Notre Dame's offense. On defense, the 6-foot-10 senior offers rim protection; Geben has blocked 1.9 shots per 100 possessions for his career at Notre Dame. And on the other end of the floor, he screens and cuts effectively to the hoop.
According to Synergy Sports, there were 27 ACC players this season to use at least 10 pick-and-roll possession, when they rolled all of the way to the basket. Of that group, Geben (1.43 points per possession) ranked No. 11 in the league, and was more efficient than Isaiah Hicks, Abdul-Malik Abu and Ben Lammers.
It obviously helps that point guard Matt Farrell is a maestro of pick-and-roll action, too.
Geben is a good cutter. He ranked second in the ACC in offensive efficiency on cuts. Per Synergy, Geben shot 77.8 percent and scored 1.56 points per possession on cuts this season. Only Duke's Harry Giles — the No. 20 pick in the NBA Draft — was more efficient — 1.71 points per possession.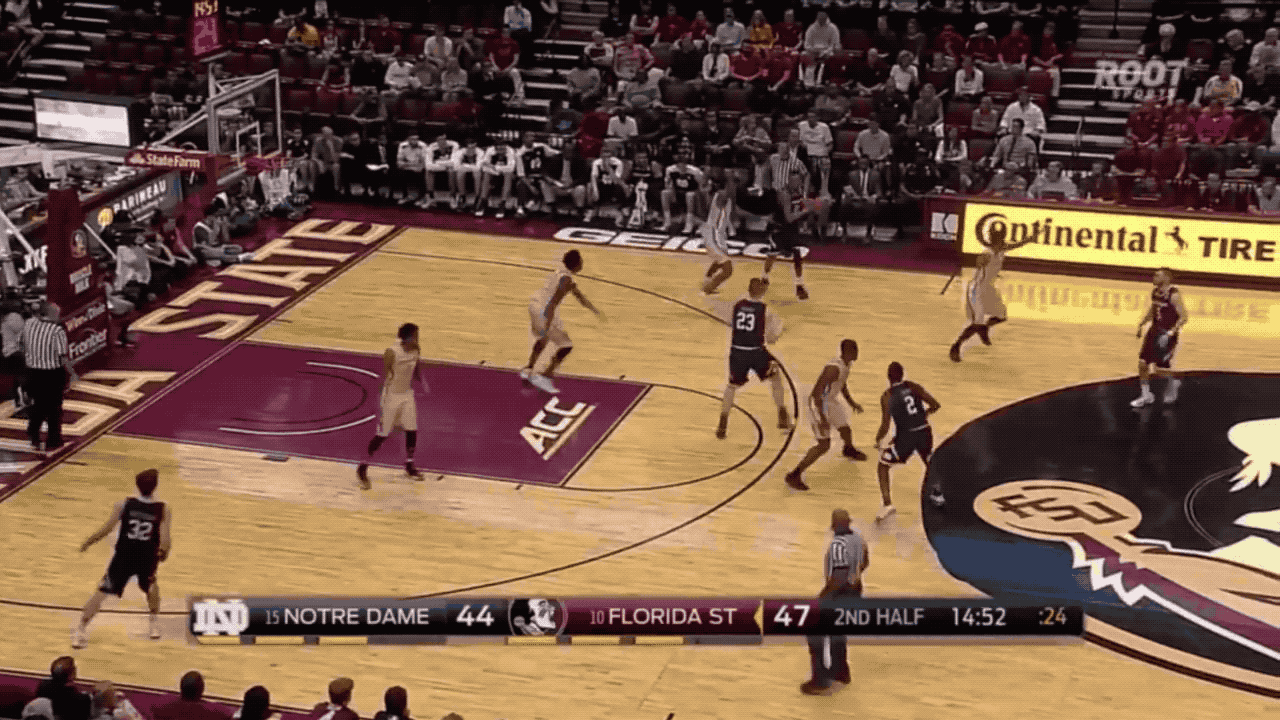 This type of offensive production — in the post, around the hoop, cutting after a screen — is critically important for the offense in South Bend. Watch a Notre Dame possession with Geben on the court; he's constantly screening — pindowns out wide, floppy sets, flare screens in the middle of the floor. And of course pick-and-rolls with Farrell.
Mike Brey's club needs someone in the middle to draw defenders on slips to the hoop; if the defense doesn't react, Geben will finish with authority at the rim.
Could we see more of Colson and Geben together next season?
I think so; however, I can't imagine it being a heavily-used pairing. Colson has the ability to stretch the floor; he's an excellent midrange shooter, and he shot 43.3 percent on a career-best 60 three-point attempts. Notre Dame could play with two bigs, and maintain some of its spacing.
Martinas Geben started alongside Colson for the first 23 games of the 2016-17 campaign, but over the final 11 games of last season, Brey started four perimeter players and Colson. According to KenPom, only two of Notre Dame's 10 most frequently used lineups over the final five games featured both Colson and Geben.
For the Fighting Irish to truly play four-around-one basketball, Colson and Geben mostly have to function as a platoon.