This week's ACC Basketball Power Rankings, which posted on Monday, didn't quite have the space to fit one more item in. However, I still want to note something that took place on Saturday for Duke: a new wrinkle to a two-man set with Tre Jones and RJ Barrett.
It's time to go Inside The Playbook.
Get into the eye of the storm
During Duke's win over Miami, I noticed the Blue Devils running a new set: a guard-guard ball screen between Tre Jones and RJ Barrett. (Cam Reddish was involved in the action on at least one possession, too.) After screening for Jones, Barrett would pop out to the top of the key and rub off a brush/flare screen from the 5 — Javin DeLaurier, in this case.
Duke going to some guard-guard pick-and-pop action: Barrett screening for Jones with a flare screen up top from the 5 for RJ to flow into. Some standard screen-roll, too, with RJ who has made several simple/quality reads.

— Brian Geisinger (@bgeis_bird) March 2, 2019
DeLaurier rolls to the rim after screening for Barrett, looking for a coveted rim finish. Duke is one step ahead of Miami on this play; Barrett hits DeLaurier (78 FG% at the rim) with an excellent pass and the weak-side help from Anthony Lawrence is a second too late.
It's clear: between this and the flat high ball screens Duke's frequently running for Barrett — the Blue Devils want to get Barrett the ball in the middle of the floor.
However, now watch what happens when Duke runs this same action a few possessions later. All of this action come out of a basic horns set. Keep an eye on how open the middle is with Alex O'Connell (40 3P%) and Reddish (33.6 3P%) — Duke's top two shooters — spaced to the corners.
Miami's pick-and-roll defense struggled all game, but this is a tricky action to handle. Look at how much attention Barrett draws when he spaces out. The Hurricanes forget all about the dude with the basketball and it's an easy layup for Jones.
Here's the same look, but with Reddish and Barrett, now in the corner, flipped. It forces a switch and Reddish — who has struggled with his dribble-drives and finishes this season — is more than comfortable cooking against Sam Waardenburg.
After the game, Mike Krzyzewski mentioned how Duke installed some new looks for offense without Zion Williamson. (He also said Duke wanted to design some stuff to get Reddish attacking the rim, too.) I'd bet this partly what he was referencing.
Throwback: More two-man actions with Jones and Barrett
It's hard to believe this was just 4-5 months ago (it feels like 4-5 years ago), but out in Maui, Duke ran some other quick-hitter actions for Jones and Barrett when Zion sat, too. (I wrote about this during the tournament.)
In an effort to score a 2-for-1 to close the first half against San Diego State, Duke went to this pistol set with Jones and Barrett. Jones dribbles hard to the right side of the floor — right into a handoff with Barrett. With Jack White pinning for Reddish on the weak side, Antonio Vrankovic raises for a ball screen, which Barrett flows right into.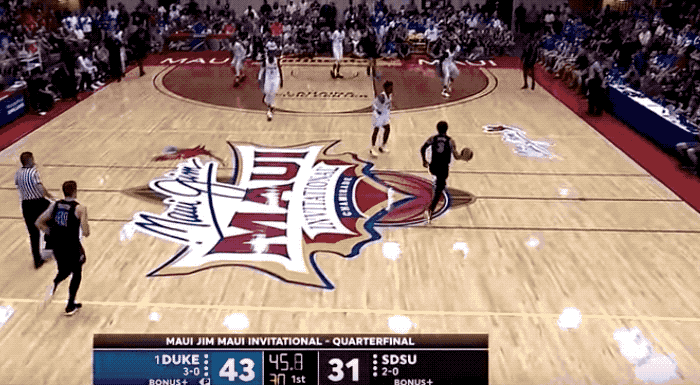 This from earlier in the first half of the same game — also with Williamson on the bench. Jones and Barrett hit another DHO; as Jones' defender ditches him to help on RJ, it creates an easy pitch-and-catch opportunity.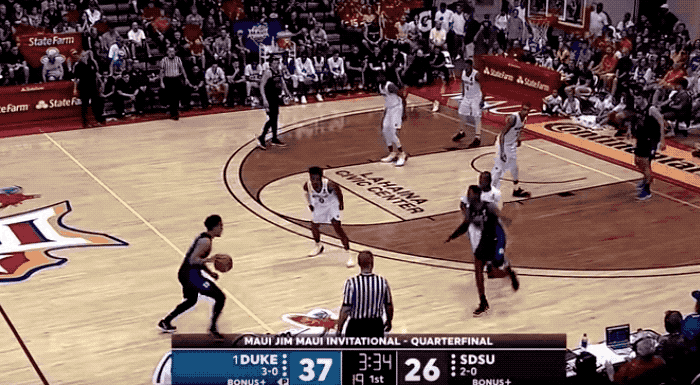 We will have to wait and see if and when Zion Williamson returns to the lineup for Duke; however, until then, this is the type of half-court action the Blue Devils will rely on.
Read More on Duke Basketball