The most exciting storyline heading into this season for Virginia basketball was the development of De'Andre Hunter and Jay Huff. The two redshirt freshmen would enter the 2017-18 campaign with a year in Charlottesville under their belts; on paper, it looked like a significant boon.
If at least one of Hunter, who worked out this summer with Rasheed Wallace, or Huff could play, it would make the Cavaliers a far more versatile roster.
Monmouth Game
Jay Huff had his breakout performance in Virginia's record-setting victory over Austin Peay. Six days later, De'Andre Hunter celebrated his coming out party in a win over Monmouth on Nov. 20.
In 24 minutes against the Hawks, Hunter scored 23 points on 8-of-10 shooting. Dating back to the 2010-11 season, this is just the first the 17th time a Cavalier player has scored at least 20 points on 10 or fewer field goal attempts. Hunter joins some impressive company on this list, including several current NBA players: Mike Scott, Joe Harris, Justin Anderson and Malcolm Brogdon. All four of those guys are current rotation players in the NBA.
The 6-foot-7 forward flashed a little back-to-the-basket juice in the win over Monmouth; however, he got most of his work done spotting up. It's early, obviously, but Hunter has scored 1.54 points per possession (71.4 percent shooting) on spot-ups, according to Synergy Sports. That ranks fifth in the ACC in offensive efficiency on spot-up possessions — slightly ahead of teammate Kyle Guy (1.36).
Keep an eye on this: The Pindown
In the past we have discussed how Virginia's screen-heavy motion offense utilizes the pindown screen. So far this season, De'Andre Hunter is shooting 66.7 percent off of screens, per Synergy. The rookie is clearly comfortable curling off a pindown and looking for his own shot.
Against Monmouth, Hunter's midrange game was on display. This came with a new offensive wrinkle, though. One that ACC foes will have to take note of, too.
The Design
Virginia's most prominent screen-setter is center Jack Salt. The New Zealander's primary offensive skill is freeing up his teammates for clean looks with picks. Isaiah Wilkins told me last month in Charlotte that Salt would rather set a screen than score on offense.
However, Salt has attempted only 135 field goals in 847 minutes at UVA. He has a career usage rate of only 13.5 percent, per Sports Reference.
The upshot: Salt is not a threat to score the basketball; opponents can flood coverage against whichever Virginia player Salt screens for. Defenses do not have to worry about him slipping or rolling. That is not the case, however, when Jay Huff is involved.
Huff, a skilled 7-footer, is shooting 87.5 percent on two-point field goals, and has scored 1.64 points per possession in the half-court. Watch this set out of a baseline inbounds play in the second half.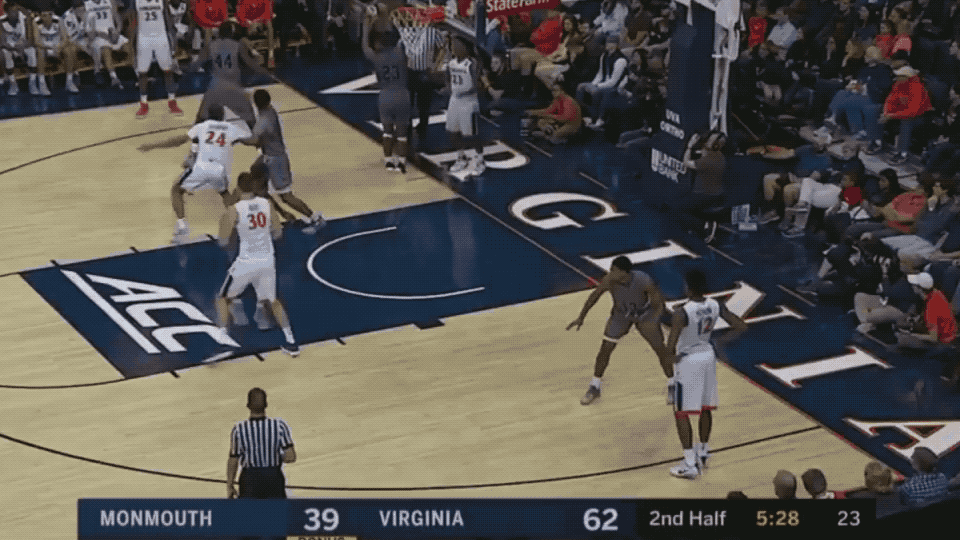 Marco Anthony catches the ball above the three-point arc and immediately looks weak-side. Huff sets up to set a pindown for Hunter. As Hunters off the screen, both defender fly out to prevent the catch, which opens things for Huff — who slips deftly to the hoop. Anthony does not miss the cutter; it's an easy slam. The best kind of screen action involves two players that are both threats to put points on the board.
Read More