Kyle Guy put together a successful freshman season on the offensive side of the ball for Virginia. The Indianapolis product emerged as one of the ACC's best shooters — especially off screens and the catch — in 2016-17.
The long range shooting stroke is back this season; Guy connected on 2-of-4 three-pointers in Virginia's win over UNC Greensboro. However, is it safe to say that Guy now as a new dimension to his game? It may be too early to tell, but let's enjoy some small sample size theatre.
Lack Mode
Despite his superb shooting abilities, Kyle Guy was a streaky scorer during his rookies season in the ACC. Part of that inconsistency: when his shot didn't drop, there wasn't another easy way to get points. He could be stymied by simply taking away his jumper.
Guy was the only player in the league last season to play at least 500 minutes, post a usage rate above 20 percent and attempt fewer than 50 free throws. In all of Division I basketball, only 25 other players could make the same claim, per Sports Reference.
In 2016-17, Guy had 12 games of three or fewer points, including five goose eggs. Guy, in those dozen contests, attempted only nine free throws, combined. Even the best shooters in the world need a fallback option; Steph Curry and Klay Thompson — another former Tony Bennett player — don't always rain 26-foot bombs.
Those two guys are two of the best scorers on the planet Earth because they have counters and contingencies to nights when jumpers aren't falling from the sky. Curry and Thompson aren't just standstill shooters; the Splash Brothers can put the ball on the deck, create, attack and hunt trips to the free throw line.
According to KenPom, Guy record an offensive rating of nearly 115 points per 100 possessions, which is outstanding — and representative of an efficient shooter that doesn't turn the ball over (10.6 percent turnover rate). But if Guy can get to the free throw line more often now, then he has the ability to become even more efficient.
It's just one game, but…
Against UNC Greensboro, Kyle Guy attempted 10 free throws, making eight — both of which are career highs. Guy attempted just 35 free throws last season — total. Prior to last week, Guy had never attempted more than four free throws in a game.
As a freshman, the 6-foot-3 guard drew a shooting foul on only 5.9 percent of his pick-and-roll possessions, and four percent of his off-screen possessions, per Synergy Sports.
That wasn't the case against Greensboro, though. According to Synergy, Guy drew a shooting foul on 50 percent of his possessions as a pick-and-roll ball handler, and on 25 percent of his off-screen possessions. Now, this is only one game — things will level out. Free throw rates likes this are unsustainable; however, this is a positive development for UVA. A more aggressive Guy is a necessity for the Cavs this season.
In the first half against the Spartans, Guy gets a flex screen from human cinderblock Jack Salt. Guy's defender does a nice job sticking with him; there's no catch-and-fire opportunity. Instead of forcing the jumper or throwing the ball back out, though, Guy surveys, spins baseline and draws contact at the bucket.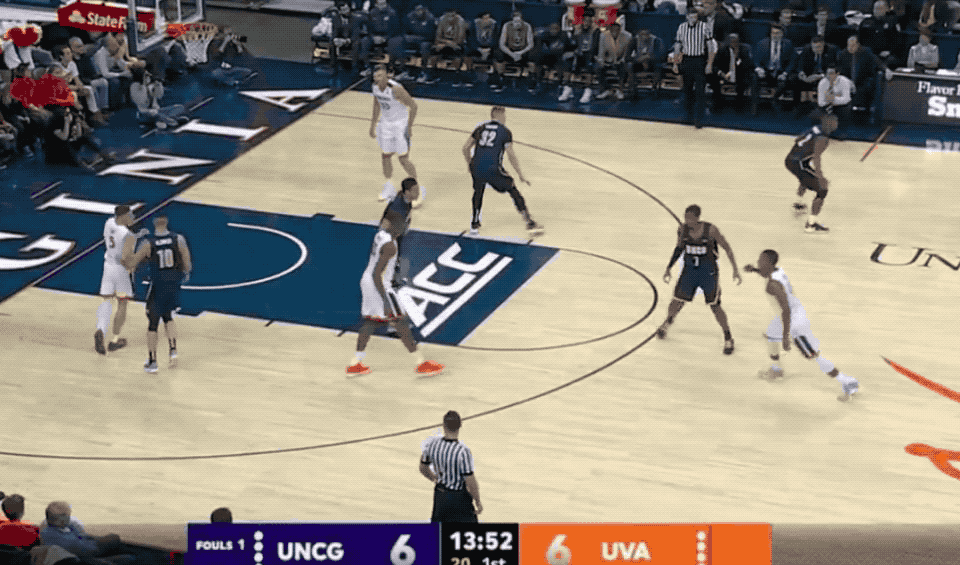 A little later in that half, Guy came flying off another Salt screen — get used to seeing that action at JPJ. The Greensboro defender closes out hard, but Guy has space to shoot this time, and creates contact with a not-so-subtle leg kick.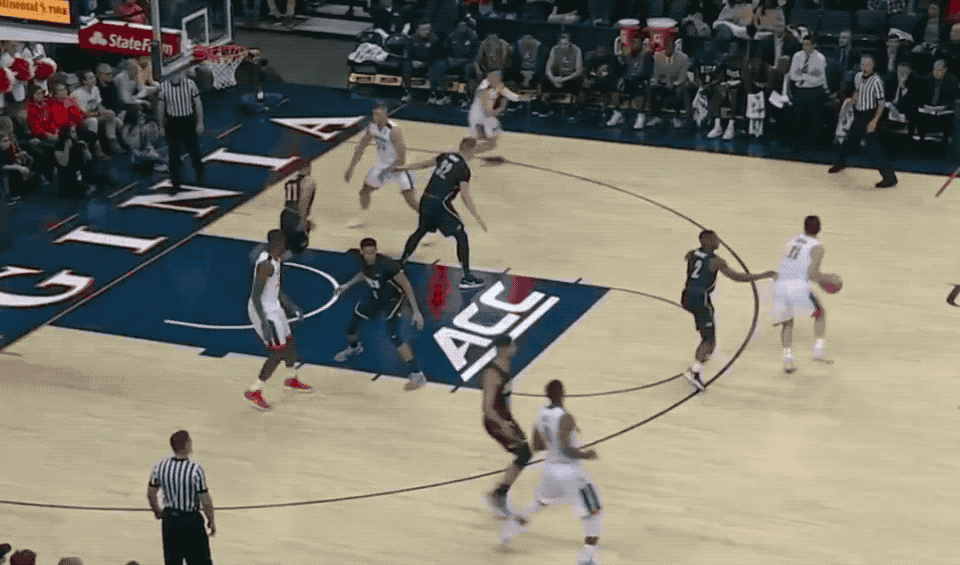 Maneuvers like this won't endure him to wing defenders or opposing fans, but the result — three free throws — is quite the reward.
That's not all, though
Kyle Guy is committed to being more than just a shooter. I doubt his three-point attempt rate drops below 40 percent, but he seems to want to put the ball on the deck more this season. That's a boon for a Virginia offense that needs to replace London Perrantes and can bog down without a creator.
Here in semi-transition, Guy catches a Greensboro defense that isn't quite set — it's a 5-on-4 scenario. Guy utilizes a brief brush screen from Isaiah Wilkins to penetrate. Once inside, Guy's left-to-right Eurostep helps draw contract. The result: Guy heads back to the line for two more free throws.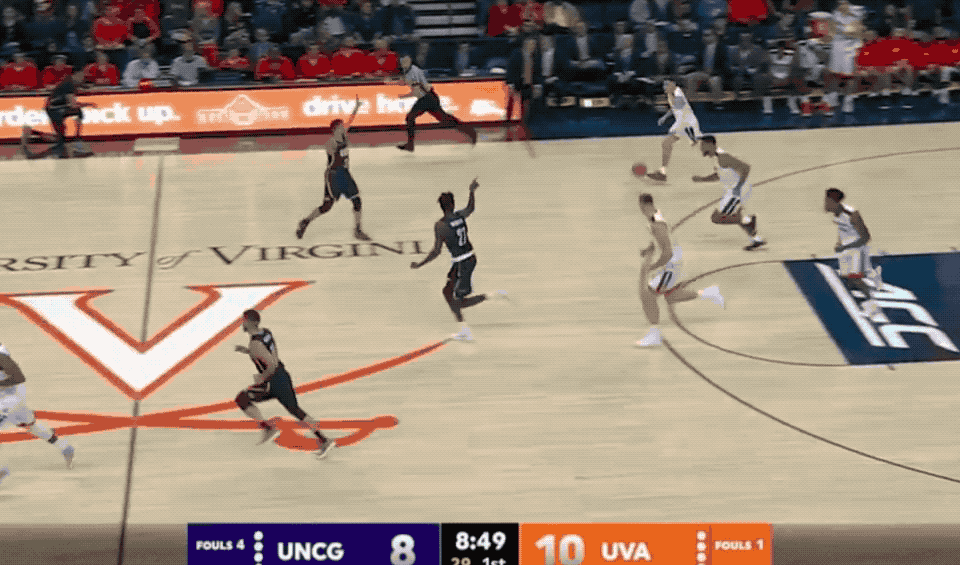 On the possession before this drive, Guy is once again in attack mode, on the fast break. This time, Guy finishes strongly through contact.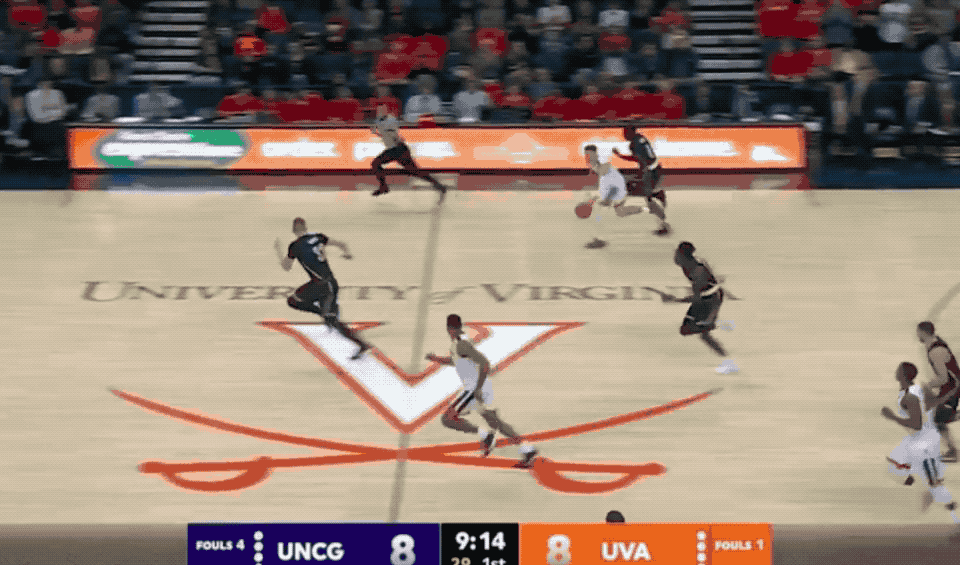 According to Synergy, Guy was lightly-used but effective in transition in 2016-17: 21 possessions, 9-of-16 (78.1 percent effective field goal rate), 1.2 points per possession. 12 of those field goal attempts came from the wing, spotting up in transition, per Synergy. These two plays are examples of Guy taking matters into his own hands and making something happen.
Read More
Virginia basketball can start 2017 off right with strong non-conference performance