Heading into the 2018 season, one of the obvious strengths of the NC State roster was the wide receiver position. Yes, the Wolfpack lost the excellent Jaylen Samuels from the slot; however, NC State returned a veteran and dynamic receiving crew. The headliner was Kelvin Harmon; Jakobi Meyers was the rising star, and Stephen Louis the proven deep threat.
The obvious wildcards/x-factors were C.J. Riley and Emeka Emezie, who combined for 22 catches (38 targets) and 305 receiving yards. So far, that seems to have all held true; Ryan Finley certainly has weapons on offense. However, another perimeter option has also joined the party, and he's been an excellent addition for the Pack: redshirt freshman Thayer Thomas.
It didn't take long for Thomas to get in on the action, either. The former walk-on (get ready to hear this 2,500 more times this season), who was unranked out of high school, was on the receiving end of NC State's first touchdown on the 2018 season — a 16-yard catch and run with Harmon and Emezi helping to pave the way for payday.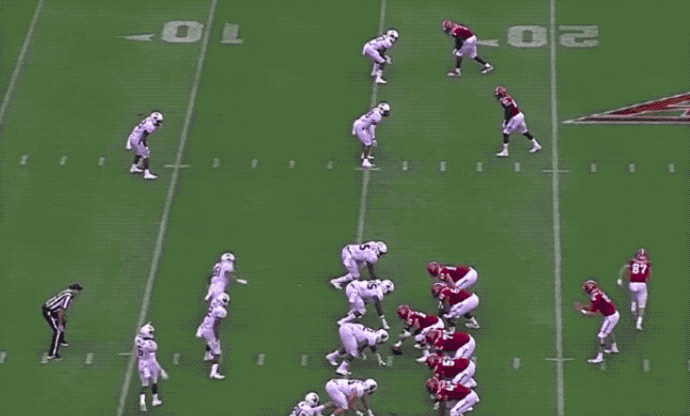 With Meyers turning into a target vacuum, Thomas was targeted just one other time against James Madison, which resulted in an incompletion. He did, however, add a 40-yard punt return in that game, too. All in all, a solid debut.
Have yourself a day
One week later, though, with Meyers out with an injury, Thayer Thomas — in only his second game — became a target monster for Ryan Finley. In the win over Georgia State, Thomas was NC State's leading receiver and second most targeted receiver — nine catches on nine targets.
NC State's passing breakdown vs. Georgia State, in YP form pic.twitter.com/UYOa2L97ew

— Joe Giglio (@jwgiglio) September 9, 2018
On his second red zone target of the season, which came in the Georgia State game, Thomas also record his second touchdown of the season.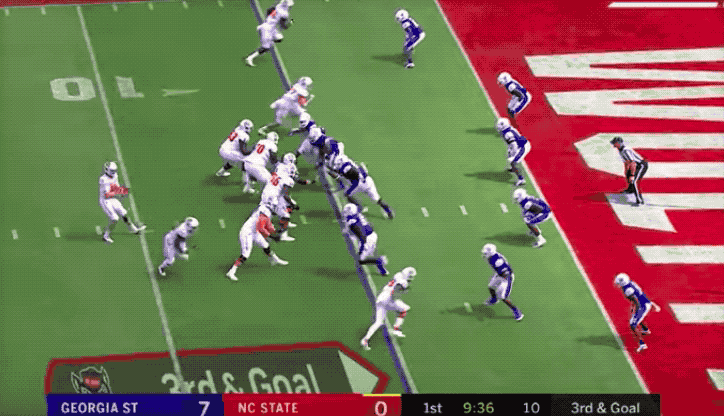 For the season now, Thomas has 10 receptions for 130 yards and two touchdowns on 11 targets (90.9 percent catch rate). His efforts as the featured slot receiver in State's offense didn't go unnoticed. Thomas was named Rookie of the Week by the ACC as he posted the third best receiving grade in the ACC last week, per Pro Football Focus.
According to Sports Reference, Thomas became just the sixth different NC State receiver — since the 2000 season — to record at least nine catches for 100 yards and a touchdown in one game. He's joined on that list by Harmon, Meyers, Jerricho Cotchery (six times), Donald Bowens and Tramain Hall.
The top receiving grades from ACC WRs in Week 2 – paced by Virginia Tech's Damon Hazelton pic.twitter.com/smUK1S31Ed

— PFF College (@PFF_College) September 10, 2018
Despite Meyers playing just one game so far, NC State now has four players inside the top 10 of the ACC in terms of total receptions: Meyers (14), Harmons (12), Thomas (10) and Emezie (9).
In the win over Georgia State, Thomas flashed some additional skills, too — hitting running back Trent Pennix on a 56-yard chuck that caught the defense completely off guard.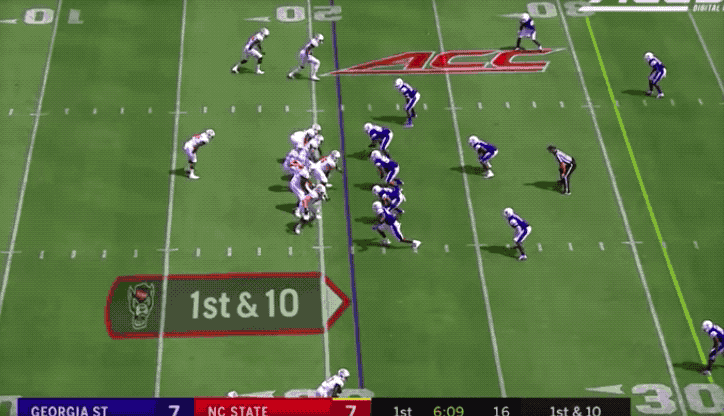 Read More
ACC Football Power Rankings Week 2: Clemson holds serve, UNC approaches free fall