Lauren Brownlow breaks down today's Russell Athletic Bowl.
I'm starting to sense a theme here. And that theme is that ACC teams are kind of getting shafted in these bowl matchups. I mean, come on. The .500 teams – or 7-5 teams – from the ACC are either having to play major-conference opponents with fewer losses or some really scrappy MAC/CUSA team with like nine wins or something. HOW ARE WE SUPPOSED TO WIN ALL OF THESE?!?!
I mean, it seemed like it was a mere formality that Louisville would play in a BCS game before this year began, and the Cardinals are very talented, loss to UCF notwithstanding. This would have been a very tough non-conference game for Miami, much less a bowl game. And it's 9-3 versus 11-1. REALLY, BOWL PEOPLE? REALLY???
(Rant over)
Nonetheless, the winner of this game wins … ALL THE ATHLETIC BOWLS!
MIAMI (9-3) VS. NO. 18 LOUISVILLE (11-1)
Time: 6:45 p.m.
TV: ESPN
KEY FOR LOUISVILLE
Keep Miami off the field as much as possible. And that means getting off the field on third down. That is something Louisville has been pretty good at all season, holding opponents to 29% on third down. But in the final four games of the season, that number went up to 33.9% (it was 25.3% in the first eight games). The quality of opponent improved some, of course, but it wasn't just that. Miami, meanwhile, has gone the other way with its third-down success. It started the year 35-of-85 on third down (over 41%), but finished converting just 33.3% in its final five games (three losses). Miami doesn't always need to convert on third down to have offensive success – the Hurricanes can generally score quickly, and doesn't always need to get to third down at all to move the football – but it certainly doesn't hurt. The Hurricanes were able to demoralize North Carolina that way earlier this season, converting 8-of-16 third downs, and that offense is too dangerous to leave on the field for longer than you have to.
KEY FOR MIAMI
The defense might need to show up. Just saying. Remember the beginning of this season when we were all talking about how much better Miami's defense was this year? Welp. And it still is much better this season. But after last season, that's a low bar. And when your defense makes Logan Thomas look like … well, the player we all thought he could be a few years ago, it's a problem. And that's one of many problems for this Miami defense, which will now be tasked with slowing down one of the best offenses in the country in Louisville. Miami had 13 sacks in its final eight games after notching 16 in its first four games, and the Hurricanes allowed at least 21 points in its final eight games, even to a bad USF offense (which probably should have been the first red flag). Miami allowed an average of 509 total yards in its final three games, even against a Pitt offense that was struggling and an anemic Cavalier offense, and an average of nearly 274 yards a game on the ground alone in that span (6.3 yards a carry). That's … eesh. And so obviously that defense is going to have to be a lot better. Captain Obvious strikes again!
HERE
'

S A GUY

Teddy Bridgewater. Narrative alert, guys – Louisville's outstanding quarterback and Miami-area native wanted to go to Miami and was committed, but when Miami fired head coach Randy Shannon, he reneged and ended up at Louisville. This … may or may not come up on the broadcast about 5,000 times. Just to warn you. And if you didn't already know about Teddy Terrific, well, you'd better ask somebody! And if you ask me, he should have been invited to New York for the Heisman festivities. But LOUISVILLE DIDN'T PLAY ANYONE RAWRRRRR! Sorry. Mixing up my narratives. And narratives aside, Bridgewater is fantastic. He's averaged nearly 300 yards passing a game, completing over 70% of his passes and has 28 touchdowns to four interceptions. (Seriously … how did he not get invited to New York?) This will almost certainly be Bridgewater's last game in a Louisville uniform, and he's going to want to make it count against the team that DIDN'T WANT HIM BADLY ENOUGH! Because if Miami did want him, it WOULD HAVE KEPT RANDY SHANNON! Okay, not really. But watch this game if for no other reason than Bridgewater. He's that good.
THIS GUY
Stephen Morris. This team goes as its senior quarterback goes, and it's been that way all season. Sometimes, Morris makes a throw that would lead one to believe he's the best quarterback in the country. And then there are other times … when he does things like throw a football at a Duke defender in a dead-ball situation. (Have to clarify, because there are times when he's possessed by the spirit of Jacory Harris. Like that time in Chapel Hill. And he just throws to the other team in a live-ball situation.) This isn't meant to pile on Morris, who in all likelihood will become just the second Miami quarterback ever to pass for 3,000 yards in more than one season. He finished the season completing 58.7% of his passes for 239 yards a game, throwing 21 touchdowns to 12 interceptions. And he did it without having his full complement of weapons throughout much of the latter part of the season. But again, this team goes as he goes. And he's had some … well, let's just call them strange performances this season. That's probably fair. He'll be facing off against a Louisville defense that has allowed just one opponent to pass for over 250 yards all season and has at least one interception in all but two games.
STATS ARE FOR LOSERS
Miami leads the all-time series with Louisville, 9-1-1. But the two teams haven't met since 2006, when No. 12 Louisville got its first win in the series over No. 15 Miami, 31-7. It was an epic battle between Brian Brohm and Kyle Wright. HOW COULD ANY OF US HAVE FORGOTTEN THIS GAME? … Louisville will be seeking its second 12-win season in school history and first since 2006. Louisville is one of just seven schools with 23 or more wins over the last two seasons. … Miami's nine-win season is its first since 2009, and one more win would give the Hurricanes ten wins for the first time since 2003 when it finished 11-2 and beat FSU in the Orange Bowl. … No Miami quarterback has had more than 362 yards passing in a bowl game (Ken Dorsey in 2002), and no opposing quarterback in a bowl has ever had more than 252 yards passing (Rex Grossman in 2001). One or both of those Miami records could be in play.
NARRATIVES
*Note: Since Louisville is joining the league next year, I'm giving them narratives. And because I like Mark Ennis. And also because Louisville serves beer in its press box after games. Just a lot of reasons to like Louisville. Also, bourbon. And I don't even drink bourbon. But I hear good things.
Miami Win:
And also:
So great.
Miami Loss:
And:
Louisville Win:
An Atlantic team beating a Coastal team? Weird.
Also, RANDY SHANNON'S REVENGE, ENACTED BY HIS BFF TEDDY BRIDGEWATER!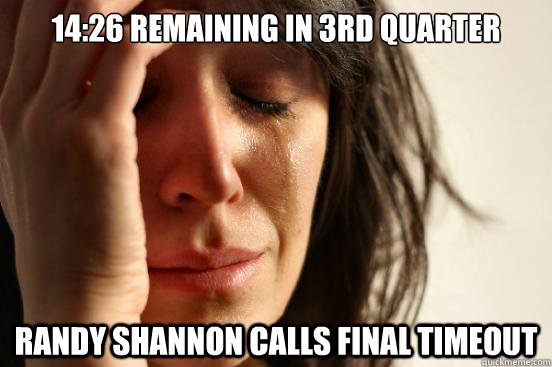 Louisville Loss:
Has anyone mentioned lately that LOUISVILLE DIDN'T PLAY ANYONE THIS SEASON and THE AAC IS AN AWFUL, AWFUL EXCUSE FOR A CONFERENCE and THIS IS ALL LOUISVILLE'S FAULT? No? Well, they will.
PREDICTION
Louisville, 36-27. Yep. I am all in on Louisville. All aboard the Teddy Train. Welcome to the ACC, Louisville. We already love you so don't let us down like Miami did. (Sorry, Canes fans.)
Overall: 88-28 (38-19 ACC)
Postseason: 3-1