This game needs a name. A rivalry with its own Wikipedia page needs a name, doesn't it? It feels like it should have one. The Clemsoning Bowl, perhaps? I'm not a believer in that, but Georgia Tech did hand Clemson its first loss in 2011. Handily, I might add. That technically qualifies as a Clemsoning. And 2011, not coincidentally, was the last year that Clemson, um, Clemsoned, as it were.
But that's not a fair name. The exact midway point between Bobby Dodd and Clemson Memorial Stadiums is Maysville, Georgia, and their only real landmark is the Hurricane Shoals Park. (Some pretty intense history there, for the record.) So … the Shoals Bowl? The Battle of the Shoals? I don't know.
Whatever you want to call it, this is a game that will decide a lot of important things in the ACC this year. If Clemson wants to make a BCS bowl, it has to win this game. Has to. Obviously, it will have to beat South Carolina on November 30, but that was a given anyway after the loss to Florida State. Clemson can't afford another stumble. This game and the Citadel are the only opponents before that one. And as for Georgia Tech, a win and the Yellow Jackets are in position to win the Coastal. Tiebreakers and what not notwithstanding, they'd be 6-2 and done with their ACC slate. It would also knock Duke out of the running for the Coastal Division crown, which would leave … oh forget it, I'm not going down the list of Coastal scenarios. The annual Coastal Cluster, brought to you by Paul Johnson and Frank Beamer, everyone! Sigh.
The real question is, what's the worst possible outcome for the ACC? Since neither of these teams can beat Florida State tonight, whatever the worst outcome is will likely occur. Because #goacc.
GEORGIA TECH (6-3, 5-2 ACC) AT NO. 8 CLEMSON (8-1, 6-1)
Time: 7:30 p.m.
TV: ESPN
KEY FOR GEORGIA TECH
Pressuring Tajh Boyd. Let's be honest – Clemson's offensive line has been a concern most of the season, and that showed itself to be true recently. Boyd has been sacked 21 times all season, but 10 have come in the last three games. And no, Florida State didn't have all 10 (just four). Virginia had just two, but a depleted Maryland team had four. Georgia Tech, on the other hand, is trending in the opposite direction. The Yellow Jackets' Ted Roof-ian New Look Defense was a bit … underwhelming at the start of the year. It wasn't allowing a ton of yards, but it also wasn't really making much happen, seemingly. In the first five games, Georgia Tech had two forced fumbles, seven sacks (1.4 per game) and 19 tackles for loss (3.8 per game). Not bad … but rather blah, especially considering Elon was one of the opponents. But in the last four games, things are really coming together. The Tech defense has 28 tackles for loss (7.0 per game) in that span to go with 12 sacks (3.0 per game) and four forced fumbles. Georgia Tech has allowed a total of 138 yards rushing in the last three games (and just one rushing touchdown) on 78 carries.
None of the teams Georgia Tech has faced are particularly dynamic offensively, but Syracuse can run the ball a little bit, as can Virginia. Two of Tech's best defensive performances all season have come in the last three games, total-yardage-allowed wise. And Tech has a good history defending Clemson, too. Well, sort of. Boyd is 49-of-81 against Georgia Tech in two games for 692 yards, three touchdowns and four interceptions. He's been sacked five times and has 23 rushes for 62 yards. In the loss his sophomore year, Boyd had one touchdown and two picks and ran for -1 yards. Last year, while he had a better game in a Clemson win, he still threw two picks, was sacked three times and hurried three more. Obviously, Georgia Tech is going to need more of that, in addition to its much stouter rushing defense, to win this game.
KEY FOR CLEMSON
Getting turnovers – and capitalizing on them. Georgia Tech is playing better the last three games, but the Yellow Jackets still have eight turnovers in that span, including seven in the last two games (five at Virginia). They started off the year great in that respect, turning it over just twice in the first three games (all wins) and following that up with eight in the next three (all losses). The difference, since Georgia Tech is still obviously turning it over, is that it isn't allowing points off said turnovers. UNC is the only team to score a point off of a Georgia Tech turnover this season in a Georgia Tech win (the Tar Heels got a touchdown out of a Vad Lee fumble). In Georgia Tech's three losses, it allowed 42 points off of eight turnovers compared to seven allowed on the other 10 in wins. Clemson has 87 points off 23 opponent turnovers this season, and in the last two games, the Tigers have turned seven opponent turnovers into 31 points. They were especially efficient at Virginia, turning all three Virginia turnovers into touchdowns. But they've struggled with it some too, turning four Maryland turnovers into just 10 points the game before. They can't miss those kinds of opportunities against Georgia Tech.
HERE'S A GUY
Vad Lee. Well, he had a rough stretch, didn't he? It was looking like backup Justin Thomas might do to Lee what Lee did to Tevin Washington last year when Thomas came in against Syracuse and had 95 yards rushing on 10 carries. Thomas had seen action in four straight games until the Pitt game, though, when it was all Lee. And Lee delivered, as he has been. In the last three games – all wins – he's completed 11-of-18 passes for 247 yards, one touchdown and one interception. In the three games before that – all losses – he was 19-of-57 for 340 yards, five touchdowns and four interceptions. And he was sacked five times. He's been sacked once in the last three games, and it's not like he hasn't faced some defenses with capable … uh … sackers? Sure. Anyway, he's also cut way down on his turnovers, even if his teammates haven't, in the last three games. He's lost two in the last three games after losing six in Georgia Tech's three-game skid. And he's running the ball more efficiently – 35 attempts for 112 yards and two scores as opposed to 51 for 102 and one score in the losing streak.
THIS GUY
Roderick McDowell. Clemson's senior running back started off the year with a 22-carry, 132-yard effort in primetime against Georgia … and then had 38 carries for 162 yards over the next four games combined. Womp womp. (Oh, and PS, his quarterback had 44 carries in that same span.) But in the last four games, McDowell has come alive and it's meant mostly good things for Clemson (let's be honest, not much good for Clemson happened against Florida State, so yeah). But he has 71 carries for 383 yards (nearly 96 a game and 5.4 a carry) in that span to go with three rushing touchdowns. In the last two games, he has 42 carries for 231 yards and three scores. All three of his rushing touchdowns have come in the last two games. And McDowell has also become more involved in the passing game, which is important. He had a total of five catches for 33 yards in Clemson's first five games, bur he has 13 for 74 and a touchdown in the last four games alone. Last year, Andre Ellington was Clemson's main back, but McDowell still had 56 yards and two touchdowns on nine carries against Georgia Tech, adding a catch for 23 yards. This year, though, Georgia Tech has the No. 10 rushing defense in the country, allowing just 103.4 yards per game. McDowell's going to have to be good for Clemson to win this game, though. Or someone will. But probably McDowell.
STATS ARE FOR LOSERS
Georgia Tech leads the all-time series 50-26-2 and insanely enough, 43 of those wins have come in Atlanta (Clemson leads 11-6 at Clemson). … Naturally, these games are usually close as 12 of the last 18 in the series have been decided by five points or less. And from 1996-01, EVERY game was decided by three points exactly. … Dabo Swinney is 2-4 against Georgia Tech as Clemson's head coach and Georgia Tech's Paul Johnson, conversely, is 4-2 against the Tigers. Clemson has won two of the last three, but Georgia Tech has won five of the last seven. … Georgia Tech has played just two teams this year with records below .500 (UNC and Virginia) and four of Georgia Tech's five ACC wins so far are against teams that are on combined 11-game winning streaks (UNC is at three, Duke at five, Syracuse at two and Pitt at one). … Somehow, I hadn't noticed this stat until this week but Georgia Tech has not been shut out at home since November 30, 1957. That's 351 straight games at home without a shutout. That's … kind of insane.
NARRATIVES
Georgia Tech Win:
COASTAL CHAMPS AGAIN, MAYBE, PENDING TIEBREAKERS?!?!?!
Georgia Tech Loss:
We'll probably see a lot of this on the Georgia Tech sideline: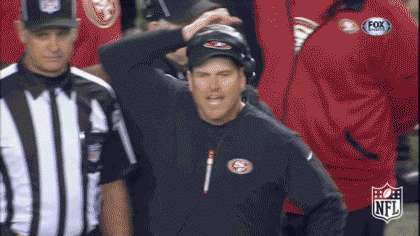 Clemson Win:
Well, we got through that one! Never a doubt.
Clemson Loss:
CLEMSONINGCLEMSONINGCLEMSONINGCLEMSONSING … did I mention … Clemsoning? Also …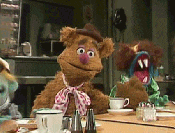 PREDICTION
Clemson, 38-27. Georgia Tech always finds a way to make this close, and the Jackets have been playing well lately, but they still can't seem to help themselves when it comes to giving up the football. Clemson will make you pay dearly for those kinds of mistakes. And it's in Death Valley.
Week 11: 5-2 (4-1 ACC)
Overall: 68-20 (29-12 ACC)