Due to complications with COVID-19, the North Carolina High School Athletic Association has been forced to rearrange its 2020-2021 calendar.
One of the key elements of that will involve high school football moving from the fall of 2020 to the spring of 2021. Football practices will start in early February (Feb. 8); the first games will take place on Feb. 26. There will be a seven-game schedule in place for football, too.
It's official: @NCHSAA's revised sports calendar for 2020-21 pushes football games back to Feb. 26 through April 9, 2021.

— Joe Sirera (@JoeSireraNR) August 12, 2020
This decision will cause plenty of other pieces to start moving, too. At the top of that list: decisions for top-line North Carolina football recruits. Will prep prospects headed into their senior season stick around and play in the spring? What will players that intended to graduate early and enroll in college next spring do? Will any players alter their initial thinking?
It's early, but there's already some (possible) movement with key pieces in UNC's 2021 recruiting class.
Keeshawn Silver, a 4-star defensive end from Rocky Mount who plans to play both football and basketball at UNC, tweeted shortly after the news. The tweet seemed to indicate that Silver wouldn't play football in the spring. However, about an hour after posting the tweet, Silver deleted it. (This is a screenshot.)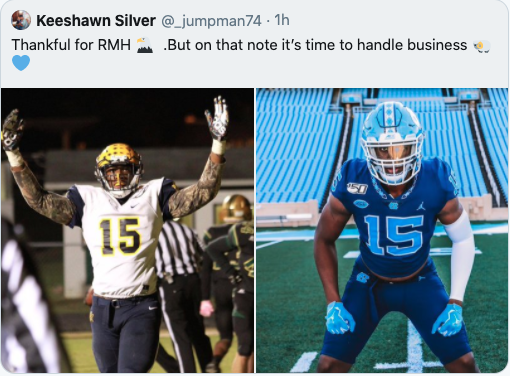 Elsewhere around the state, Drake Maye — a 4-star quarterback commit out of Charlotte — spoke with the Charlotte Observer shortly after the news broke.
Maye, a two-sport athlete (football and basketball), will now skip basketball for his senior season; however, he plans to play football in the spring at Myers Park.
With high school football being pushed back to 2021, star players now have to decide to go college or come back for spring ball.

We asked Myers Park QB Drake Maye, the #UNC commit, what his plans arehttps://t.co/ZqUBSENwaD pic.twitter.com/mqrEJdw7ol

— Langston Wertz Jr. (@langstonwertzjr) August 12, 2020
Sticking in Charlotte: Power Echols, a 4-star linebacker from Vance, will go a different path from Maye. Echols, a two-time defensive player of the year in North Carolina, will skip his senior season and enroll early at UNC.
BREAKING: Vance High linebacker Power Echols, two-time NC defensive player of the year, won't return for his senior season in February, will enroll at UNC earlyhttps://t.co/ZqUBSENwaD pic.twitter.com/PAvh7R9C4k

— Langston Wertz Jr. (@langstonwertzjr) August 12, 2020
Cornerback Tony Grimes, a 5-star prospect and the top player in North Carolina's 2021 recruiting class, announced last month that he would reclassify from 2021 to 2020 due to concerns that COVID-19 would alter Virginia's high school football schedule.
Read More on UNC Football
Tar Heels add Charlotte as non-conference opponent for 2020 schedule