If you're not on social media and you haven't seen the image, allow us to describe it for you.
It's morning in Miami Gardens. The sun peeks through the left side of the scene, golden and glowing. It shines through the open-air gap between the top level of seats and the edge of the canopy roof. You can imagine a warm South Florida summer breeze flowing over the aqua seats and lapping at the giant video boards, which in this scene are sleeping.
The steel beams of the roof stand guard over the grandstand, the whole scene presenting to the viewer a rich green playing field, thick and fluffy, of sod laid down the day before. Soon, lines will be painted, logos will be applied, and cleated feet will dance for 64,982 faithful.
There's almost nothing that could spoil this perfect picture of New Miami Stadium, which was shared on Twitter by Dolphins CEO Tom Garfinkel last week. It is proof positive that the Dolphins' two-year, $550 million odyssey has finally made a complete football stadium of a construction project.
[caption id="attachment_75774" align="alignleft" width="1000"]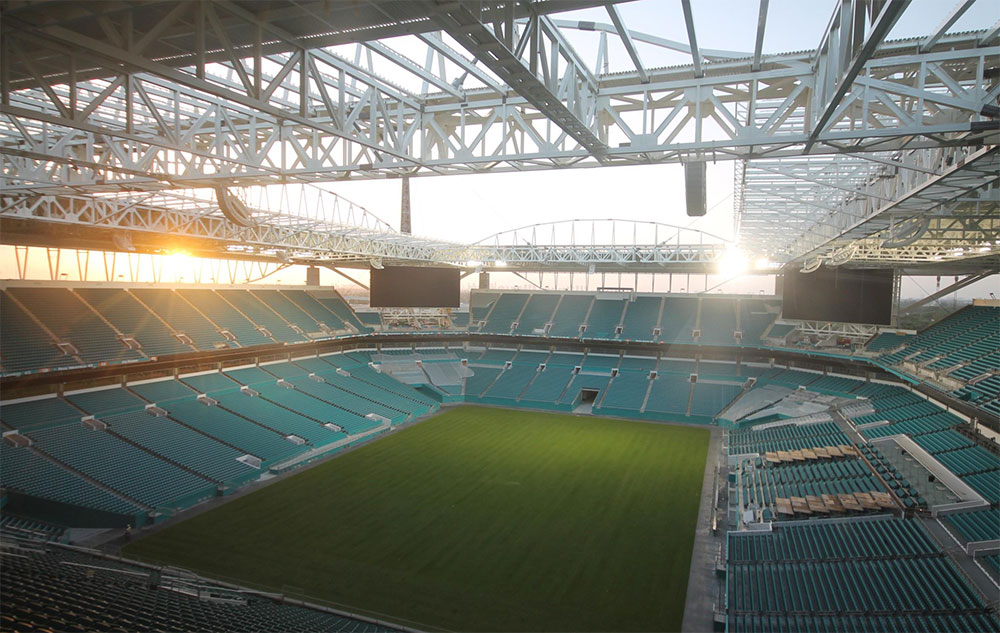 Source: Twitter account @TomGarfinkel[/caption]
Is there any possibility the stadium won't be ready for Miami's home opener on Sept. 3? To find out for free, sign up for basic access to ACCSports.com.
Get access to the rest of this article and unlimited access to the rest of ACCSports.com when you upgrade to Premium Access!
Premium Access members receive:
Complete access to recruiting news, rumors, and speculation for every ACC school in one source
Unlimited article access to ACCSports.com, anywhere, anytime, and on any device
Ability to participate in exclusive member polls and rankings
Expert recruiting analysis from Brick Oettinger and Adam Powell
Click on the button below to view all the benefits of becoming a Premium Access member.