Duke and Kentucky opened up the 2021-22 season with a bang at Madison Square Garden. A variety of players made contributed to Duke's 79-71 win; however, the stars of the night were rookies Trevor Keels and Paolo Banchero, who combined for 47 points in the victory.
As the Blue Devils return to Durham, let's take a quick look at a couple notable developments from Duke's win up in the Big Apple.
Empty Things Out
Despite a woeful 3-point shooting performance (1-of-13 3PA), Duke found success from several different play types: 1.08 points per possession vs. Kentucky. At times, Duke opted to simply play through the talents of Banchero — elbow isolations, transition grab-and-goes — or Keels, who dazzled as a pick-and-roll engine.
Unsurprisingly, the Blue Devils pounded the rim. According to Bart Torvik's shot data, Duke went 21-of-34 on close 2-point attempts (61.8 2P%). That volume was blended with 23 free throw attempts.
One of Duke's key sets for getting downhill and into the paint was its 1-4 High Continuity Ball Screen offense. In particular, the Blue Devils hammered empty-corner pick-and-roll looks out of the side-to-side ball screen action.
During the above possession, Joey Baker and Theo John launch the action with an empty-side look to the middle of the floor. Banchero lifts to the slot and receives a pass from Baker. Quickly, Banchero flips sides of the floor with the ball, while AJ Griffin cuts through the lane. This opens up a side of the floor for Jeremy Roach-Banchero pick-and-roll.
With Banchero occupying a great deal of defensive attention from Jacob Toppin, Roach has an angle to the basket.
From earlier in the game: It's Keels and Mark Williams with the same empty-corner concept out of the continuity ball screen (CBS) look. This time, however, Duke doesn't reverse the ball through Banchero in the slot.
Keels does a nice job using his handle to get Oscar Tshiebwe to lurch up one step. This creates room for the lob to Williams and his 7-foot-7 wingspan.
Duke assisted on only seven of its 31 field goals: 22.6 percent assist rate. Keels, however, had several gorgeous passes in the contest.
When Banchero left the game in the second half with cramps, Duke downsized (slightly) and played Griffin at the 4. In turn, Griffin had two really good empty-side possessions as a screener, including this downhill finish from Keels.
Once again, Toppin gets pulled out of proper pick-and-roll coverage when Griffin screens and pops out beyond the arc.
Here's another CBS possession with Griffin as the initial on-ball screener. Tshiebwe does well to help off John (a non-shooter) and clog up the lane as Keels drives for the rim. It seems as though the possession may stall out; however, when Keion Brooks needlessly gambles for a steal, Griffin cuts backdoor for a layup.
This isn't anything too complex. Duke's just putting talented players in spots to make plays. The Blue Devils took whatever the Wildcats left exposed.
Wendell Moore Jr. sees Kentucky caught between pick-and-roll coverages. Kellan Grady looks ready to Ice the side ball screen and gets positioned to funnel Moore toward the baseline and a would-be help defender. However, Tshiebwe isn't in position to Ice the screen; he's up at the level, waiting for Moore to drive left.
As a result, no one is home on the back side of Kentucky's defense when Moore rejects the screen.
Power On The Wing
Mike Krzyzewski has a talented roster for his 42nd and final season at Duke. In recent years, the Blue Devils have featured a ridiculous amount of future NBA talent. This group, however, looks a little different — specific to its strength from the wing positions and multiple offensive initiators.
The 2018-19 team featured Zion Williamson and RJ Barrett, another ridiculously strong wing player. But just look at this roster; there's power at basically every position, including some of the strongest, most industrious 2s and 3s in the country.
Keels is 6-foot-4, 221 pounds and built like a tank. Griffin is a 6-foot-6, 222-pound wing with muscles on top of muscles.
Moore enters his third season in the program, and he's never been in better shape. The 6-foot-5 Moore weighs in at 213 pounds, and is at his peak in terms of vertical pop and strength.
Duke has the ability to play matchup basketball with these guys this season. All three can handle the ball, create their own looks, pick out teammates when they draw extra defensive attention and post-up when called upon.
That's what makes this group of players so tantalizing, especially once you factor in the ubiquitous Banchero. These guys aren't just strong. Their skill levels are really high, too.
Up in the Big Apple, Kentucky found this out the hard way. The Wildcats simply weren't able to find a safe place to stash the 5-foot-9, 180-pound Sahvir Wheeler.
Late in the first half, Duke went to its Horns Duck action for Moore. On this look, Duke enters the ball to the elbow — with Moore in the opposite corner. Moore will dart to the paint and look for the ball off a quick duck-in.
This is nothing new for Moore, though. Duke has utilized WMJ in this action for years now. However, with his new conditioning, Moore is really ready to feast on these looks.
It should be noted, too: Banchero is such a smooth operator with the basketball. He's perfectly suited to orchestrate things from the elbows — either working 1-on-1 in space for his own offense or scanning over the top of the defense, while looking for cutters and duck-ins.
Trevor Keels: Thunder and Lightning
When evaluating perimeter draft prospects, there are a lot of different traits to look for and consider. Often, we tend to focus on speed, or a guy's first step. Those are certainly important; no one should argue otherwise. However, if you focus too narrowly on speed, you're liable to overlook the value of strength. It's a crucial element in terms of creation upside and on-ball defense.
Over the last year, I've discussed this in the context of two of the ACC's top guards: Virginia's Reece Beekman and Cam Hayes of NC State. Both Beekman and Hayes are terrific players coming off nice rookie seasons. Hayes and Beekman are also on the skinnier side. As a result, both struggled to finish at the rim last season. (Beekman, for whatever it's worth, is already an elite on-ball defender, despite his thin frame.)
That, however, won't be an issue for Keels, who overpowered multiple lines of Kentucky's half-court defense.
Keels is still just 18, and he weighs roughly 50 pounds more than Beekman and Hayes were as freshmen last year. He puts that strength to good use, too.
Quick note: Tshiebwe is one of the strongest players in the country, regardless of position. The 6-foot-9, 255-pound Tshiebwe is a menace on the glass and in the middle of the lane. He spent most of the game vs. Duke pushing Williams around — en route to 12 offensive rebounds. Keels was totally unfazed when faced with Tshiebwe, though.
On more than one occasion, Keels met Tshiebwe at the rim, absorbed the type of contact that would knock over, like, 99 percent of the people on Earth and finished with good craft.
If Keels wasn't willing to flinch while being introduced to Tshiebwe at the summit, then there's no chance for an undersized player like Wheeler.
The same can be said for Tyty Washington on this baseline out-of-bounds look. Hop on board: the No. 1 Train is leaving the station.
As impressive as Keels was bowling through traffic for finishes, his skills as an offensive creator continue to pop. Keels already has a level of sophistication to his pick-and-roll game; he plays with pace and poise. Early in his career at Duke, he's shown the ability to manipulate multiple defenders in these looks.
This is a nice screen from John, which helps spark the initial bit of advantage. After that, though, this is all Keels — who pushes Lance Wear off his line, before hitting John for a wide-open spike at the rim.
The Keels possessions that really stand out are the ones where he mixes both strength and skill. Power and finesse.
For instance: From this middle pick-and-roll opportunity, Keels gets a screen from Williams, which puts Washington on his hip. Keels intends to keep him there, too. Keels gets low with his dribble, and Washington is never able to get back into the play.
With Williams rolling to the rim, Tshiebwe must try to play the middle ground — pressure the driving ball handler, while also staying at home against a potential lob. It's hard to be in two places at once. Keels reads this and uses the available space to hit a little jumper.
Here's another spread pick-and-roll look with Keels. This time, the screen from John comes higher up the floor, which puts Wear in a tough spot. With Wear's feet touching the 3-point line, Keels dribbles left off the screen, then quickly snakes back across the track of Toppin, the on-ball defender.
All of a sudden, this becomes a 1-on-1 situation with Keels vs. Wear. That's a big mismatch for Duke. Keels takes advantage and draws the foul.
Duke Defense: Pick-And-Choose
Duke's coaching staff should largely be pleased with the team's defensive effort vs. Kentucky. The Blue Devils competed hard on that end of the floor and took away plenty of what the Wildcats wanted to do. If not for Tshiebwe's absurd effort on the offensive glass, Kentucky's offensive performance would've looked far worse.
However, there were some cracks in Duke's defense. Those issues mostly flowed from the team's pick-and-roll coverages.
This was a concern of mine heading into the season for Duke: How would this team guard pick-and-roll action? Duke will obviously switch 1-4 as freely as just about any team in the country. Banchero showcased his big-time two-way talent by switching around on several possessions, too.
(Yeah, man. This dude is freaking awesome.)
During the 2018-19 season, Marques Bolden and Javin DeLaurier, the team's centers, switched a lot. Their ability to do this was one of the reasons Duke bothered Virginia's dynamic offense so much that season. Duke eliminated so many normal half-court actions by switching — both on and off the ball.
It's a different story when teams drag Williams or John into the action, though. Duke has decisions to make here. The Blue Devils have mixed in some 1-5 switching (John has some upside here), but for now, the Blue Devils have mostly chosen to play Williams close to the level of the screen.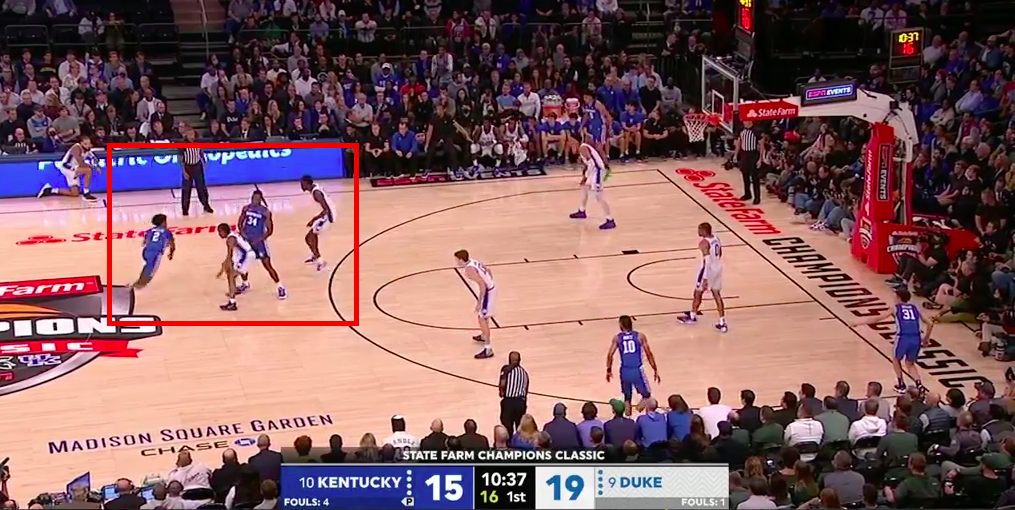 This should help Duke limit opponent pull-up 3-point attempts. However, it also puts Williams in a tough spot — 20+ feet from the basket vs. a small, zippy point guard.
Kentucky created good second-side looks off these simple actions. When Wheeler blows by Williams, a help defender must step, which creates a juicy catch-and-shoot look from deep.
Duke is betting on Williams being able to curtail the initial drive off the ball screen and recover to the rim, when needed.
Williams is so long, and he's pretty quick off of his feet for someone his size. He's capable of making this calculated risk work, but it's not easy.
Williams isn't Anthony Davis or Bam Adebayo; he won't lock up the ball screen action on every single possession. Some north-south drivers will be able to go around him and get the ball up on the glass before Williams can punch it.
Even if Williams is able to come up and help corral the opposing ball handler, things can still run afoul. Those screen-roll possessions require solid back-side rotations.
That doesn't happen on this possession, though: neither Roach nor Moore tag Tshiebwe, who rolls unimpeded to the rim for a lob finish.
Of course, when a weak-side defender helps off his man to tag or bump the roller, that means a spot-up shooter is now open, too. Moore steps up to tag Wear; Grady is open in the weak-side corner. Wheeler makes a gorgeous crosscourt pass for a 3-ball.
Defenses can't guard everything; they must live with some risk. This is the tradeoff. Not every opponent will have a twitchy initiator like Wheeler, which is another aspect to consider.
Kentucky worked to attack this approach by emptying out a corner and running screen-roll at Williams and John.
Duke is exposed in these looks. Those empty-side sets remove a natural help defender to tag the roll man. When Duke's center plays to the level of the screen, it opens up a lane to the rim and a window for a pocket pass from the point guard.
I think Kentucky left some meat on the bone when it came to these empty-side actions. The Wildcats could've benefitted from hammering this action even further. (When Banchero had the opportunities, though, he made some nice plays rotating over along the back line.)
On some instances, Duke will ask Williams to come to the level of the screen, show and slide with the opposing ball handler. Doing something like this is a big ask, but when it works with Williams, you understand why Duke's staff wants to try this approach.
This is wonderful execution in pick-and-roll defense — with Williams coming all the way out to the level and sliding with Wheeler. Williams slides, which buys Keels time to get over the screen from Damion Collins. Moore and Banchero are both there to tag Collins on the roll.
Wheeler is one of the top assisters in the country, but on this possession, he can't even pick out an ace weak-side shooter in Davion Mintz, while being bothered by the size of Keels and Williams.
Trial And Error
At this point, Duke has plenty of runway to experiment with different approaches to guarding pick-and-roll. The season just started and the Blue Devils can continue to bring Williams and John to the level of the screen — with the occasional hard show or trap.
Duke could also try to put Williams in a deeper drop. Instead of coming all the way up to the level of the screen, Williams could sink in the paint and close off the lane. (In the NBA: the Milwaukee Bucks use an extreme version of this approach as their base defense with center Brook Lopez. Although it helps to have excellent defensive personnel and that Giannis guy is pretty good, too.)
There are other risks that come with this, especially against opportunistic pull-up shooters. It would require more from Duke's point-of-attack defenders. Those perimeter defenders would need to fight even harder to get over screens and bother ball handlers.
Given how much Duke's asking from some of those guys on offense, perhaps this is something they'd prefer to avoid trying full-time.
The Blue Devils could try to find some happy-medium approach: play the center to the level of the screen, but as soon as the ball handler comes off, drop into the paint, quickly.
The Blue Devils have dabbled with some 1-5 switching this season — across the Winston-Salem State exhibition game and the matchup with Kentucky. That's probably not the best way to use Williams; however, it would allow Duke to have easier reads on the back side and keep the ball in front.
I remain (moderately) intrigued by the possibility of Duke playing some zone defense this season as well. This wouldn't have to be their base approach, like it was in the 2017-18 season with Wendell Carter Jr. and Marvin Bagley III at the 4 and 5.
Instead, it could be the occasional wildcard to throw at an opponent after a timeout, or if the team's screen-roll defense is really out of sorts on a certain night. (This is something a lot of NBA teams do now following a timeout. In the ACC, Georgia Tech and Josh Pastner will use this method to move the target around, too.)
With Banchero, Williams and John, the Blue Devils certainly have the size to protect the paint and battle on the glass. Plus, the collective length around the perimeter should equate to enough hard contests on opposing 3-point attempts.
Duke has yet to play a second of zone defense this season, but I wouldn't be surprised to see it utilized at some point.
Read More on Trevor Keels and ACC Basketball
NC State's Manny Bates: possibly out for season with shoulder injury