Last season, the Clemson Tigers put together the best offensive season of Brad Brownell's tenure; they scored 112.1 points per 100 possessions, which translated to the 45th most efficient offense in the nation. Clemson was led by forward Jaron Blossomgame, who averaged 18.7 points (61.3 true shooting percentage) and emerged as an all-around talent for the Tigers. Clemson, however, was expected to have an even more balanced scoring attack in 2016-17, and so far those beliefs are coming to fruition.
The Tigers have played just two games thus far, but they're undefeated (quality wins over Georgia and Davidson), and feature a roster that currently has six player averaging 10 or more points and five players shooting at least two 3-pointers per game.
Junior guard Gabe DeVoe struggled shooting the ball during his first two seasons at Clemson: 40-of-139 (28.8 percent) on 3-pointers. He posted a true shooting rate of just 45.6 percent last season, which is rough. However, DeVoe has come out of the gates sniping this season. In the win over Davidson on Thursday, DeVoe scored 16 points on just eight shots, including a 2-of-4 performance from beyond the arc. DeVoe's now shooting 55.6 percent on threes this season.
According to Ken Pomeroy, the Tigers offense has been better this season than it was a year ago — 112.3 points per 100 possessions. Don't look now, but Clemson ranks 18th in the nation in points per possession. DeVoe, by the way, is second the team, per KenPom, in offensive rating: 133.2 points per 100 possessions.
Sidy Djitte has stepped into Clemson's lineup as a senior, and gives them a stabilizing presence in the middle. He's fouling way too much (12.3 fouls per 100 possessions), but Djitte's blocking shots at a much higher rate (7.7 percent), which is exactly what Clemson needs. Djitte (10 points per game) can also be an effective interior presence in Clemson's suddenly spacey offense. Teams can put a lot of pressure on opposing defensive rotations by having a rim-running presence at the hoop, which Djitte provides; he's connected on 75 percent of his field goal attempts, and has posted a team best offensive rating: 134.4 points per 100 possessions. He's also third in the ACC in offensive rebounding rate — 22.4 percent.
Clemson looked their best against Davidson, when they erupted for a 19-4 run during the first half. Four different players scored, and the spurt was punctuated by a Blossomgame slam with 5:31 remaining before the intermission.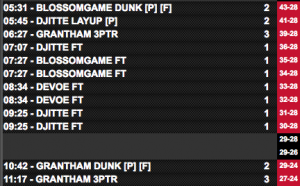 Blossomgame, as expected, has been a force to start; he hasn't hit his threes yet, but he's getting shots up and averaging 15 points per night. That's what you want. The senior forward was remarkably efficient last season, and with improved talent surrounding him, that should remain steady. His jumper will start falling, which will make Brownell's squad even more dangerous on the offensive end. Speaking of talent influxes: Marcquise Reed, now eligible after sitting out last season following his transfer from Robert Morris, has been a super-sub for the Tigers. He has 28 total points this season (14 per game) on just 16 shots in 44 minutes of action. When Reed steps on the floor, Clemson scores 1.30 points per possession, which would rank as the number one offense in the nation by a mile.
Avry Holmes was a double figure scorer for Clemson last season, but he seems ready to take the proverbial next step. Holmes leads the team in scoring (16 points per game), while shooting 45.5 percent. Donte Grantham has shot 70 percent from inside the arc, and dished out a team-high six assists.
All of this sets the table for a really fun Friday afternoon matchup against No. 11 Xavier in the Tire Pros Invitational. Coach Chris Mack's Musketeers rank 33rd in the nation in defensive efficiency (93.9 points per 100 possessions), but they'll have their hands full trying to prevent the Tigers, who have a point differential of plus-27 so far this season.
Clemson and Xavier tip-off at 1:30.