Upon arrival, Jake LaRavia wasted no time in establishing himself as one of the top offensive talents in the ACC. Wake Forest and Steve Forbes look to have landed one of the most important transfers of the 2021 offseason.
The college basketball season started only a month ago, but one of the surprise teams — beyond just in the ACC — resides in Winston-Salem. It's early, but there are some encouraging signs for the Demon Deacons (8-1), including wins over two top-40 KenPom teams: Northwestern and Virginia Tech.
There's still a tall mountain to climb; full-scale conference play loams on the horizon. However, with this new cast of characters, Wake Forest looks to have its best time in five years.
Offensive Fundamentals
During the middle of the 2020-21 season, I put together a deep drive on how things were progressing early on for Steve Forbes and Wake Forest.
At the time, the Demon Deacons weren't a very good basketball team in terms of win-loss record, nor would they be at any point in the season. The upshot of the article, though, was the highlight some of the things that were, in fact, working.
To properly evaluate that team, the focus needed to be on process, not results. Forbes didn't have a roster built to win consistently in the ACC; that's before you also price in just how badly the program was impacted by the COVID-19 pandemic.
Once Wake Forest launched league play, the Demon Deacons ran mostly-good half-court offense, while targeting the 3-point line. The Deacs finished No. 22 nationally in 3-point attempt rate: 46 percent of the team's field goal attempts were of the 3-point variety. That number was easily the highest rate for any Forbes-coached team.
The issues with Wake Forest's 3-point attack had less to do with the volume, and far more to do with how and when those shots were generated.
First off, these weren't the Speed Deacons in terms of pace; Wake Forest finished 319th nationally in average possession length on offense (18.9 seconds), per KenPom. That's changed this season.
Wake Forest has slowed down slightly — after a blistering start — but the 2021-22 Deacons are averaging 16.5 seconds per offensive possession this season, which ranks No. 87 in Division I hoops.
Wake Forest is playing a lot faster, too, while running far less half-court pick-and-roll (and shooting less frequently from the midrange) — 15.3 seconds per offensive possession (No. 33)

During the 2020-21 season, Wake averaged 18.9 seconds per offensive possession (No. 315_

— Brian Geisinger (@bgeis_bird) November 22, 2021
With a defense that's forced more turnovers this season (11.8 percent steal rate), Wake Forest has gotten into transition with far greater frequency and efficiency: 1.15 points per possession, according to Synergy. That's up from 0.98 points per transition possession last year.
Synergy's transition numbers can be a little finicky, but the point remains: Wake Forest is far more dynamic on the break.
Secondly, not all 3-point attempts are created the same. For instance: an open Steph Curry 3-pointer is significantly more valuable than, say, an off-dribble attempt from Russell Westbrook. Well, Wake Forest is creating more open catch-and-shoot looks this season.
During the 2020-21 season, Synergy logged 65.6 percent of Wake Forest's half-court catch-and-shoot looks as "guarded" or heavily contested. That was one of the highest rates in the country. In fact, only 10 other Division I teams recorded a higher percentage of "guarded" half-court catch-and-shoot attmempts last season, per Synergy.
It's obviously early, but that "guarded" number is down to 52.4 percent of Wake Forest's half-court catch-and-shoot attempts this season. Unsurprisingly, Wake Forest is shooting a good number on catch-and-shoot looks, regardless of contest level: 56 percent effective shooting (No. 6 among ACC teams).
This trend also dovetails with the team's increased tempo. It's pace-and-space in Winston-Salem. This is a good thing.
Field goal attempts that come earlier in the shot clock are inherently more efficient than looks that come as the timer dwindles down.
Yes, early clock attempts have higher efficiency, but the causation is tricky. It's as likely that the shots are early because they are good/open as that they are good because they are early. https://t.co/hbHa3h1QjX

— Anchorage Man (@SethPartnow) January 22, 2021
In those late-clock scenarios, often you'll see a player hurriedly hoist up a contested off-dribble shot. Now, unless it's Steph Curry with the basketball, those types of shots are low-probability events.
Alondes Williams: Applying Pressure
Of course, those open 3-point shots don't happen in a vacuum. Like, stuff has to take place to create an open 3-pointer. If coaches were allowed to simply push a button and be rewarded with an open spot-up 3, they'd do it every time down the floor — Hall of Fame coach Roy Williams notwithstanding, probably.
That type of operantly-conditioned basketball doesn't exist, though. In reality, these shots come out of advantage-creation situations: one player drives the the hoop, draws an extra defender and passes out to an open teammate. It's simple slash-and-kick basketball.
To accomplish this, though, you need guys that can put pressure on the rim with their dribble. This is why the addition of Alondes Williams was so crucial; Jake LaRavia wasn't the only big-time transfer to land in Winston-Salem.
Over the offseason, I wrote about Williams: I thought he had the chance to be a real spark for Wake Forest's half-court offense, a unit that desperately needed a jolt in terms of rim pressure.
During the 2020-21 season, only 29 percent of Wake Forest's field goal attempts came on close 2-point attempts, according to Bart Torvik's shot data, which ranked 312th nationally. Daivien Williamson stepped up and did a solid job as a primary creator — with limited resources — but it wasn't enough. The Demon Deacons shot below 54 percent on these looks, too.
With the injection of LaRavia, Williams, Cameron Hildreth and Dallas Walton to the lineup, that's changed, quickly.
So far, 42.3 percent of Wake Forest's total field goal attempts have been 2-point attempts around the basket — good for No. 33 nationally. Wake Forest has connected on 65.5 percent on those attempts as well. These are two massive jumps in the right direction.
Through the first four games of the 2021-22 season, Wake Forest already had more dunks (18), as a team, than all of last season (13). That number has ballooned up to 33 through nine games, now.
Wake Forest already has more dunks this season (18) than all of last year (13)

Alondes Williams, so far in a Wake Forest uniform:
– 21 points per game, 5.1 assists and 2.4 steals per 40 mins
– 78 2P%, 5 dunks, 24-29 2PA around the rim (83 2P%), 79% of his rim FGM unassisted https://t.co/5coKSo9YzD

— Brian Geisinger (@bgeis_bird) November 22, 2021
As expected, Williams has spearheaded this charge: over 61 percent of his field goal attempts have been close 2-point attempts, per Bart Torvik's shot data.
The OU transer is shooting 68.2 percent on these looks — with nearly 70 percent of his makes coming unassisted. Those basket drives have also enabled Williams create a ton of fouls. He's drawn 5.3 fouls per 40 minutes this season, while also attempting 6.6 free throws per 40 minutes.
Last season, no one on Wake Forest's roster drew above 4.8 fouls per 40 minutes (Ian Dubose).
Williams, however, is a complete offensive player; he's in the midst of an incredible season, too. Williams leads Wake Forest in scoring (18.4 points per game), usage rate and assist rate. Currently, he's one of only three high-major players with 25 percent usage, 25 percent assist rate and 60 percent effective shooting.
In his first season with Forbes, Williams is taking on more playmaking responsibilities than ever before and playing the most efficient basketball of his career.
On-Ball, Always On Time: Jake LaRavia
Simply put: LaRavia is a complete offensive player. With his combination of size, shooting and general feel, he's emerged as one of the league's true do-it-all pieces on offense.
LaRavia doesn't make many mistakes; it's hard to speed him up. Chaos can happen around him, but LaRavia always has the threat of picking his dribble up and shooting or passing from any level of the floor.
For the season, LaRavia is averaging just under 15 points per game, while shooting 63.6 percent from the field. Through the first nine games, he has 134 points on just 77 field goal attempts, including the game-winner vs. Northwestern.
In terms of true shot attempts (FGA + 0.44 * FTA), LaRavia is averaging 1.44 points per shot.
The shooting numbers will come back to Earth at some point; for now, though, LaRavia has a ridiculous split: 66.1 percent on 2-point attempts and 55.6 percent on 3-point attempts.
As good as he's been off the catch, LaRavia can get his own shot, too. The Indiana State transfer is shooting a combined 50 percent on post-up and isolation attempts this season, per Synergy Sports.
With LaRavia on the floor this season (305 minutes), Wake Forest is +131, with a net rating of +25.7 points per 100 possessions, according to Pivot Analysis. On the flip side, Wake Forest is only +2 in the 66 minutes with LaRavia on the bench.
These types of on/off splits can be noisy; however, Wake Forest is obviously a different machine with LaRavia's two-way impact.
LaRavia isn't just a play-finisher, though. He can be a really good source of creation (primary or secondary), especially if you let him get to the middle of the floor. When Wake Forest plays Williams, Williamson and LaRavia together, the Demon Deacons have three guys that an effectively organize pick-and-roll action.
Forbes can also play through LaRavia in the post — as both a scorer and a facilitator.
This is one of my favorite passes that's been thrown so far this season. As LSU's press (No.1 nationally in steal rate: 17.4 percent) starts to sink its teeth in on Wake Forest, LaRavia seals Mwani Wilkinson in the middle third; he quickly makes himself available as a target. LaRavia then proceeds to launch gorgeous tic-tac-toe basketball.
After LaRavia catches the ball, Wake Forest has — for a brief window of time — a de facto 3-on-2. LaRavia, who can see over the top of the 6-foot-5 Wilkinson, fakes the pass to Dallas Walton; this causes Darius Days, the back-line defender, to stunt in that direction. In response to that, LaRavia skips it to Cameron Hildreth in the corner — amplifying the possession's advantage. Hildreth capitalizes and quickly sends the ball to Walton at the rim, before a scrambled defense can fully recover.
The Relo Deal
Obviously, LaRavia's four-level scoring package and heads-up passing make him a terrific offensive player in any system. However, one aspect of his skill set that's helped the newcomer blend with an entirely different cast of teammates: his ability to threaten defenses without the basketball.
This starts with LaRavia's spot-up shooting, which has been terrific: 1.42 points per spot-up possession (78.9 eFG%), according to Synergy Sports. Overall, LaRavia is 1o-of-18 on his 3-point attempts (55.6 3P%).
LaRavia doesn't run off a lot of pindowns, looking for his jumper. Instead, he's very clever at relocating along the perimeter for open looks.
Once LaRavia passes off, he doesn't stop moving; he'll read where his teammate is going with the basketball and dart into open pockets of space.
Like A Knife Through Butter
Those movement skills can be found while going in the direction of the hoop, too. LaRavia is an excellent cutter — both off designed looks and random cuts.
Watch this ghost cut along the baseline from LaRavia in the LSU game. Khadim Sy catches in the post and LSU's pressure-packed defense immediately strikes with a double team. Williams reads this and cuts to the middle of the lane, but Efton Reid slides over and denies the pass. LaRavia sees all of this; he sprints in from the corner and slinks behind Reid for the dunk.
According to Synergy Sports, LaRavia is shooting 62.5 percent on cut field goal attempts this season: 1.33 points per possession.
Here's another random, heady cut from LaRavia off a 1-4 baseline out-of-bounds (BLOB) play.
This call is designed to get Williams coming off a pindown from Walton on the weak side of the floor. Williams fades the screen, but VT's Nahiem Alleyne does well to fight over and back to Williams. The Deacons launch dribble-handoff pick-and-roll. With Keve Aluma playing to the level of the screen, Justyn Mutts — LaRavia's defender — must tag Walton as he rolls to the hoops.
Instead of simply popping out beyond the arc, LaRavia sees what's developing and runs to prime rim-front real estate. Williams is on the same page as LaRavia and tall enough to spot this cut. He leads LaRavia with a nice pass.
Here's another display of LaRavia seeing things one step ahead of the defense. Williams slightly overthrows Hildreth on the hit-ahead pass in transition. As Hildreth is able to run the ball down in the corner, though, LaRavia sees an LSU defense with all 10 eyeballs turned away from him.
LaRavia sneaks in behind Tari Eason (who is off to an awesome start this season) and gets another rim finish.
Given his size and scoring touch, Forbes finds a variety of ways to utilize LaRavia as a cutter in Wake Forest's half-court sets.
The Demon Deacons went to this set multiple times in the win over Charleston Southern. The action starts off by looking like one of Wake Forest's many Chin sets. However, instead of having Williams swing the ball to LaRavia on the weak side and cut off the Chin back screen from Sy, he hits LaRavia on a backdoor cut.
Once again, here's that same look to start the second half vs. Charleston Southern. LaRavia, who already has 12 dunks this season, finishes with ease.
Williams (27.4 percent assist rate) really is one of the more daring and skilled live-dribble passers in the ACC, too.
Of course, LaRavia is plenty capable of flipping the roles on this same set — becoming the passer as Williams glides backdoor for two.
Random Comp
Feel free to laugh at me for making the trite basketball comparison of likening two different white guys, but as someone who watches far too much Charlotte Hornets basketball, LaRavia has a lot of Gordon Hayward-like elements to his game. (Keep in mind: I used a Ted Lasso reference in the title of this article. I realize I've left myself open to criticism.)
This is obviously not meant to say that LaRavia is the same caliber of prospect/player that Hayward was in college. That'd be way too much. However, LaRavia and Hayward both hail from the state of Indiana, while also holding similar roles in their respective offenses.
LaRavia is listed at 6-foot-8, 235 pounds. Hayward is listed at 6-foot-7, 225 pounds. Both players essentially float between the 3 and the 4 on offense: big enough and skilled enough to play either spot.
Similar to Hayward, LaRavia has the ability to score or distribute from all four levels of the half court: 3-point, long midrange, short midrange and rim. Both guys can augment the offense as initiators or mid-post assassins who feast on smaller mismatches in isolation.
Opponents must commit their top big wing defender to guard LaRavia, which is similar to Hayward, too. For the Hornets, Hayward takes on tough covers, which can help loosen things up for LaMelo Ball and Terry Rozier.
With LaRavia and Williams playing this well with the basketball, Williamson — an excellent spot-up player — can get off the ball more this season and hunt for 3-pointers.
Wake Forest with 4 guys currently ranked inside the top 15 of the ACC in spot-up efficiency (20+ possessions)

5) Jake LaRavia: 1.42 ppp
6) Daivien Williamson: 1.32 ppp
9) Alondes Williams: 1.25 ppp
14) Isaiah Mucius: 1.22 ppp

Williamson has been awesome: 42 3P%, 57% FGA are 3PA https://t.co/UNH3WOC7Of

— Brian Geisinger (@bgeis_bird) December 9, 2021
See Spot Run
One of the more intriguing aspects of Wake Forest's offense is the dual-threat natural of so many of the rotation players: shooters who can also attack a closeout and pass. They space you out, create driving lanes and attack.
Wake Forest currently ranks inside the top 10 nationally in 2-point percentage (58.7 2P%) and effective shooting (57.4 eFG%).
When the Demon Deacons are able to create the initial dribble-penetration and kick the ball out, opponents are forced to closeout long — all the way the shooters. This opens up second-side drives and ball-movement opportunities.
Wake Forest has used the same starting lineup for all nine games: Williamson, Williams, Isaiah Mucius, LaRavia and Walton. According to Pivot Analysis, that group has played 106 minutes together this season. The Demon Deacons have outscored opponents by 60 points with that crew on the floor together — good for a net rating of +35.3 points per 100 possessions. (1.29 points per possession on offense)
This personnel group allows Wake Forest to very easily open up 4-around-1 looks, which can shift to 5-Out with Walton's willingness to shoot it from deep (17 3PA). Here's Wake Forest opening up empty-corner dribble-handoff action from a 5-Out/Delay set.
With LaRavia and Mucius, Wake Forest has a really good set of starting forwards. Mucius isn't the same type of play-creator as LaRavia; however, he's a 6-foot-8 forward who can shoot 3s (37 3P%) and work in the midrange.
At all times, Forbes gets to operate with multiple playmakers on the floor, together: guys that can slash, bend the defense and pass. This is a massive shift from last season.
When Hildreth comes off the bench, nothing changes: the burly freshman from England is another strong guard who can create offense.
In an effort to get more length on the court, Forbes has dabbled with double-center lineups: Walton and Sy playing together. Those two can shoot from deep (just enough) and are mobile enough to guard in space. Walton, especially, is working hard as hell to cover ground when Wake Forest asks him to hard hedge on ball screens.
Wake Forest loses something on offense with Walton and Sy playing together, but lineups with those two on at the same time are +19 in 30 minutes, per Pivot Analysis.
Move The Target: Pick-and-Roll Offense
The Demon Deacons do a nice job leveraging their spacing with a creative pick-and-roll program. Within these looks, Wake Forest can create offense for all five guys on the floor — not just the ball handler and screener/roller.
Early on this season, Wake Forest has used a lot of "Ram" pick-and-roll. Ram refers to a screen-the-screener action when one player (Mucius) sets an off-ball screen for the player (Walton) who will lift up to set the ball screen (Williams).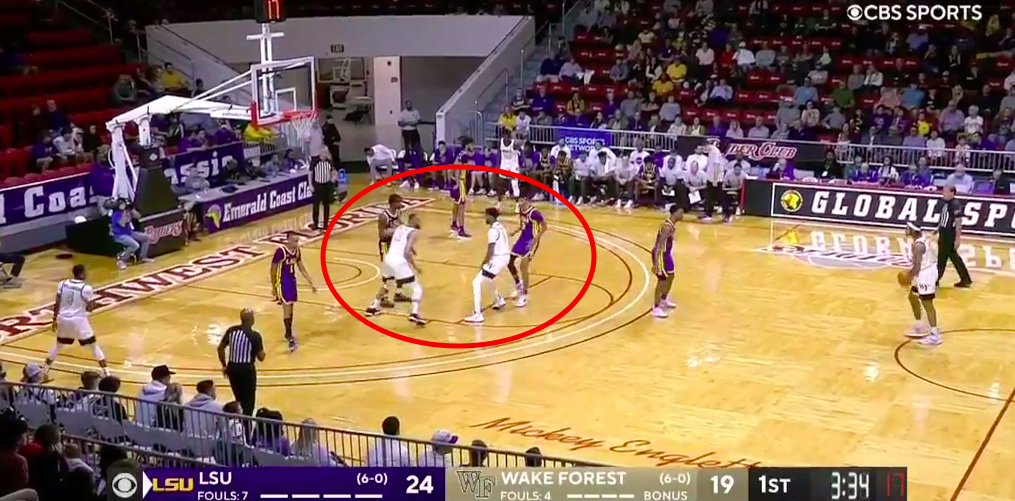 Here's a look at Wake Forest's Ram pick-and-roll vs. Virginia Tech. With Keve Aluma defending to the level of the screen, Walton has a path to roll to the rim. Walton dives hard, which forces the weak-side help defender, Storm Murphy, to sag in the paint. Williamson does a nice job shaking up from the corner and making himself available for the skip pass from Williams.
Murphy must closeout hard on Williamson — he's such a great shooter — which opens up a lane to attack the rim. Williamson is already on the move when he catches the ball. (Ram can also be referred to as Wedge action.)
Here's more of Wake's Ram pick-and-roll: Mucius screens for Walton, who then screens for Williams, once again. This time, however, instead of clearing to the corner, Mucius stays in the lane and then lifts back above the arc as Walton rolls. This is called roll-replace action.
During the Virginia Tech game, Wake Forest's spread pick-and-roll offense absolutely hummed. They successfully threw a bunch of different stuff at the Hokies, one of the better and more experienced defensive units in the ACC: 1.31 points per possession.
The last time Wake Forest scored better than 1.3 points per possession vs. in ACC opponent was way back in Feb. 2017 — in a game that featured a combined 50 points from John Collins and Jayson Tatum. Wake Forest still lost to Duke that day because, of course, the Deacons allowed 1.46 points per possession.
Building off these looks, Wake Forest will also use Ram action to help launch Spain pick-and-roll. This is a set that Wake Forest used quite a bit last season, too, which includes an off-ball back screen for the player who set the ball initial screen.
On this Ram Spain pick-and-roll set, Mucius sets the Ram screen for Walton, who sets the ball screen for Williams. Mucius hangs in the lane and sets the back screen on Aluma, Walton's defender. Both weak-side defenders — Hunter Cattoor and Justyn Mutts — bump Walton, while Sy shakes up from the corner.
Mutts closes out a little too aggressively and Sy drives for a layup.
These aren't even all of the different manipulations of Ram pick-and-roll Wake Forest will make opponents defend. The Deacs will also utilize Ram pick-and-pop action.
In the clip above, Mucius screens for Sy, who then sets the ball screen for Williams and pops. Sy's defender, Pete Nance, must respect the pop action, which leaves Julian Roper to defend Williams, coming off the screen, 1-on-1. That spells trouble.
With all of the secondary shooting, Northwestern's off-ball defenders are afraid to leave their assignments and help in the paint.
Wake Forest can line up and run spread pick-and-roll, but Forbes makes sure to scramble the defense around some before launching the ball-screen action.
The Demon Deacons run a variety of sets out of their Chin offense, too, including this type of pick-and-roll look: back screen, ball screen with Walton.
Speaking more generally, Wake Forest has also done a nice job mixing in some slip screens for Walton. Again, the spread floor creates the necessary room.
Wake Forest will also clear out one side of the floor and run empty-corner pick-and-roll, which can be an effective tool for removing some of the natural help defenders.
Read More on Jake LaRavia and ACC Basketball
NC State gets set for Jaden Ivey and Purdue's beautiful machine