Thursday morning redshirt sophomore wide receiver Warren Thompson took to social media to criticize Florida State officials and coaches for negligence regarding COVID-19 and various safety protocols. Thompson voiced his complaints on both Instagram and Twitter.
The criticism comes just days after Florida Gov. Ron DeSantis, who has been the man in charge of the state hit hardest by COVID-19, participated in a roundtable event with FSU President John Thrasher, athletic director David Coburn, head football coach Mike Norvell and players Joshua Kaindoh and Keyshawn Helton.
— UNO.UNO🦅 (@Warrenj11__) August 13, 2020
While DeSantis praised FSU for its safety protocols, Thompson's isn't alone in his criticism. During the roundtable, other Florida State players posted negative commentary to social media.
On Wednesday night, fellow FSU receiver DJ Matthews posted a tweet, which he quickly deleted, saying he'd tested positive for COVID-19. As Tomahawk Nation points out, 247 Sports is reporting that players in known contact with Matthews are being quarantined.
Matthews responded to Warren's post on Twitter, too.
— DJ MATTHEWS🔊🎶🎵 (@2nineee) August 13, 2020
Instances such as this reflect just a small portion of the challenges that comes with trying to play a team/contact sports amidst COVID-19 — a virus that transmits with ruthless efficiency.
This is also an incredibly bad look for Florida State and first-year head coach Mike Norvell. Earlier this offseason, Norvell landed in hot water as players threatened to boycott practice. At the time, Norvell claimed that he had one-on-one correspondence with every member of his team regarding the murder of George Floyd and modern day race relations in America.
However, this was a lie, according to Florida State captain Marvin Wilson Jr., the team's best player and top leader.
Things seemed to be patched over in the following days, but what's happening now in Tallahassee continues to look problematic.
Also on Thursday morning, Tamorrion Terry, Florida State's star wide receiver, published a series of tweets — seemingly in support of Matthews and Warren. It's not entirely clear, but Matthews, Terry and Warren appear to be upset with the coaching staff, in some shape or form.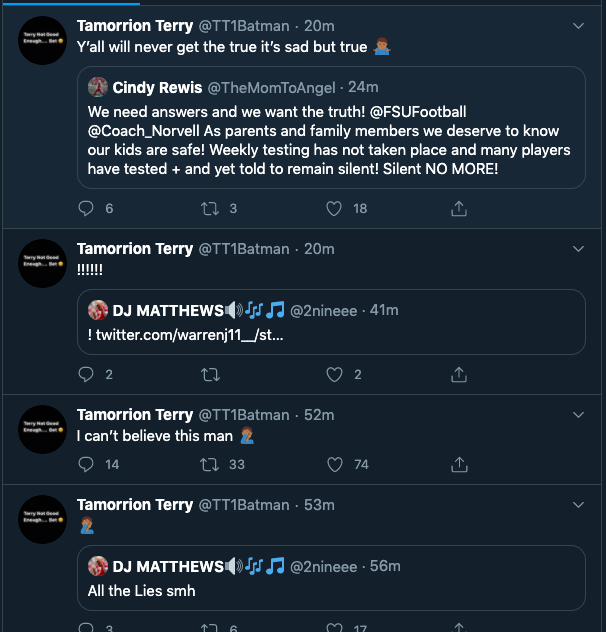 The ACC announced its decision to play a fall football season last week; a full 13-week (11-game) schedule was released, too. While the Big Ten and Pac-12 announced decisions to postpone fall sports earlier this week, the ACC — along with fellow Power Five leagues the SEC and Big 12 — continues to push forward.
During the 2019 season, Thompson appeared in six games; he caught six passes for 91 yards.
Update: 11:06 a.m.
After practice Thursday morning, Norvell met with reporters for his normal media availability. Norvell said he was made aware of the tweets.
Norvell says FSU will be tested today. They've had 4 tests this summer. Will test weekly during the season.https://t.co/houXusqMbk

— Noles247.com (@Noles247) August 13, 2020
Read More on DJ Matthews, Warren Thompson and FSU Football
As ACC presidents convene, concerns over safety and transparency linger for fall sports