Last week, when it was announced that North Carolina's top flight deep ball threat Mack Hollins would miss the remainder of the season with a collarbone injury, we theorized that Bug Howard would be used by the Tar Heels to prop up their vertical attack. In their first full game sans Hollins — a 35-14 victory at Virginia — Howard was UNC's second most heavily targeted receiver, and was a major difference maker for the Tar Heels.
Ryan Switzer has been the most targeted receiver for UNC in all but one game this season — the loss against Virginia Tech. On Saturday against UVA, Mitch Trubisky threw in his direction nine times, which once again led the team, according to Football Study Hall. Switzer hauled in eight of those targets for 72 yards, but he wasn't their most efficient or explosive pass catcher. That honor belonged to Howard, who caught all seven of his targets for 109 yards and a touchdown while wearing a jersey with a new number — No. 13. This, of course, is the number Hollins wore during his four-year career at UNC. Here's a breakdown of those seven plays — three of which came on play-action.
First quarter:

4:51 — 5 yards

4:01 — 15 yards, first down

Second quarter:

4:05 — 12 yards, first down

2:52 — 40 yards, touchdown

Third quarter:

9:45 — 12 yards, first down

8:45 — 18 yards, first down

2:47 — 6 yards
That's a 100 percent catch rate, and an average of 15.6 yards per target, which would lead the ACC on the season. Hollins, for the record, was averaging 10.7 yards per target. Five of Howard's targets went for first downs or touchdowns. Howard's 40-yard touchdown bomb came on a bit of trickeration from the Tar Heels, and was one of two 40-plus yards plays they had on Saturday:
According to ESPN's win probability calculator: UNC had a 74.5 percent chance of winning the game before that play. After the touchdown, though, North Carolina's win probability jumped to 84.2 percent — nearly a 10 percent increase, which was the biggest leap made in a single play all game. This is the kind high-leverage situation catch that Larry Fedora needs from Howard going forward, especially without Hollins.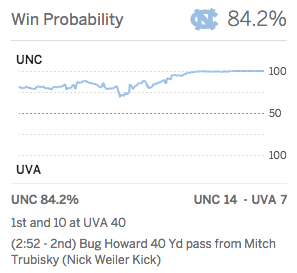 The 6-5 senior is now second on the team with 36 catches; of those receptions, 23 have gone for first downs. Howard also has 14 receptions of 15-plus yards, and seven receptions of 25-plus yards. Football Study Hall has Howard being targeted on 18.2 percent of North Carolina's pass attempts, which ranks behind only Switzer (30.2 percent). He's also averaging 14.9 yards per catch and 10.4 yards per target — both of which are second on the team, behind Hollins. The last two weeks, Howard has been targeted 21 times, and recorded 17 receptions, which translates to a catch rate of 81 percent. Howard has turned those 17 catches into 265 yards; that's an average of 15.6 yards per reception.
During his career in Chapel Hill, Howard has posted three 100-yard receiving games — two of which have come in the last nine days. With the increase in targets, and the inclusion in more of North Carolina's vertical plays, Howard will certainly have the opportunities to post even larger numbers. UNC will obviously miss Hollins and his ability to warp a defensive secondary, but they have a surfeit of perimeter playmakers that can pick up the slack. The Tar Heels have a top 12 passing offense according to a variety of advanced metrics, and Howard will be counted on to keep the machine rolling. It's his time to shine.