Anyone that pays attention to college hoops knew, prior to the season, that North Carolina would feature one of the most talented players in the country. In five quick games, Nassir Little has made his presence felt.
While Little has shown some gaps in defensive acumen, especially guarding in space, the 6-foot-6 forward has made all kinds of explosive plays. In a little under 100 minutes of action, Little has averaged 13 points per game on 20.4 percent usage rate, according to KenPom.
In UNC's most recent game — a 101-76 win over St. Francis — Little slapped up a monster stat line: 19 points (on 10 shooting possessions) and seven rebounds. North Carolina scored at least one point per possession on 70.6 percent of Little's possessions (16 minutes, +12) in that contest.
Real quickly, let's run through Little's offensive game — his activity level at the rim, where he likes to get up shots from and what he adds to UNC's transition offense.
For The Rim
Early on, Little has shown some range and shot creation. A quarter of his field goal attempts have come from beyond the arc (4-of-11 3PA, 36.4 3P%); according to Synergy Sports, Little is also 4-of-5 (80 FG%) on off-dribble jump shot attempts in the half court. The manifestation of his one-on-one offensive game is so key for Little; that's a big reason why he's such an intriguing prospect for the next level.
As he works into North Carolina's system — on both ends of the floor — Little has found comfort offensively around the basket. For the season, Little is 19-of-20 on field goal attempts at the rim, including seven dunks.
On this possession, Little gets free after setting a down screen for Williams. With a smaller defender off his line on Little, Woods — who has assisted six of Little's field goals this season — sees the mismatch.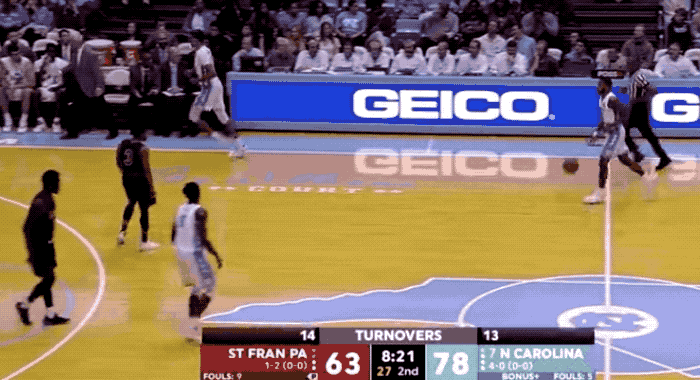 According to Fifth Factor Plots, half of Little's field goals inside of 10 feet have come assisted on. A big part of that is his ability to hit the offensive glass. Little has scored 1.46 points per possession (80 FG%) on put-back attempts after an offensive rebound.
Comparing Luke and Nas (the most similar UNC PF's), Luke is getting looks w/in the offense: post touches and outside shots

Nas gets OR's & alley oops

Last night Roy mentioned Nas was learning the 3 and the 4, so it will take longer to get him into the offense pic.twitter.com/dti8cTqxeu

— Fifth Factor Plots (@5th_Factor) November 20, 2018
Little has grabbed 15.9 percent of available offensive rebounds (13.6 total rebounds per 100 possessions) while on the floor this season — tops on the team, per KenPom.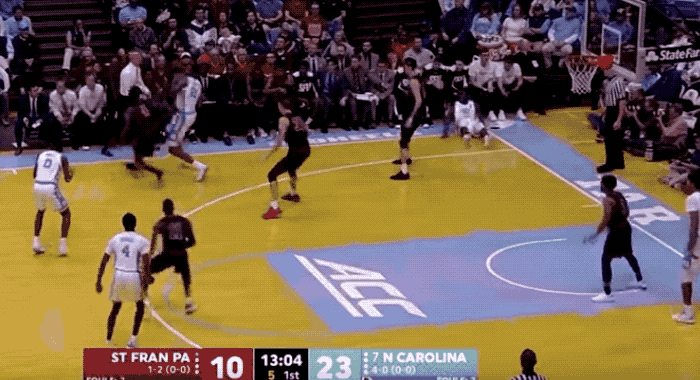 With Little at the 3 + a pair of bigs, UNC's OR% is an astronomical 65.7.

— Adrian Atkinson (@FreeportKid) November 20, 2018
Over The Top
As we discussed last week in an Inside The Playbook feature, UNC is looking to set Little up to play above the rim. The slice cut is a big part of North Carolina's offense. On this look from the St. Francis game, Little is the trailing big. After moving the ball to Seventh Woods, Little slices off a screen from Kenny Williams, and with Luke Maye lifting up, North Carolina hits some nice high-low action with a smaller defender switched on him.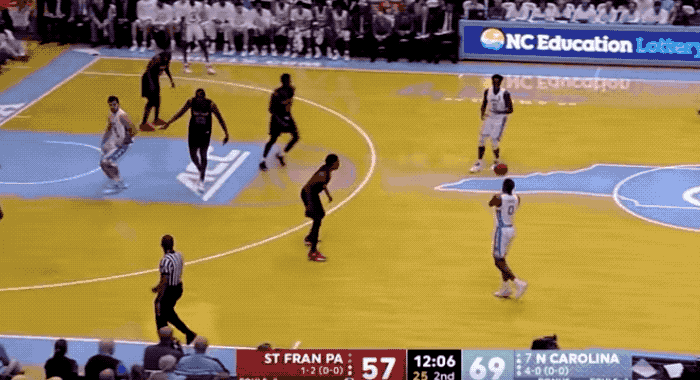 It's these types of catch-and-finishes that have helped Little boost a wonderful effective shooting clip of 68.2 percent (72.7 2P%).
Run It
North Carolina is playing with outstanding tempo to start the season. With two jet engines pushing the pace — Woods and Coby White — North Carolina ranks seventh nationally in average offensive possession length: 12.7 seconds. Also: according to Synergy, 31.7 percent of North Carolina's possessions have come in transition — a top-five number nationally.
With all of his otherworldly athleticism and length, Little has been a beast in transition. According to Synergy, Little has shot 75 percent (9-of-12 FGA) and scored 1.54 points per possession.
When he's on the floor as UNC's de facto 4, Little can run the pipe on the secondary break with the other big trailing the play.
One-and-Done Thoughts
A little too much has been made of the fact that Nassir Little is coming off the bench. But it's November; everyone is excited about hoops, and we have to talk about something, I guess. It's way too early to draw any real conclusions, but even though he's a totally different prospect, this feels some like the situation with Marvin Williams back in 2004-05.
Under Roy Williams, the Tar Heels haven't had an abundance of one-and-done prospects to jump to the NBA ranks. Along with Williams, there's Brandan Wright back in 2007; two seasons ago, Tony Bradley became the most recent one-and-done Heel.
Now while Wright started all 37 games at UNC, Williams and Bradley came off the bench — playing in 75 combined games, all off the bench, for two national championship teams.
With Little in a super-sub role, for now, this isn't uncharted territory for UNC. Williams played 22.2 minutes per game; Little right now is just under 20 per game, but just about every game has been a blowout for North Carolina. Little is still featured in key lineups for the Heels; groups with Cam Johnson and Little as the two forwards have destroyed opponents, so far.
Generally, I lean more towards speed and skill on offense; it seems likely that North Carolina's best lineups will be of the small variety — with Luke Maye at the five, surrounded by four playmakers and shooters.
It may seem silly to bring your most talented player off the bench — even as he gets acclimated to a new system. Ultimately, though, it doesn't matter if he comes off the bench or not. Little will play huge minutes for the Heels, and he's still locked into top-five pick draft status.
Read More on UNC Basketball