As NC State football has jumped out to a 4-0 start, the name of the game for the Wolfpack has been its passing attack. With Ryan Finley at the helm — 328.3 yards per game, 68.6 percent completion rate — State has carved up its quartet of opponents, so far.
On the flip side, much has been made about the team's inability to get much of a run game going. State averages just under 125 rushing yards per game (12th in the ACC) and 3.7 yards per carry (also 12th in the ACC).
Freshman running back Ricky Person, a former 4-star recruit, made a splash in the win over Virginia — 108 yards on 14 carries. But it's obvious: NC State's offensive line has struggled to produce alleys and channels for the backs.
Back to School
According to Football Study Hall, NC State ranks 129th in the FBS — second to last — in Opportunity Rate: 33.9 percent. This means on only 34 percent of NC State's run plays the line has created at least five yards of rushing room. That's really not great.
It's worth noting, though: the running backs have struggled in space, too. The team's leading rusher, Reggie Gallaspy (64 carries, 3.5 yards per carry), is averaging just 2.9 Highlight Yards per Opportunity, according to Football Study Hall. This means, on carries when the offensive line creates at least five yards of running space (Gallaspy has Opportunity Rate of 34.4 percent), he averages only an additional 2.9 yards.
Another freshman back, Trent Pennix (35 percent Opportunity Rate), hasn't managed much better: 1.2 Highlight Yards per Opportunity.
Aerial Variables
This produces an interesting yin and yang with the Pack's offensive line, though. Because as much trouble as NC State has had finding traction on the ground, the line has done very well protecting Ryan Finley.
Finley has been sacked just twice so far this season; that's the fewest in the ACC. NC State has allowed 0.5 sacks per game in 2018 — one of the five best numbers in the FBS.
One step further: according to Football Study Hall, NC State ranks fourth nationally in adjusted sack rate: 1.3 percent. On passing downs plays, that rate stays steady: 1.3 percent (No. 4 in the FBS).
Ryan Finley was only under pressure on 6 of his 34 dropbacks yesterday against Virginia – yet he didn't let pressure faze him pic.twitter.com/jSUuhGYEK7

— PFF College (@PFF_College) September 30, 2018
NC State mixes in plenty of quick, short pass patterns on offense; these actions are designed to get the ball out of Finley's right hand. However, this team takes plenty of shots down the field, and the line has held up.
NC State, in only four games, ranks first in the ACC in completions of 10-plus yards (59) and completions of 20-plus yards (22). Finley is averaging a healthy 8.4 yards per attempt, too.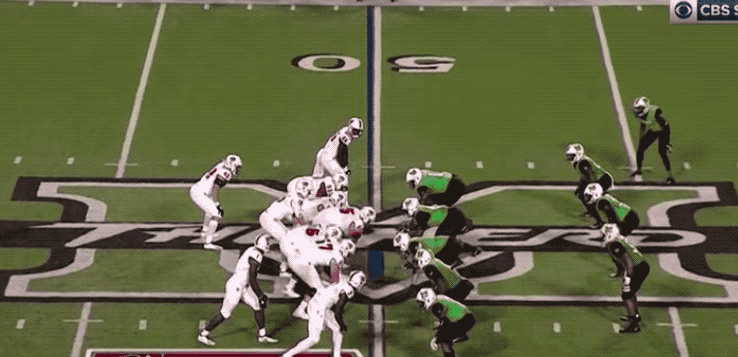 There are a lot of reasons why Finley ranks 11th in the FBS in ESPN's Total QBR metric and has thrown only one interception on the reason. One, he's very good. Two, his receivers are also very good. Three, Eliah Drinkwitz schemes well. Four, struggle as they might to run block, the line has protected its quarterback.
Third Down Power
All of this has translated to success on third down, too. Currently, NC State ranks first in the ACC in third-down conversion rate: 32-of-54 (59.3 percent). Ryan Finley has excelled on these looks so far this season. The veteran quarterback has completed 30-of-44 pass attempts (68.2 percent) for 401 yards, 25 touchdowns or first downs.
NC State ranks second in the nation in third-and-long Success Rate (50 percent), per Football Study Hall. That's all on Finley and his receivers — with a tremendous nod to the offensive line.
What's the word?
I was driving around in my car last Saturday in Raleigh and heard Steve Logan discussing this dichotomy on his radio show, vis-a-vis his time coaching Matt Ryan at Boston College. I'm paraphrasing, but the upshot was: the quarterback was so good and efficient that he didn't really need the run game to give him that much — about 115-120 yards per game.
Basically, as long as the pass game is humming, the run game just has to give you but so much. And right now in Raleigh, NC State football is flying high on pass plays.
Read More on NC State Football
Ryan Finley's Soup Du Jour: Emeka Emezie has breakout game vs. UVA