Let's preface all of this by saying there's no need to panic in Chapel Hill just yet. Joel Berry is one of the best players in America, but North Carolina's star guard is in the midst of a serious shooting slump — and it comes just a few weeks after an injury to his hand.
Power Outage
UNC suffered the worst shooting performance in program history in the loss to Michigan State — 24.6 percent from the field. Joel Berry went just 2-of-11 against the Spartans — 1-of-6 on three-pointers. This is the third time this season Berry has attempted at least 11 shots in a game, and made 25 percent or less of his attempts.
That happened only four times in 38 games during the 2016-17 season.
For the season, Berry is shooting 34.4 percent from deep, which isn't too bad, but it's less than expected. Berry entered his senior season as a career 37.7 percent career shooter from downtown.
Much worse though: Berry is shooting a lowly 32.8 percent from the field, and 31.4 percent on two-point field goals — both of which are career lows. He has a true shooting rate of 47.8 percent, which is also on pace to be a career worst.
Berry has been a knockdown shooter for most of his time in Carolina blue, but he's just 9-of-33 on jump shots this season (27.3 percent), per Synergy Sports. On pick-and-roll possessions, Berry is yet to make a field goal — 0-of-14, per Synergy.
The senior guard has never been super efficient around the basket, amongst the tall trees. However, early on, it's been even more of a struggle this year; according to Synergy, Berry is just 2-of-11 (18.2 percent) on non-post-up possessions at the basket — 0.36 points per possession.
One of those misses at the rim came in transition against Michigan State — when Jaren Jackson, who looks more and more like a lottery pick, chased him down from behind.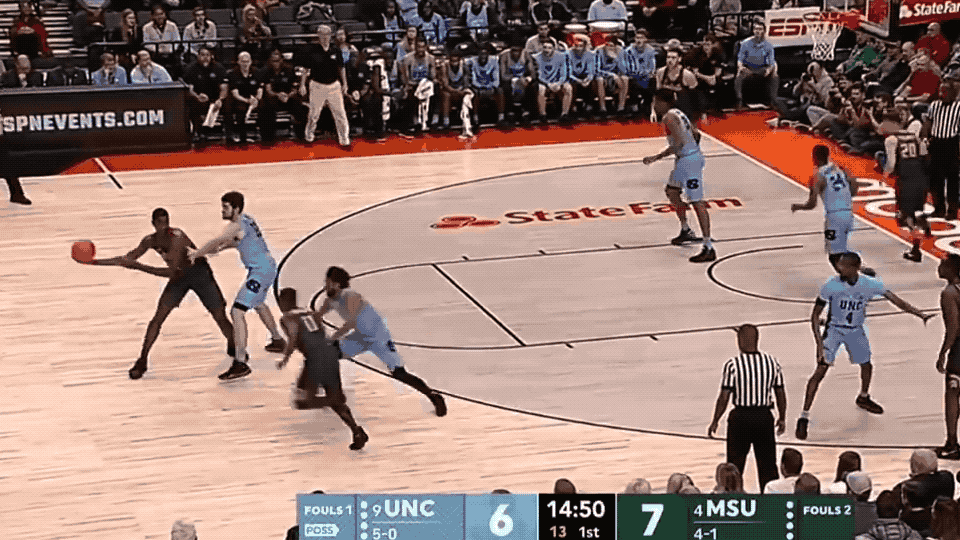 Compared to 2016-17
Now, Joel Berry is still trying to work his way back from injury, and a lot of wacky stuff can happen in a small sample size, like this. But Berry will have to adjust to a larger share of the offense now being his responsibility this season.
He's not on an island; UNC has plenty of secondary offensive firepower. However, Justin Jackson is gone. So, too, are Kennedy Meeks, Isaiah Hicks and Tony Bradley. Defenses can load up on Berry more than ever before in his career. The return of a healthy Cameron Johnson will help, but right now, Berry is on pace for a career-high usage rate of 24.4 percent, according to Sports Reference.
This means that nearly a quarter of UNC's possessions — when Berry is on the floor — have ended with the senior guard shooting, drawing a shooting foul or turning it over. Berry entered the season with a career usage rate of 20.2 percent — 22 percent in 2016-17.
| | 2016-17 FG% | 2017-18 FG% |
| --- | --- | --- |
| Jump Shots | 92-of-242, 38.0 FG% | 9-of-33, 27.3 FG% |
| Jump Shots (off dribble) | 20-of-69, 29.0 FG% | 1-of-12, 8.3 FG% |
| Pick-and-roll | 32-of-83, 38.6 FG% | 0-of-15, 0.0 FG% |
| At the rim | 25-of-64, 39.1 FG% | 2-of-11, 18.2 FG% |
*Data from Synergy Sports
Read More
Evaluating the early-season performances of UNC trio of rookie bigs