For the second time this season, Wake Forest and Duke competed in a wildly entertaining and dramatic affair. And for the second time this season, Duke came way victorious by a narrow margin this past weekend. It is not really fair to say a game came down to one play or one possession; that is too reductive, but Wake Forest could make one change on the defensive end that could result a major difference.
The Demon Deacons are one of the best offensive teams in the country — period. KenPom rates Wake Forest as the eighth-most efficient offense in the nation: 121.3 points per 100 possessions. John Collins, of course, is a stud. The team's defense, however, leaves a lot to be desired. It is not for a lack of effort, but one mistimed closeout, one slow rotation, one missed box out could be the difference between a win and a loss.
On Saturday, Wake Forest learned that the hard way against a Duke squad that has found its groove by downsizing and playing Jayson Tatum as the team's nominal four — much like Justise Winslow two seasons back. The Blue Devils showed no mercy using this line-up to attack Wake's vulnerable defense in pick-and-rolls. Let's take a look.
With a little under nine minutes to go in the first half, Duke clung to a one-point lead. Frank Jackson ran a pick-and-roll with Amile Jefferson, and take a look at how Wake defended it.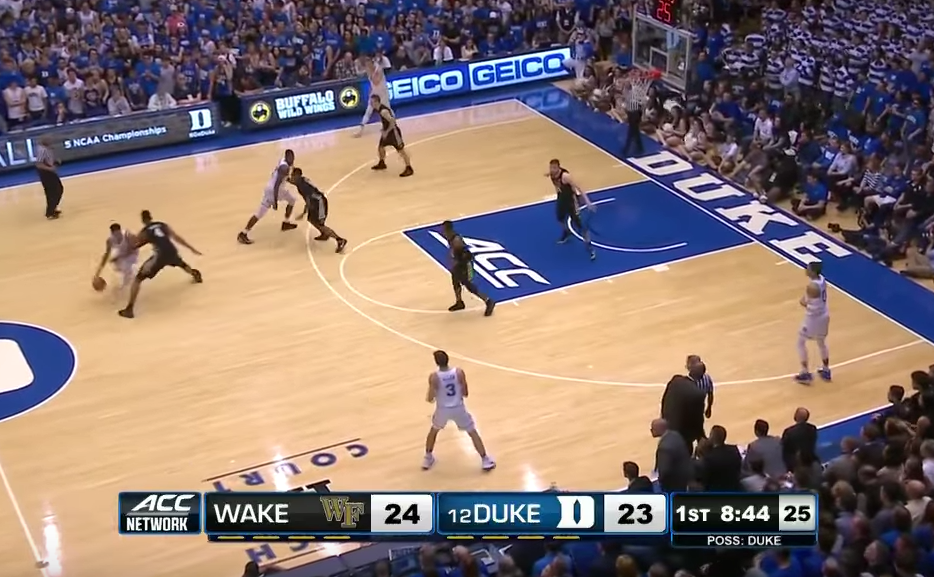 Doral Moore, Wake's rim protector, hedges hard, and is now chasing the speedy Jackson 40 feet from the basket. Why? This is uncomfortable territory for Moore, and a battle he will never win with the jet-quick Jackson. The chain reaction that follows, however, is even more damaging. Remember: the ball moves faster than man.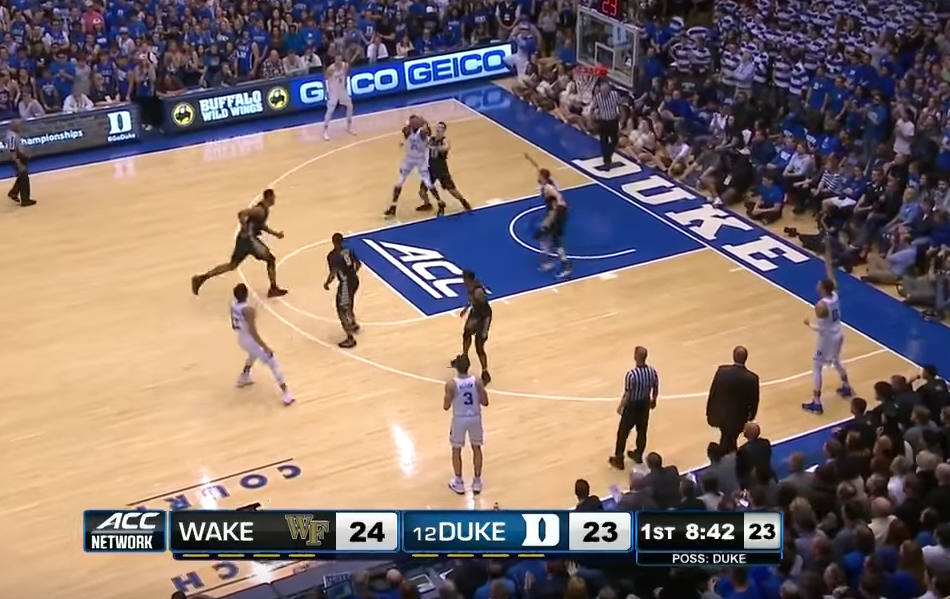 As Jefferson rolls to the basket, lightly-used reserve Trent VanHorn rotates off Luke Kennard on the wing to bump Jefferson. VanHorn has to do this; if he does not, it is an easy slam for Jefferson. However, this rotation leaves a colossal gap in Wake's coverage: Kennard is wide open for a three-pointer.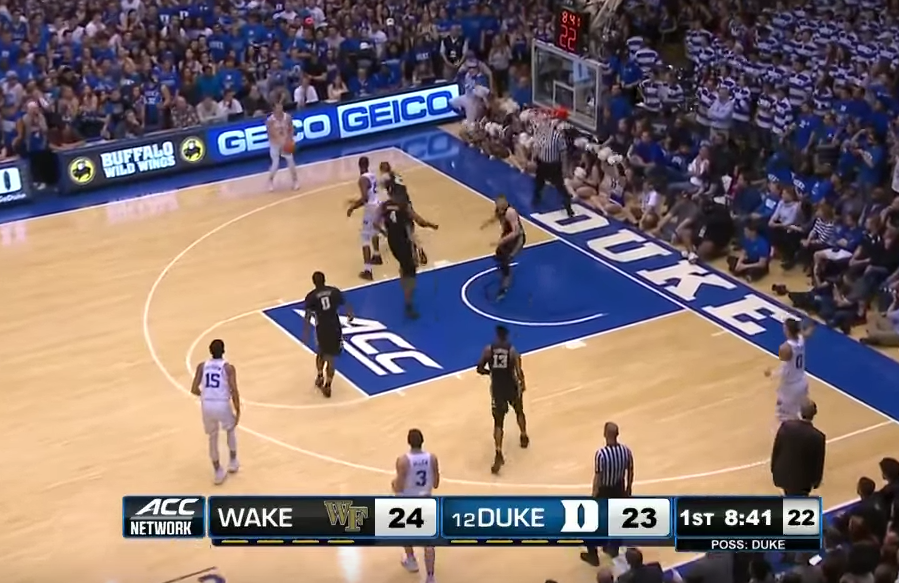 This is death for opposing defenses; Duke's star lefty is one of the best shooters in the nation, and if you let him hit off tee like this, he will bury you. According to Synergy Sports, Kennard shoots 48 percent on catch-and-shoot opportunities this season, which ranks sixth in the ACC. Jefferson turns and makes the easy read — a kick-out to Kennard, who splashes one of his 65 three-pointers this season.
Wake Forest big men hedging aggressively is something I have taken note of this season, and it is especially awkward when Moore or Dinos Mitoglou have to navigate these murky waters. Per Synergy, neither Moore nor Migoglou have forced a turnover defending pick-and-roll ball-handlers this season. In 907 combined minutes, they have recorded just 15 total steals. According to KenPom, Wake's defense ranks No. 309 in the nation in turnover rate (16.4 percent). They are cratering the defense at no benefit of forcing a turnover.
The Demon Deacons do not have the personnel to switch across multiple positions, like Duke does with Jefferson and Tatum, and they would be better suited to take a more conservative approach. Let your big man sink back under the screen, which will allow the guard to fight through the pick and get back to his assigned man.
Per Synergy, Wake Forest ranks 12th in the ACC in points allowed per possession to pick-and-roll ball-handlers (0.8), and eighth in points allowed per possession to roll-men (1.04). Opponents are shooting better than 37 percent on catch-and-shoots against Wake Forest, which ranks third to last in the ACC. Only Virginia Tech and NC State are worse. The Demon Deacons rank outside the top 200 nationally in all of these metrics, too, according to Synergy.
Unless you are guarding Stephen Curry or Damian Lillard — guys who can bomb threes from 28-plus feet, there is no real need to defend point guards this far from the rim with a frontcourt player.
In the second half, we got a taste of Tatum's developing playmaking skills within this framework. Jackson and Tatum run a 1-4 pick-and-roll — far beyond the arc. Take note of how well Duke has the floor spaced here, too. Grayson Allen, one of the ACC's top marksmen, is not even in the game, but the Blue Devils dot the perimeter with Matt Jones and Kennard.
Instead of dive-bombing to the basket, though, Tatum slips and hangs nearby while Brandon Childress and Mitoglou attempt to trap Jackson.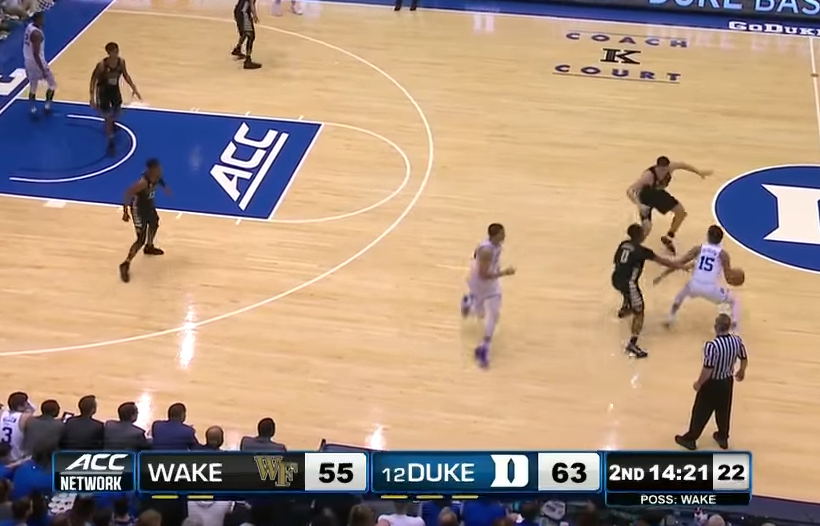 It should come as no real surprise: the trap does not work. Jackson lobs a deft pass to Tatum, and now the game is afoot for Duke's offense. All of a sudden, three Wake defenders are left to protect the basket while a future NBA lottery pick attacks. This is a four-on-three; Duke has architected a fastbreak in a half-court setting, thanks to Wake's unnecessary trap. Good luck, guys!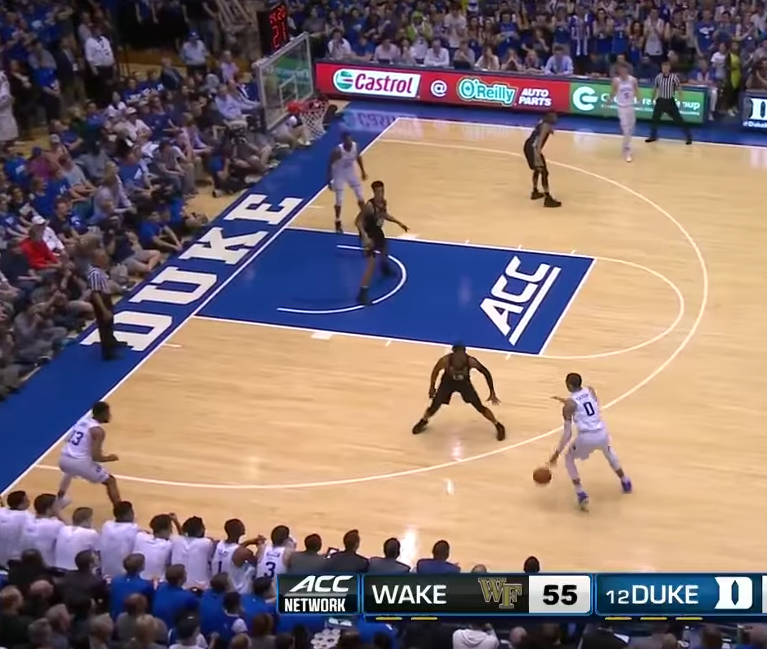 Tatum dribbles in, and has a myriad of options to chose from: a kick out to Jones, a lob to Jefferson if Collins steps up to stop the ball, or a pass to the weak side where Kennard is stationed if Keyshawn Woods rotates down.
The freshman remains patient, dribbles into the paint and makes the easy pass to Kennard.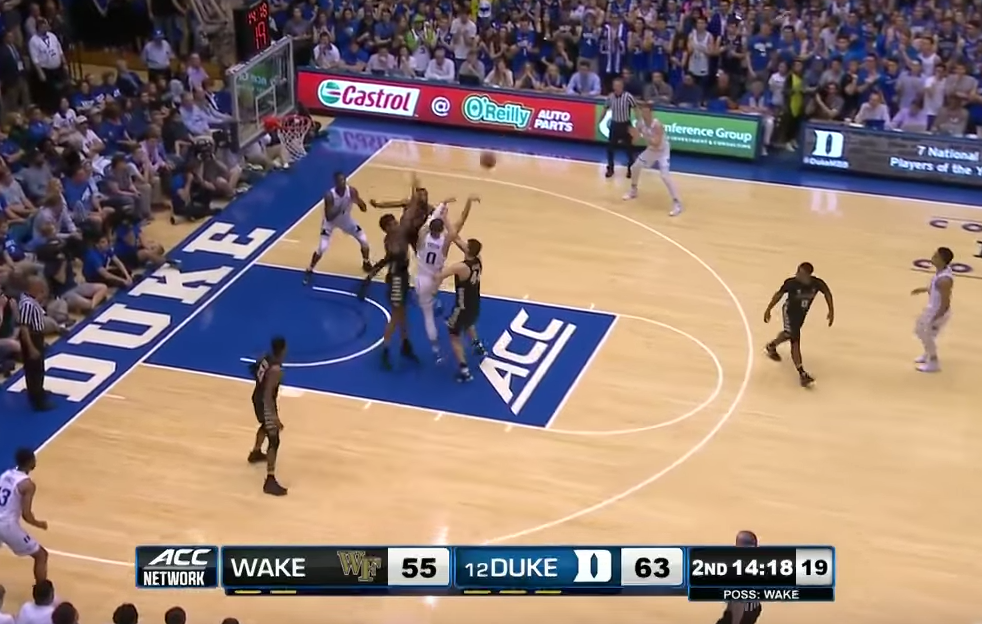 Kennard missed this three-pointer, but that is a shot he makes 50 percent of the time, which is a problem. That is an expected yield of 1.5 points per possession — a disaster for any defense.
Wake Forest is in the third year of its rebuild under Danny Manning. This is a team that had a good chance at making the program's first NCAA Tournament since 2010; however, those hopes are quickly slipping away. After losing three out of four games, Wake is now 6-9 in league play, and finds themselves on the outside looking in for the NCAA Tournament, according to both CBS and ESPN.
There should be urgency for this team to regroup down the stretch, and the Demon Deacons can score with anyone in America. However, Collins has been rocketing up NBA draft boards the last month — the double-edged sword of his torrid play. If Wake fails to make the tournament this season, and Collins heads for richer waters in the professional ranks, it could be a while before the Deacs can make another serious run.
Again, it is not entirely fair to nitpick, but six of Wake Forest's 12 losses have been decided by six or fewer points. A more conservative approach to pick-and-roll defense could allow Wake to shave a few crucial points off an opponents' scoring column, and that could be the difference between not only a win and a loss, but also a ticket to the dance or a night home on the NIT's couch.