Duke football has enjoyed a successful launch to the 2017 season. The Blue Devils demolished both NC Central and Northwestern in back-to-back weeks. As the team preps for its showdown with Baylor — another Power Five foe — this Saturday, Daniel Jones has drawn rave reviews, and looks the part of a serious NFL prospect.
Jones shredded Northwestern with his legs; after removing sack yardage, Jones ran for 114 yards and two touchdowns, per Football Study Hall. The Wildcats simply weren't ready to stop some of Duke's zone read game. However, the mobile quarterback was darn good through the air, too.
Through the first two weeks of the season, here's a look at some of Jones' favorite targets — specifically junior TJ Rahming.
The weapons
TJ Rahming has yet to score a touchdown this season, but considering his volume of targets, that's bound to change shortly. According to Football Study Hall. Rahming has been targeted on 25 percent of Duke's pass attempts in 2017 — a slight increase over last season (24.2 percent). Through two games, he has 14 receptions on 18 targets — good for a super efficient catch rate of 77.8 percent.
Rahming, who has drawn effusive praise from David Cutcliffe, is averaging 8.2 yards per target. That's another improvement over 2016: 7.2 yards per target. Eight of Rahming's receptions have gone for first downs — two of which have come on third down situations, too.
The junior standout isn't alone, though. Three other Duke receivers have emerged as big play threats as well: Aaron Young, Johnathan Lloyd and Chris Taylor.
| | Targets | Rec. | Catch Rate | Catches 15+ Yards | TD |
| --- | --- | --- | --- | --- | --- |
| Aaron Young | 10 | 8 | 80.0% | 3 | 1 |
| Johnathan Lloyd | 7 | 5 | 71.4% | 2 | 1 |
| Chris Taylor | 6 | 4 | 66.7% | 2 | 1 |
Those three guys — in support of Rahming — have combined for three touchdowns, and seven receptions of 15-plus yards.
Young and Taylor have both hauled in touchdowns from Jones on pass plays of 50-plus yards. Taylor couldn't have been more wide open against Northwestern, but watch Jones drop this sucker right in there.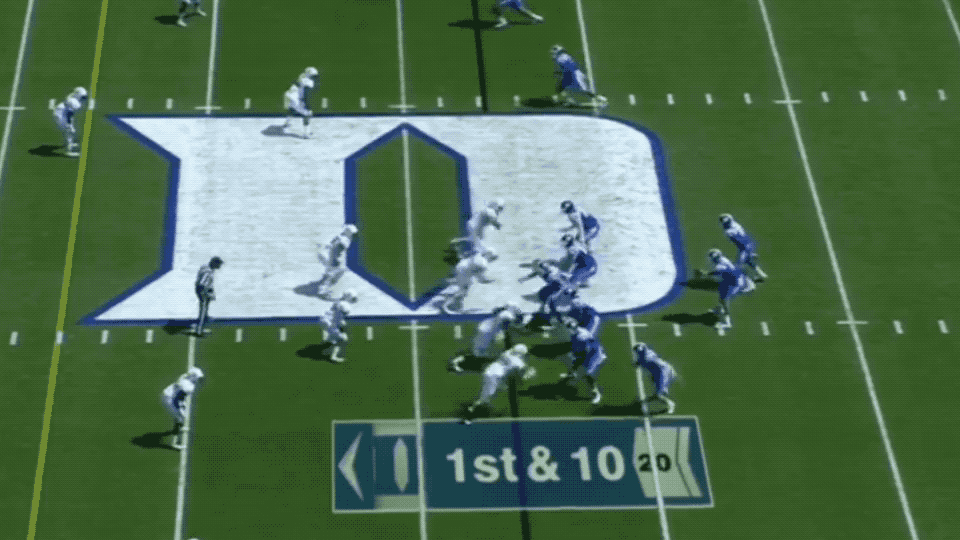 Up next for Duke football: Baylor
The Baylor Bears are 0-2 on the season, following losses to Liberty and Texas at San Antonio (Roadrunners!). Baylor gave up 585 total yards to Liberty, too. In that game, Liberty targeted receiver Antonio Gandy-Golden 22 times; he caught 13 of those passes for 192 yards, per Football Study Hall.
Baylor's defense ranks outside of the top 100 in Success Rate on passing plays. The Bears are also giving 1.28 isolated points per pass play, which isn't too bad, but it's not exactly stingy, especially once the caliber of opponent is taken into account.
All of this is to say: Duke could put a hurting on Baylor's pass defense this Saturday in Durham. Jones, Rahming, Young, Lloyd and Taylor will all be in the mix. This is why Duke is a more than two touchdown favorite against Baylor.
If Duke football is victorious on Saturday, the Blue Devils will accomplish something that hasn't been done in nearly 30 years.
Duke hasn't beaten two Power 5 non-conference teams in the same season since '88. Spurrier beat 3 that year (Northwestern, Tennessee, Vandy)

— Ben Swain (@TheBenSwain) September 11, 2017
Read More