After months of uncertainty and anticipation, Louisville basketball finally took to the floor again — now headlined by the Carlik Jones-David Johnson backcourt. One of the most talented offseason additions to the ACC, Jones dominated against Evansville.
Let's take a look at his performance — and more — from Louisville's season-opening win.
It's Carlik's world; we're all living in it
Jones was masterful in his Louisville debut. It was a wonderfully efficient display from Jones: a game-high 18 points (27 percent usage), five free throw attempts and seven assists (to one TOV). As usual, Jones got cooking out of high ball screen action.
Jones is such a smooth pick-and-roll operator. He's durable with his handle, using it to manipulate multiple defenders simultaneously. Jones knows how to adeptly snake ball screens and pin the initial on-ball defender on his back as he waits for a crease to open up. In an instant, he can spring free for an assault on the rim.
Jones is rather fond of that pro hoop move, too. This was a favorite of his as he carved up defenses during his Big South Player of the Year run at Radford.
This type of maneuver requires excellent lower body balance and weight transfer.
Drag screen action in semi-transition is a major component of Louisville's secondary offense; Jones is a natural fit.
If you set good screens for Jones and roll hard, he'll get where he needs to go with the ball. From that point, a variety of scoring possibilities open up. Jones plays heads up basketball; if the second defender in the pick-and-roll is slow to recover — of if the weak-side coverage is off its line — Jones will pick out open teammates with ease.
From Windy Hills
The win over the Purple Aces was another reminder: no one can question the shooting range of Jones. Late in the first half, Jones ripped the cords on a 3-point moon ball while flirting with the feathers of Louisville's half-court logo.
Again, if you watched Jones at Radford, this shot comes as no surprise. Jones has deep range, which could also be utilized by the Cards. If teams have to closeout to those shots, there's additional room for Johnson, Davis and Williamson to slash.
Flip Mode
Matching up with Jones 1-on-1 doesn't look like much fun. He's so physical with the basketball; Jones makes defenders feel him. Jones is so confident as a live-dribble creator — with the ability to hit from every level.
Even when teams have the initial ball screen action bottled up, Louisville big men can simple flip the screen and let Jones penetrate a little further. If the rim is closed off, still, Jones can work his off-dribble midrange game.
Malik Williams, when healthy, is a super mobile center and a canny screen-setter. He will partner well Jones, and unlock even more of this flip-and-roll potential.
Jones went 3-of-5 shooting out of the pick-and-roll vs. Evansville, per Synergy. However, when Jones passed to a teammate who finished the possession out of pick-and-roll, Louisville scored 15 points on 11 possessions (1.36 PPP). (Small sample size alert.)
Empty it out: Pick-and-roll
With Louisville's offense toggling around Jones and Johnson, it makes sense for the Cards to dial up more spread pick-and-roll this year. Louisville wasted no time pushing this approach.
According to Synergy, the Cards scored 1.13 points per possession that involved a pick-and-roll ball handler. One of the half-court sets unsealed by Mack involved a simple empty-side ball screen between the point guard and center.
Louisville's centers set the ball screen flat (back to the baseline), while Jones or Johnson drove right and into space. As this took shape, either Samuell Williamson or Quinn Slazinski would rotate over to the strong-side slot, working as a spot-up release valve.
Over on the weak side of the floor, the other two wings simply spot-up. This is done to occupy help defenders; however, given the passing powers of both Jones and Johnson, it's also a way to generate catch-and-shoot 3s against a bent defense.
If the opposing defense commits two to the ball handler after the screen, and stays glued on all three shooters outside the arc, then the roll man is wide open. This is really simple offensive basketball, but that doesn't mean it's easy to cover.
David Johnson: Stuck in Sag Harbor
Opening night wasn't the best for Johnson, who battled foul trouble and never quite found his rhythm. Johnson missed his two 3-point attempts, although it was good to see him get the ball in the air from deep a couple of times.
Going forward, Johnson's development as a shooter matters a great deal. His projection as a shooter matters on multiple levels: determining Louisville's ceiling this season, along with his prospects as a future NBA piece.
Given his proclivity to gather steam and slash to the rim, opponents will do whatever it takes to muck up driving lanes and gaps for Johnson. The game plan appears simple: sag off, sink down, encourage the jumper.
Johnson needs to be able to step into rhythm 3s off the catch here, or punish individual defenders for covering him 1-on-1 with so much space.
During his rookie year, Johnson attempted 23 3-pointers — about 16 percent of his shots from the floor. Johnson connected on just 4-of-13 catch-and-shoot attempts last season, per Synergy. He must prove to opponents that he's willing to get the ball in the air with confidence — at least from off the catch.
Look how Evansville defends him away the basketball in the strong-side corner while Jones runs pick-and-roll. Johnson has both feet inside the arc (not ideal), but is still spaced to the corner; his defender is all the way down in the paint, though, worried about Jones.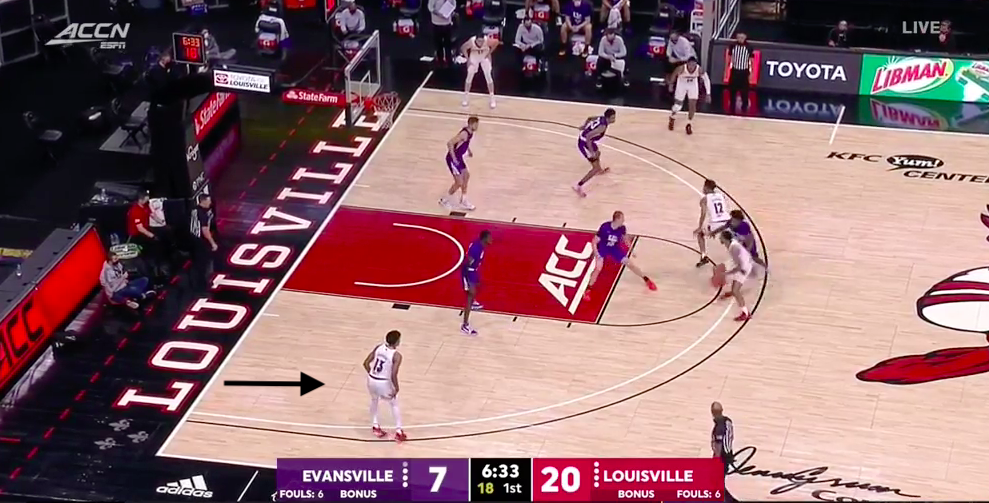 This is only one game. There's no need to draw conclusions; Johnson had several of splash plays, too. Plenty of basketball (hopefully) is left to be played. Johnson is an outstanding player, and Louisville's staff does a wonderful job scheming in the half court. However, opponents may continue to sag off Johnson, until he starts to punish them. Some will do so more aggressively that others, too.
Samuel Williamson: Secondary Threat
This was an encouraging launch to Williamson's sophomore campaign. With his combination of height and comfort with the ball, opportunities are abound for Williamson this season — working next to the dynamic point guard duo.
Williamson posted 26 percent usage en route to shooting 7-of-8 on 2-point attempts, good for a career-best 17 points. There's still room for growth in his catch-and-go game; this is where some of Williamson's turnover issues arise. Williamson, however, also showed scoring craft from multiple levels of the floor, including the post.
Louisville would look to post Jordan Nwora on occasion last season; the results were underwhelming. Matched up with Evansville, though, the Cards gave both Williamson and Johnson some post-up clear-outs, off these UCLA cuts. Williamson scored once, and turned the ball over on his second post possession.
By virtue of playing with excellent, unselfish guards this year, Williamson will receive plenty of juicy plays to finish — simply by running the floor, filling the corners and timing his off-ball cuts.
(Stugotz voice: "That's a heady play.")
Williamson also showed nice shooting touch while facing up from the nail (against the zone) and on his floater.
Beyond the scoring, though, Williamson displayed some quality passing craft as well — working as an offensive connector.
Williamson finished with a career-high five assists.
Dre Davis: Ready to roll…in his role
While Dre Davis may have flown slightly under the national radar, savvy prep scouts — like Ross Homan of The Stepien — touted the 6-foot-5, 220-pound wing as an impact get for the Cards.
Louisville got a really good player in D'Andre Davis. Not a lot of wings at this age that are this physical and good at slashing, while also being mid 80's from the FT line. Shows shot versatility with mechanics capable of range, off movement, pull-up. Big time scoring potential. pic.twitter.com/KxX1eA5xrQ

— Ross Homan (@Ross_homan1) January 29, 2020
Davis attempted only four field goals in his college debut; however, he showed flashes of how his offense can blend with Jones and Johnson this season. Davis was ready and willing to let it fly while spotted up on the wing while the two guards deployed screen-roll activity.
Louisville must replace a great deal of A-level movement shooting with the departures of Jordan Nwora and Ryan McMahon. Next to Jones and Johnson, that added wing/second-side offense from Davis — similar to Williamson — could be critical.
On the other end of the floor, though, Davis also popped as a team defender. The freshman wing finished with four stocks: three blocks, one steal.
Early in the second half, Davis blew up a pindown look from Evansville with an aggressive closeout. Davis then switches ball screen action and closes the possession down with a block of a 3-point attempt. Look at his extension.
Chris Mack and his staff got another good one.
Play Bigger?
Since the arrival of Mack, Louisville has played a lot of minutes with two hybrid forwards — Dwayne Sutton and Nwora — on the court together, while platooning Steven Enoch and Williams at center. This was Mack optimizing the personnel he received upon arrival.
During the 2019-20 season, the Cards ranked No. 149 nationally in weighted average height (77 inches), which is right around where they finished the year prior. According to Pivot Analysis, Enoch and Williams played just 11 possessions together last season.
Occasionally, Mack would dabble with true small-ball lineups, too: no center on the floor. Those lineups generally featured the trio of Sutton, Nwora and Williamson — with two guards.
It's just one game, but against Evansville: Louisville played with a couple funky, bigger lineup combinations. For a brief stint during the first half, Mack rolled with Jae'Lyn Withers (6-foot-8, 230), JJ Traynor (6-foot-8, 200), Quinn Slazinski (6-foot-8, 215), Williamson (6-foot-7, 210) and Jones.
Later in the second half, Mack grouped Withers with Aidan Igiehon (6-foot-10, 245), Williamson and the Johnson-Jones backcourt.
This move may have been done to throw at Evansville's zone defense, allowing Louisville to crash the glass hard with both Igiehon and Withers patrolling the paint.
Quick thoughts: Freshman frontcourt pieces
Jae'Lyn Withers
Some defensive mobility; can switch, guard pick-and-roll in a few different ways
Offers potential stretch (1-of-2 3PA) to frontcourt
Can play with the ball some, too
Catch-and-go potential
JJ Traynor
Bouncy athlete that can catch a lob
5-of-5 FGA at the rim, including 3 dunks
Switch potential on defense