At the top, Jaylen Hoard and Isaiah Mucius headline Wake Forest's excellent 2018 recruiting class. The Demon Deacons also added two freshmen that can run the point, too: 3-star guards Sharone Wright Jr. and Jamie Lewis. It will be interesting to see how those two rookies factor into the point guard equation in Winston-Salem. Because with Bryant Crawford departing, a lot of minutes and playmaking responsibilities are now freed up.
Crawford logged nearly 3,000 minutes over the last three seasons, handed out 467 assists (8.8 per 100 possessions) and posted a career usage rate of 26.5 percent. These are all massive numbers. Wright Jr. and Lewis will certainly factor into this equation, but the 2018-19 season will be a tremendous opportunity for junior point guard Brandon Childress.
What's old is new
The son of Wake Forest legend Randolph Childress, Brandon Childress is no newbie for Wake hoops. Over the last two seasons, he's played close to 1,500 minutes, and even made five starts in 2017-18 — when Danny Manning downsized his starting five late last season.
Childress may have more of a reputation as a shot-creator, but the 6-foot guard has flashed some playmaking abilities, too. Amongst ACC players with at least 500 minutes of action last season, Childress (7.9 assists per 100 possessions in 2017-18) ranked 10th in the league with an assist rate of 25.8 percent.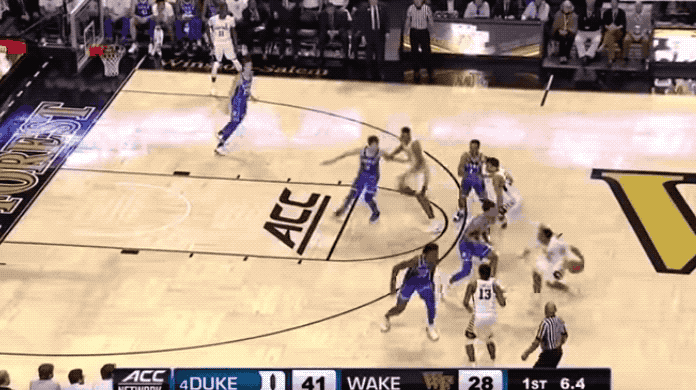 One of the nine players above Childress on that list: Crawford, unsurprisingly. With Crawford headed to Israel now, more of Wake's spread pick-and-roll attack falls on the shoulders of Childress.
According to Sports Reference, Childress was one of just 12 ACC players to average three assists (with an assist rate above 20 percent) and one steal (with a steal rate above two percent). He's quick, and plays with his head up, which makes for a nice slash-and-kick distributor.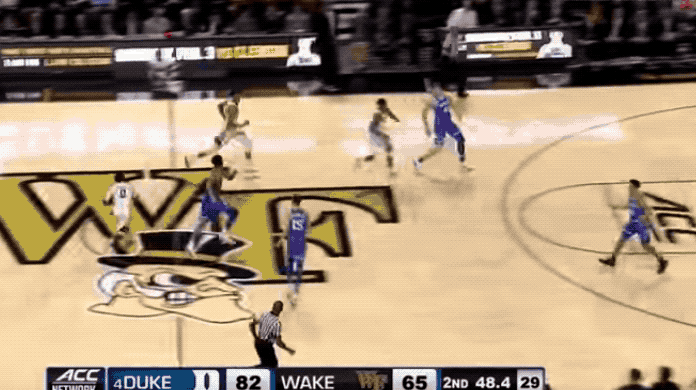 Shooting numbers
So far, though the first 63 games of his college career, Childress has displayed a good shooting stroke — from certain spots on the floor. Childress is a career 36.7 percent three-point shooter; as a sophomore, he connected on 39-of-103 attempts from deep (37.9 3P%). Don't be surprised to see No. 0 get up more three-pointers next season, too.
Childress has been an especially good shooter off the catch. According to Synergy Sports, Childress is 44-of-111 (39.6 FG%) on catch-and-shoot field goal attempts during his career: 1.21 points per possession (an effective shooting clip above 60 percent). Of his 66 career three-pointers, 48 have been assisted on — 72.7 percent.
With the ball in his hands more, Childress — if he's aggressive — should be able to get to the free throw line more (4.2 FTA per 40 minutes for his career), which is a good thing. From the stripe, Childress is rather good: a career 80.8 percent shooter (127-of-158 FTA).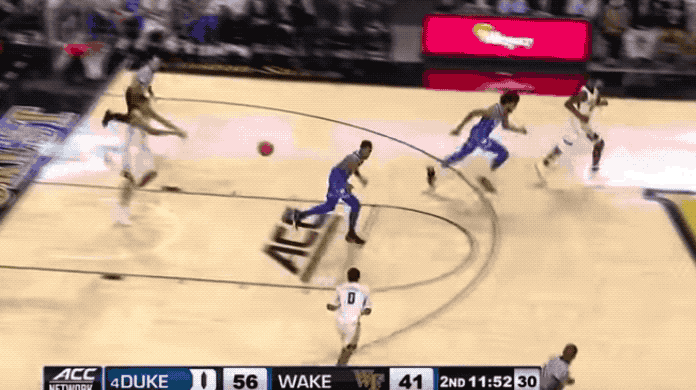 Wake needs more of just that, going forward.
Despite being a good shooter from two of the money areas on the floor — beyond the arc and the free throw line — Childress has a fairly pedestrian true shooting rate of just 51.2 percent. In terms of overall effective shooting, it's not great, either: 45 eFG%. A lot of that comes down to shot selection.
Stay out of this ditch
While at Wake Forest, Childress has struggled shooting the ball from inside the arc: 83-of-224 field goal attempts (37.1 2P%). That's not too far away from his three-point shooting percentage.
When he gets to the rim, Childress has his issues; according to Synergy, Childress shot just 44.4 percent and scored only 0.91 points per possession on attempts at the rim. Amongst the 81 ACC players with at least 50 possessions, this ranked 75th. So, not great.
Childress also gets himself into trouble by doing stuff that a lot of other young, freelancing guards do, too. For instance: a needless dependence on midrange pull-ups. Childress was just 15-of-57 (26.3 FG%, 31.6 eFG%) on dribble jump shots in the half-court: 0.63 points per possession. Sometimes the ball goes in, and it looks real pretty; other times — most of the time — it doesn't.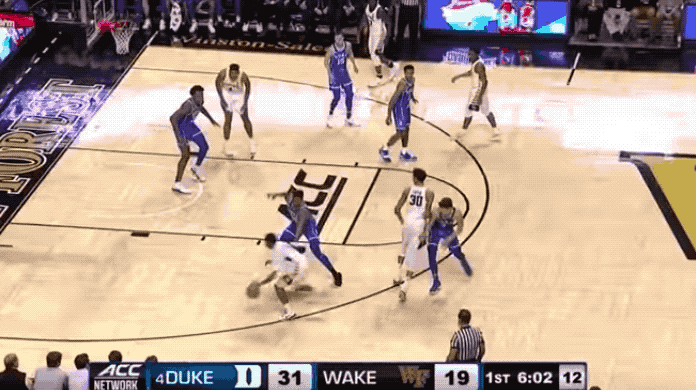 In 2017-18, Childress was just 19-of-59 (32.2 FG%) on two-point field goal attempts away from the rim. Of those 19 makes, only one was assisted one. Next season, Childress would be better served to let it fly from deep more frequently, or attack all of the way to the rim.
Don't do this, either
Outside of shot selection, another reason why Childress is so-so in terms of his overall efficiency (97.7 offensive rating in ACC games last season, per KenPom): turnovers. Cutting down on this is imperative for Childress and the Demon Deacons in 2018-19.
Childress (4.4 turnovers per 100 possessions) has a career turnover rate north of 18 percent, which is a little high. According to Synergy, Childress had a turnover rate of 15.8 percent on pick-and-roll possessions, and one of 18.6 percent on transition possessions.
Turn the ball over, and it leads to more easy offense on the other end of the floor; this is something Wake Forest must improve on next season. In 2017-18, the Demon Deacons ranked 208th nationally in turnover percentage (18.8 percent), and got filleted in transition defense.
Wake Forest allowed 1.1 points per possession in transition, per Synergy, which ranked 310th in Division I ball. The 420 total transition points Wake gave up: No. 193 in the nation.
For a team that already has limitations on the defensive end in the half-court, this is simply too much.
Lineup shift: Pick-and-choose
Next season will mark a bit of a shift for Wake Forest basketball; it's not just Crawford that left the program. Doral Moore went pro, too; veteran sniper Keyshawn Woods transferred once more — to Ohio State. That was a trio of good offensive players. They will be missed in Winston-Salem.
However, Wake could also shift in terms of its lineup now. With the super intriguing Olivier Sarr taking over at the 5, the Demon Deacons could attempts to hit five-out nirvana on offense. Despite an up-and-down rookie year, it would be unwise to sell your stock in Chaundee Brown, just yet.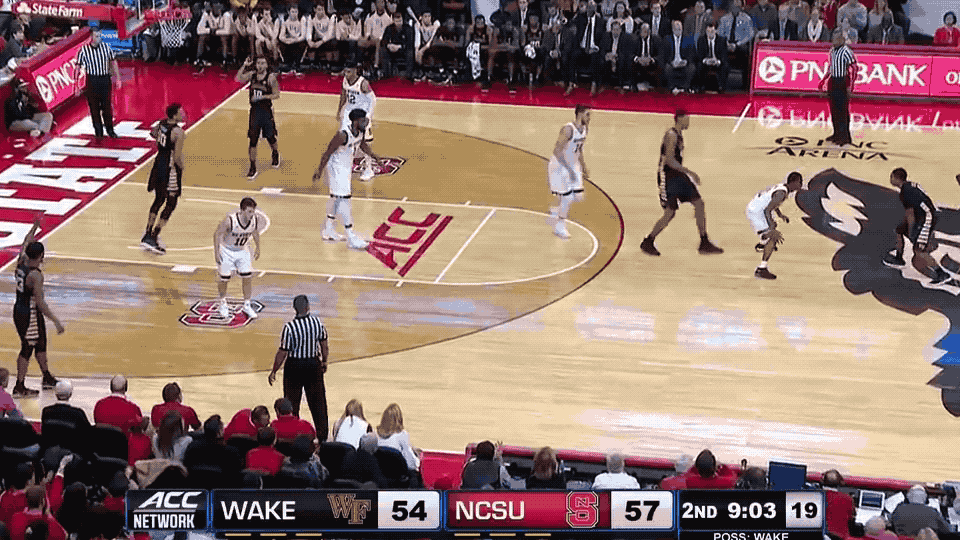 If those guys are ready to be more efficient offensive players in bigger roles, and if Hoard and Mucius are as good as advertised, then Wake could be a fun bunch offensively. Brandon Childress has shown himself to be a productive pick-and-roll creator.
According to Synergy, Wake Forest scored 1.01 points per possession when Childress was a passer out of the pick-and-roll in 2017-18, although that may be more of a challenge without the vertical lob threat of Moore.
Read More on Wake Basketball