Less than three minutes into the second half of North Carolina's blowout victory over Radford on Sunday, Joel Berry — the team's star point guard — sprained his left ankle.
Berry is UNC's most important player (No. 1 in win shares, box plus/minus) and one of the best guards in America. North Carolina is approaching the situation cautiously, but after the game, Roy Williams remained optimistic toward Berry's long-term injury outlook.
The season doesn't stop to let players heal up, though, and UNC has another game on Wednesday in Chapel Hill against Davidson. If Berry's to miss some time, get ready to see a lot more of freshman Seventh Woods.
Woods was solid following Berry's exit. In the second half, the rookie shot 3-of-5 from the field and 2-of-2 from the free-throw line for eight points. Here's a look at his shot chart from the second half, courtesy of ESPN.com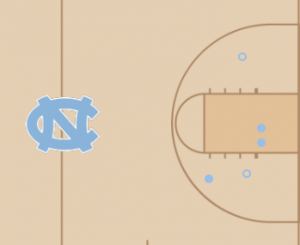 Woods, however, struggled holding on to the ball Sunday (five turnovers, 39.2 percent turnover rate), which has been a problem all season. The rookie has played 111 minutes so far; he currently ranks third on UNC in turnovers (16). Woods is also No. 1 on the team in terms of turnover rate: 36 percent.
Shooting has been an issue for Woods, too, who is just 5-of-18 from the field (27.8 percent); he presently has a true shooting rate under 48 percent, which is suboptimal to say the least. According to Ken Pomeroy, Woods has an offensive rating of just under 84 this season — a below-average number. He did, however, look confident leading the offense against the Highlanders, including this excellent splitting of the double team for a layup:
Again, all of this comes with the caveat that Berry won't miss much game time — or any at all; UNC plays Kentucky in Las Vegas two Saturdays from now, and the Tar Heels will need a healthy Berry to keep pace with the Wildcats. With Berry on the mend, it shouldn't be a surprise to see trusty veteran Nate Britt get more possessions running the offense.
Britt has played more than 2,000 minutes in a Tar Heel uniform and spent good chunks of that at the point guard position. However, according to KenPom, none of North Carolina's most used lineups this season have featured Britt as the lone, lead ball-handler. That could change here in the short term, though.
ESPN's Andy Katz tweeted out Monday morning that Roy Williams is "not real positive" about Joel Berry playing against Davidson.
UNC's Roy Williams joined us on Courtside podcast today and he said he's not real positive on Joel Berry… https://t.co/S1678BcSPK

— Andy Katz (@ESPNAndyKatz) December 5, 2016
The Tar Heels are already down another key rotation player — wing Theo Pinson, who is six weeks into his recovery from a fracture in his right foot. Williams mentioned to Katz, too, that Pinson has another 2-4 weeks of rehab on his horizon.
Going forward, North Carolina will likely have to lean even more heavily on its interior game, which has powered the Heels to become the only team that currently ranks top five nationally in terms of both adjusted offensive and defensive efficiency.