North Carolina doesn't have to open the 2017 football season like the Tar Heels did in 2016. There will be no neutral site contest against an SEC foe; however, UNC's first few weeks of football are anything but a cakewalk.
Before the second week of October, UNC will play five game against Power Five programs.
Junior defensive end Malik Carney and North Carolina's defense will have to get stops and make plays to help support an offense that's breaking in a bunch of new players.
Bringer of Havoc
Carney showcased his ability to be a destructive force as a redshirt sophomore in 2016. He was one of just 31 players in the ACC last season to record a sack and force a fumble in the same game.
Those two events actually occurred on the same play, too, which came in UNC's October road win at Miami. Carney's forced fumble on a strip-sack of Brad Kaaya thwarted Miami's last chance at a comeback.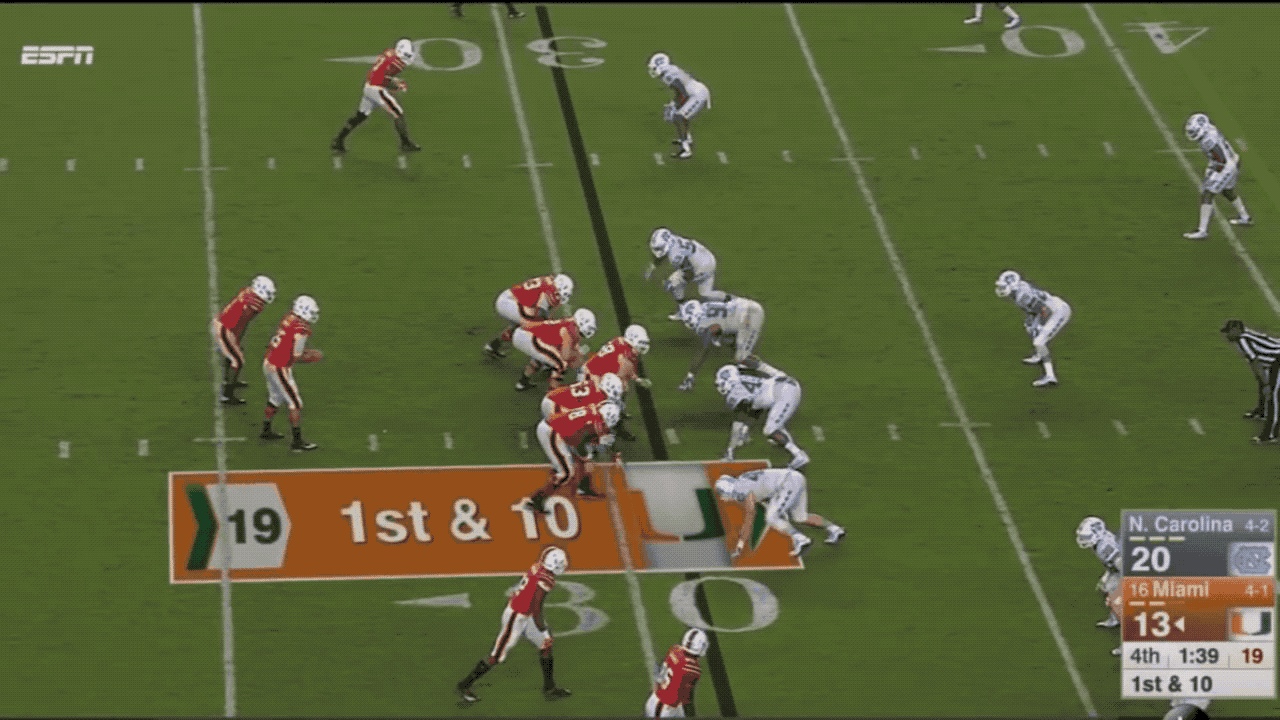 Only 33 ACC players in 2016 forced multiple fumbles; Carney, M.J. Stewart and Cayson Collins were the lone three Tar Heels to hit that benchmark, too.
The outstanding Football Study Hall has a useful statistic that measures the percent of plays a defense records a tackle for loss, defends a pass or forces a fumble. It's called Havoc Rate.
According to Football Study Hall, North Carolina's linebackers and defensive backs posted far below average Havoc Rates in 2016 — both ranked outside the top 100 nationally.
However, UNC's defensive line posted a Havoc Rate of 5.1 percent; that was good for No. 56 in the nation. Carney and Nazair Jones — now a member of the Seattle Seahawks — were the two main drivers of this force.
A negative can be a positive
North Carolina's defense was decent a season ago at limiting big passing plays. Per Football Study Hall, opponents scored 1.43 isolated points per pass play — No. 43 nationally. One of the ways to stymie a pass play: sack the quarterback.
Carney didn't have the gaudy sack numbers of Harold Landry, DeMarcus Walker or Bradley Chubb; he did, however, still manage to record a team-leading 5.5 sacks in 2016. The Alexandria, Va. product was one of only 26 ACC players to record more than five sacks last season.
According to cfbstats.com, Carney's 5.5 sacks resulted in a loss of 35 total yards for UNC's opponents.
Naz Jones led North Carolina with nine tackles for loss, but Carney was right on his tail with 8.5 TFL.
The Buzz Factor
Larry Fedora mentioned it in Charlotte at the ACC Kickoff: UNC plans to get more pressure off the edge on opposing quarterbacks. For that to happen, though, Malik Carney has to make the jump from impact player to every-down pass-rushing menace.
A lot of folks are starting to believe the former 3-star recruit can do just that, too.
Who'll be the breakout stars of the ACC this year? Taking a few educated guesses… pic.twitter.com/MOqq9uijKn

— David Hale (@DavidHaleESPN) July 17, 2017
North Carolina hasn't had a player collect double-digit sacks since Kareem Martin in 2013. In fact, Martin is the only individual Tar Heel to record more than seven sacks in one season since Fedora took over.
If we can expect a more aggressive defense under new coordinator John Papuchis in Chapel Hill this fall, then Carney looks to be one of the primary beneficiaries.
Big things could be on the horizon for Malik Carney.
Read More
Can we expect Brandon Robinson to contribute more next season?