We are still in the honeymoon phase of the marriage between Kevin Keatts, NC State and the fanbase. Stuff won't get real until the 2017-18 season starts.
Of this group of stakeholders, no one should be more excited about the arrival of Keatts than Abdul-Malik Abu. The senior has the opportunity to lead the conference in a valuable metic: field-goal percentage.
Here's why…
Keep it rolling
UNC Wilmington was one of the best offenses in the nation this past season; the Seahawks ranked No. 19 in the nation in offensive efficiency, per KenPom.com. Wilmington accomplished that by running a spread four-around-one offense, which we've previously discussed in this space. The big man in this system was sophomore Devontae Cacok.
Cacok was simply incredible throughout the 2016-17 season. The 6-7 center became just the 10th Division I player in the last 25 years to shoot above 70 percent on two-point field goals (minimum of 200 attempts). Overall, Cacok shot a ridiculous 80 percent from the field; he's the only player in the last 25 years to hit that benchmark.
That doesn't happen with magic; it's a combination of talent, teamwork and scheme. Here's a breakdown of how Cacok achieved this absurd level of production.
| Play type | Possessions | Points per possession | FG% |
| --- | --- | --- | --- |
| Pick-and-roll | 63 | 1.68 | 87.3% |
| Post-up | 40 | 1.08 | 61.5% |
| Transition | 67 | 1.64 | 88.1% |
*Data courtesy of Synergy Sports
Wilmington's offense obviously produced a lot of high-percentage looks for Cacok right at the basket. Pick-and-roll action was especially potent.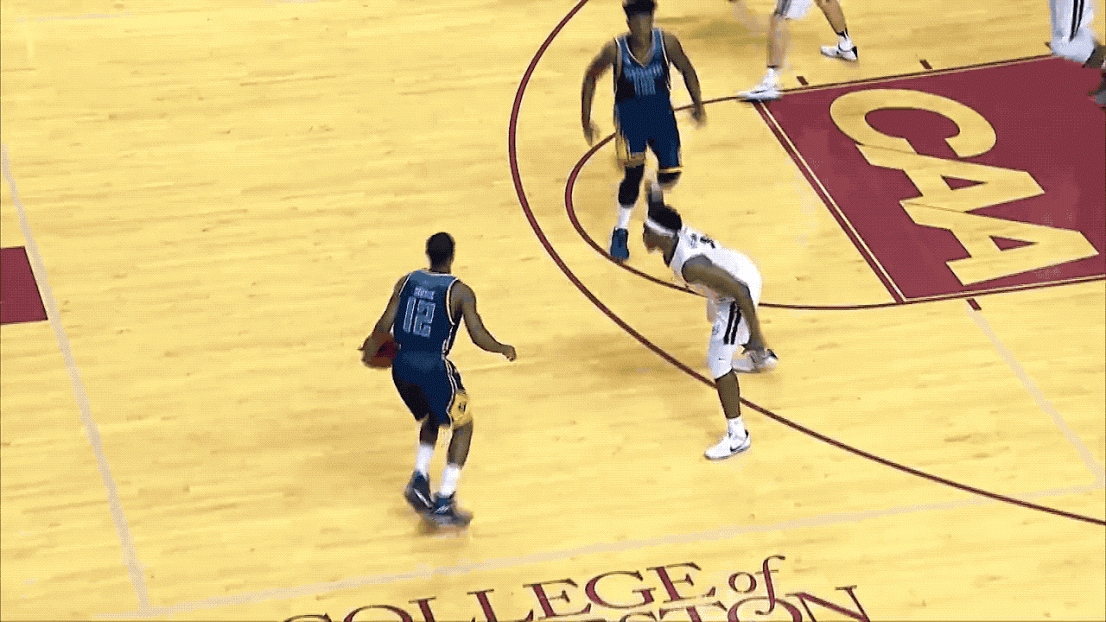 This should have Abdul-Malik Abu licking his chops.
Can this happen in Raleigh, too?
Well, no, not really. But that's not the point. Look, it's not possible to replicate that type of accuracy in the ACC. The competition is way too good; it's a safe bet to assume Abu will miss more than one out of every five shots.
However, he has a skill set that could truly benefit from Keatts' uptempo spread style of play. Abu is a bouncy big man who likes to get up and down the floor and finish above the rim. According to Synergy Sports, he scored 1.55 points per possession on 88.2 percent shooting this past season. In the half court, those numbers dipped: 0.93 points per possession, 50.7 percent shooting.
That's not all that surprising; most players are more efficient in transition — it's easier to score against a defense that isn't yet set.
Abu has some sizzle in the pick-and-roll, too, and that's something State should focus on. I thought he and Dennis Smith Jr. should've discovered better chemistry in this action, but it just wasn't to be. Regardless, Abu shot 52.1 percent as a roll man, which isn't too far off the wizard that is Bonzie Colson (53.9 FG%), per Synergy.
Taking a little bit better care of the ball would go a long way as well. Abu turned it over more than 10 percent of these possessions.
He will get more chances; that's for sure. The Seahawks were one of just 50 Division I teams to use at least 130 possessions via a roll man.
There are some limitations
There's a pretty serious lack of range shooting on this year's NC State roster. The departure of Maverick Rowan stings here, especially.
Thanks to dual transfers Devon Daniels and C.J. Bryce, reinforcements are en route, but the Wolfpack will have to wait a year for their service. Unless Markell Johnson makes serious strides with his jumper, a lot will fall on the shoulders of Al Freeman, Torin Dorn and Sam Hunt.
Additionally, NC State's most talented five-man lineup will include center Omer Yurtseven, who will return to Raleigh for his sophomore season. The only problem with that: With two traditional bigs who can't really shoot, it's not possible to play a true spread offense.
Yurtseven was billed as a big man who could operate around the elbows, which should theoretically open some space around the hoop. But we didn't see much of that last season, and unless he turns into Marc Gasol, the difference is marginal.
Dorn spent time as the Pack's stretch 4 last season, but the results were mixed; defense was a serious concern here, too. Keatts will likely have to roll with two bigs as much as possible. Although, a lineup of freshman LaVar Batts, Johnson, Freeman, Dorn and Abu could be very dangerous on offense.
If NC State can stay above water defensively with that group, Abu has the chance to cause serious havoc around the hoop.
Read More