In an age where basketball teams have become increasingly reliant on three-point shooting, North Carolina continues to zig when others zag. For the last three seasons, the Tar Heels have built offenses that have ranked in the top 12 nationally in terms of adjusted efficiency, and they've done so by using their size to dominate the glass and make a large volume of high-percentage field goals.
On Sunday against Tennessee, this was once again on display as UNC roared back from a 15-point first-half deficit to defeat the Volunteers in Chapel Hill.
Tennessee shot 12 percent better from the field than UNC; the Tar Heels made just two of 17 shots (11.8 percent) from beyond the arc. North Carolina posted a lowly effective field-goal rate of just 41.1 percent. Despite all of the shooting woes, UNC came away victorious and managed to score one point per possession. This was possible because the Heels pulled down offensive rebounds at a prodigious rate, grabbing 22 offensive rebounds. Per Sports-Reference.com, they snagged better than 46 percent of the available offensive boards.
Freshman Tony Bradley, who continues to shine, will draw a lot of headlines for his game-altering block right before time expired. However, his mastery of the offensive glass crushed Tennessee. Bradley recorded his third double-double of the season — 10 points, 10 rebounds. Seven of his rebounds came on the offensive end of the floor — an offensive rebounding rate of 34.1 percent. That is not a typo.
According to Ken Pomeroy, Bradley ranks No. 1 in the nation in offensive rebounding rate. The Tar Heels have three players — Bradley, Kennedy Meeks and Luke Maye — with offensive rebounding rates above 15 percent. (Isaiah Hicks isn't too shabby in this regard, either.)
Meeks, of course, logged a critical offensive board following a missed three by Kenny Williams with 10 seconds left in the game. Here's a look at the team's shot chart, per ESPN.com, from the Tennessee game. The filled-in circles represent made field goals; look at the density of their makes right at the rim.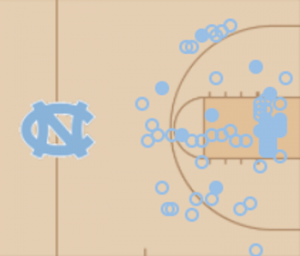 For the season, North Carolina has collected 177 offensive rebounds — second-most in the nation. In only 11 games this season, UNC has outrebounded its opponents by 163 (14.8 per game). Partially because of this, the Tar Heels have attempted 509 two-point field goals (most in the nation) and 101 more than their opponents (408).
North Carolina ranks eighth in the country in terms of adjusted offensive efficiency (117.4 points per 100 possessions). Over half (55.8 percent) of its total points have came on two-point field goals. Williams (44.1 percent on three-pointers) and Justin Jackson have flashed improved shooting strokes this season from distance, but UNC has made just 74 three-pointers, which accounts for less than 23 percent of its total offense. The Kentucky Wildcats, who Carolina plays this Saturday, are the only other team in KenPom's top 10 offenses to get less than a quarter of its total points from beyond the arc.
The Tar Heels are playing fast and avoiding turnovers, which is critical (they had just 10 against Tennessee). This, along with their rebounding, allows them to remain an efficient unit on the offensive side of the floor.
When Joel Berry returns to the lineup, things will smooth out, too. Lanes will widen, and perimeter shooting will tick up accordingly. North Carolina won't be so dependent on playing volleyball on the glass to get buckets. That said, it's been an effective strategy for the Heels recently, and it nearly won them a championship last season.
It's important to note, though, that Meeks and Hicks are seniors and will be out of eligibility soon. Bradley hasn't landed on everyone's mock draft just yet, but if he keeps playing like this, that's bound to change. This type of offense works when you have elite post players, but it may not be sustainable for UNC beyond this season.