This past weekend was a good reminder that Clemson is absolutely the toast of the town/ACC; the Tigers have extraordinary talent on both sides of the ball and more margin for error. It's not impossible to take down Clemson, but so many things must go right to generate that type of upset.
Without further ado, let's just on this week's ACC Football Power Rankings.
No. 1 Clemson
As it exciting as it was to have a top-10 matchup between Clemson and Miami to discuss last week, we all knew what would happen, right?
The Tigers looked as dominant as ever with a 42-17 blowout win over the Hurricanes. Trevor Lawrence threw for 292 yards (70.1 percent completion rate), three touchdowns and zero interceptions; two of Lawrence's scoring strikes went to tight end Braden Galloway, who has come on as a receiving threat in 2020.
Trevor Lawrence just doing what other QBs can't

— PFF College (@PFF_College) October 11, 2020
Lawrence ran for a touchdown, too, the 14th rushing score of his illustrious career.
Speaking of ground game, though, Travis Etienne did that thing again when he rushes for 100+ yards on less than 20 carries: 17 carries, 149 yards and two touchdowns.
Etienne now has 19 career games of 100 or more rushing yards; on only two occasions has he carried the ball more than 20 times in a single game.
Next game: at Georgia Tech, Saturday (10/17), 12:00 p.m.
Record: 4-0
No. 2 Notre Dame
After nearly a month off from game action, Notre Dame returned to the field last Saturday; the Irish ran all over (literally) Florida State, 42-26. With Kyren Williams and Chris Tyree leading the way, Notre Dame rushed for 353 yards and four touchdowns.
Going back to the 2000 season, Florida State's defense has allowed only three opponent performances of 350+ rushing yards. The last time it happened was during the 2018 season — again to Notre Dame (365 rushing yards).
Williams now ranks third in the ACC with just under 120 rushing yards per game.
Your weekly reminder that Kyren Williams is a STAR ⭐️ @NDFootball | @Kyrenwilliams23 pic.twitter.com/zH82agP5GU

— ACC Football (@ACCFootball) October 11, 2020
Through the first three games, the Irish are averaging 6.3 yards per carry — with 12 rushing touchdowns.
Next game: Louisville, Saturday (10/17), 2:30 p.m.
Record: 3-0
No. 3 North Carolina
North Carolina's high-powered offense was on full display Saturday. UNC ran for 399 yards (9.3 yards per carry) and five touchdowns; Michael Carter and Javonte Williams both went nuts. Carter carried 17 times for 214 yards and two touchdowns. Williams ran for 169 yards and two touchdowns, too; he also caught three passes for 55 yards.
#UNC 656 yards on 66 snaps, 9.9 per. Second-most yards ever yielded by #Hokies. Alabama's 833 in '73 the record.

— David Teel (@ByDavidTeel) October 10, 2020
Carter and Williams combined for 453 all-purpose yards — of UNC's 656 total yards — on 41 touches: over 11 yards per touch.
The 56 points UNC hung on Virginia Tech are the most the Hokies have allowed in a game since 2002 (Miami).
Next game: at Florida State, Saturday (10/17), 7:30 p.m.
Record: 3-0
No. 4 Miami
Well, Saturday didn't go as hoped for the Canes; however, Miami is still in an excellent position. The Hurricanes are 3-1 with two winnable home games next on the docket: Pitt (10/17), which has seen its defense regress slightly in recent weeks, and UVA (10/24).
Next game: Pitt, Saturday (10/17), 12:00 p.m.
Record: 3-1
No. 5 Virginia Tech
Down 42-17 on the road, with seven minutes to play in the third quarter, Virginia Tech could've just thrown in the towel. However, the Hokies — led by quarterback Hendon Hooker, who subbed for Braxton Burmeister — ripped off 20 unanswered points before the fourth quarter even started.
#Hokies offense Saturday, by quarterback:

Braxton Burmeister: 36 plays, 186 yards, 5.17 yards per snap, 14 points.

Hendon Hooker: 41 plays, 309 yards, 7.54 yards per snap, 31 points.

— David Teel (@ByDavidTeel) October 12, 2020
Hooker accounted for three touchdowns — two through the air, one on the ground. Going forward, it appears as if Hooker has reclaimed the starting QB gig in Blacksburg.
Incumbent QB1 Hendon Hooker sparked offense with 31 second-half points. https://t.co/nbCNVuyyV1

— David Teel (@ByDavidTeel) October 11, 2020
Next game: Boston College, Saturday (10/17), 8:00 p.m.
Record: 2-1
No. 6 NC State
Devin Leary cooled after a hot start, but NC State put together a fairly complete performance while victorious against Virginia on Saturday, 38-21.
Consecutive road wins over Pitt and Virginia are nothing to sneeze at; this two-game streak marks just the third time since 1970 that NC State has won a conference road game in back-to-back weeks.
That was only the third time since 1970 that NC State has won an ACC road game in back-to-back weeks pic.twitter.com/M9GtobPCe0

— Joe Giglio (@jwgiglio) October 11, 2020
Also: freshman receiver Porter Rooks continues to come on strong for the Pack — with several acrobatic efforts against Virginia.
Next game: Duke, Saturday (10/17), 3:30 p.m.
Record: 3-1
No. 7 Pittsburgh
While dominating defensively during a 3-0 start — 363 combined passing yards allowed against Austin Peay, Syracuse and Louisville (34 tackles for loss) — Pitt's been carved up in each of the last two weeks.
On Saturday, Pitt allowed 358 yards through the air in a wacky overtime loss to Boston College.
After Alex Kessman nailed a career-long 58-yard field goal to force OT, he missed the game-tying extra point.

(via @accnetwork) pic.twitter.com/ox8EKDrN3W

— ESPN College Football (@ESPNCFB) October 11, 2020
Next game: at Miami, Saturday (10/17), 12:00 p.m.
Record: 3-2
No. 8 Boston College
New coach, new offense, new quarterback: the early returns on the partnership of Jeff Hafley and Phil Jurkovec are rather encouraging.
Boston College looks chemically different on offense; Jurkovec now has three games of 300+ passing yards. Going back to the 2000, only two other BC quarterbacks have posted at least three games of 300+ passing yards in the same season: Matt Ryan (twice) and Chase Rettig (2012). Obviously, Ryan's charmed 2007 season stands out as an outlier with nine games of 300 or more passing yards.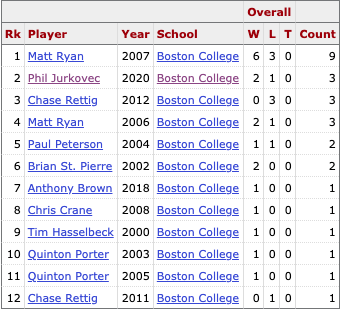 Working against UNC and Pitt, Jurkovec threw for a combined 671 passing yards (7.4 yards per attempt) and five touchdowns — to zero interceptions.
Phil Jurkovec out here reaching milestones no other BC quarterback has achieved in his first four games played or started. pic.twitter.com/W3m3J92545

— Brendan Flynn (@BFlynn35) October 11, 2020
Next game: at Virginia Tech, Saturday (10/17), 8:00 p.m.
Record: 3-1
No. 9 Virginia
Virginia was uncharacteristically sloppy against NC State: four turnovers (-3 on the margin) and just four conversions on 18 3rd down plays (22.2 percent).
Before he left the game with an injury, quarterback Brennan Armstrong (concussion) tossed two interceptions. Backup Lindell Stone — styling in his No. 36 uniform — did some nice things in relief, though.
Lindell Stone with the most pass attempts in a game for a UVA QB in over 3 years.

Raise your hand if you had that prop bet.

— Danny Neckel (@DNeckel19) October 10, 2020
Next game: at Wake Forest, Saturday (10/17), 4:00 p.m.
Record: 1-2
No. 10 Louisville
A once promising season is starting to look wobbly for Louisville. The Cards, now 1-3, won't have an open weekend until the middle of November. Between now and then, Louisville will also have road dates with Notre Dame (10/17) and Virginia (10/31).
Next game: at Notre Dame, Saturday (10/17), 2:30 p.m.
Record: 1-3
No. 11 Georgia Tech
What a response from Georgia Tech last Friday: following the loss to Syracuse, the Yellow Jackets went for a 19-point victory over a talented Louisville squad.
Jeff Sims posted the first interception-free game of his young career, while accounting for three touchdowns, including a 19-yard connection with Jahmyr Gibbs, another rookie dynamo, that proved to be the game-winner.
Only 5 @GeorgiaTechFB players have had a rushing and receiving TD in the same game at least twice in their careers, the last being Kelly Campbell ('98-01).

Jahmyr Gibbs already has two… in his first 3 games. 😳 pic.twitter.com/z4N8MdIrcd

— Andy Demetra 😷+🗳 (@AndyDemetra) October 10, 2020
Gibbs is ridiculous; one of the league's more-hyped newcomers hasn't disappointed. The freshman back has five total touchdowns — at least one in every game, so far. Gibbs has posted 120+ all-purpose yards in all three games he's played in this season, too.
Next game: Clemson, Saturday (10/17), 12:00 p.m.
Record: 2-2
No. 12 Wake Forest
Wake Forest has played just one game since Sept. 20. By the time Wake Forest meets up with Virginia, the Demon Deacons will have will have 15 days off to prepare.
Can Dave Clawson get his first ACC win of 2020?
Next game: Virginia, Saturday (10/17), 4:00 p.m.
Record: 1-2
No. 13 Duke
Duke lost the turnover margin to Syracuse (-4), but the Blue Devils still managed to win by more than two touchdowns. That doesn't happen often — to be clear.
With 645 total yards, the win marked just the fifth time since the 2000 season that Duke's offense eclipsed 620+ total yards in a game.
Next game: at NC State, Saturday (10/17), 3:30 p.m.
Record: 1-4
No. 14 Syracuse
Syracuse, wyd?
ACC Opening Lines

NC State -4.5 vs Duke
UNC -8.5 @ FSU
UVA -2.5 @ Wake
Clemson -27 @ GT
Miami -10 vs Pitt
Notre Dame -14 vs Louisville
VT -10.5 vs BC
Liberty -2 @ Syracuse

— SportsChannel8 (@SportsChannel8) October 11, 2020
Next game: Liberty, Saturday (10/17), 12:30 p.m.
Record: 1-3
No. 15 Florida State
Florida State's run defense has been hammered all the season. During the first four games, FSU has allowed over 5.5 yards per carry and 194 rushing yards per game. Opponent are averaging just shy of 6.9 yards per carry on first down, including four carries of 20 or more yards.
Newsflash: this isn't optimal for a team that's staring down a matchup with Javonte Williams and Michael Carter.
Next game: North Carolina, Saturday (10/17), 7:30 p.m.
Record: 1-3
Contributor Rankings
| | Brian Geisinger | Josh Graham | Consensus |
| --- | --- | --- | --- |
| 1 | Clemson | Clemson | Clemson |
| 2 | Notre Dame | Notre Dame | Notre Dame |
| 3 | North Carolina | North Carolina | North Carolina |
| 4 | Miami | Miami | Miami |
| 5 | Virginia Tech | Virginia Tech | Virginia Tech |
| 6 | NC State | NC State | NC State |
| 7 | Pitt | Boston College | Pitt |
| 8 | Boston College | Pitt | Boston College |
| 9 | Virginia | Georgia Tech | Virginia |
| 10 | Louisville | Virginia | Louisville |
| 11 | Wake Forest | Louisville | Georgia Tech |
| 12 | Georgia Tech | Wake Forest | Wake Forest |
| 13 | Duke | Duke | Duke |
| 14 | Florida State | Syracuse | Syracuse |
| 15 | Syracuse | Florida State | Florida State |
Read More on ACC Football