Tony Bennett is entering his eighth season as head coach at Virginia. He's quickly built the Cavaliers into annual contenders, thanks primarily to a powerful defense backed by an efficient offense.
In four of Bennett's previous seven seasons, Virginia has ranked inside the top 10 in terms of defensive efficiency, according to Ken Pomeroy. Since 2011-12, the Cavaliers have yet to allow more than 90.2 points per 100 possessions in a single season, and they've posted a top 25 defense in each of the last five years.
This season, UVA will have a new player anchoring the back end of its now famed Pack Line defense: Austin Nichols, the 6-10 transfer from Memphis who is eligible to play after sitting out last season.
Nichols is one of the best rim protectors in the nation, which will give Virginia something it has never really had before under Bennett. During his sophomore season at Memphis (2014-15), Nichols rejected 3.4 shots per game (third in the nation) and posted a block rate of 12.5 percent (No. 8 nationally). This means that when Nichols was on the floor for Memphis, he blocked one out of every eight opponent two-point field goal attempts. For comparison: Clemson's Landry Nnoko led the ACC in blocks last season (2.3 per game) and block rate (11.2 percent).
As Virginia has grown into one of the nation's premier defensive programs, it has done so without an elite deterrent at the rim. This isn't Kentucky or Louisville — two programs that frequently post potent defenses backed by long-limbed blue-chip recruits.
Last season, Isaiah Wilkins led the team in block rate, blocking five percent of opponent two-point field goals while on the court. That's great but pales in comparison to Nichols two years ago in the AAC.
In 2014-15, when Virginia ranked second in the nation in defense, Darion Atkins and Mike Tobey posted block rates of 5.8 and 4.8 percent, respectively. That season, those two players played right around 50 percent of Virginia's available minutes, according to KenPom. Since the 2009-10 season, Bennett has had just three players play at least 40 percent of the team's available minutes and record a block rate of at least six percent:
Assane Sene (2010-11): 6.7 percent
Justin Anderson (2012-13): 6.0 percent
Mike Tobey (2013-14): 7.0 percent
Bennett's Cavaliers run a man-to-man defense that was pioneered by his father, Dick. The Pack Line defense is a scheme designed to contain gaps (cutters, dribble penetration) and force teams into running multiple actions before taking contested jumpers. It involves four players being within a 16-foot arc of the rim; they face the ball, ready to play help defense, while one player applies ball pressure. In a typical man-to-man concept, secondary defenders, who are one pass away from the ball-handler, will push up on the man they're checking and deny passes. In this scheme, however, those defenders sink off their man, into the teeth of the pack.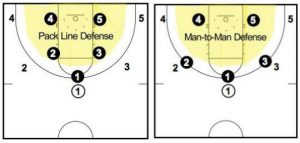 *Image courtesy of BasketballForCoaches.com
It takes a lot of smart defenders to make this strategy work, and effective communication is a requirement. This is why someone like Atkins — a great position defender — can star in this scheme.
As one could probably guess, this defense is somewhat susceptible to giving up open three-pointers, which is why defenders must talk and rotate with speed and precision. The five guys on the floor must move together on a string. It's essentially a defense that walls off the rim without actually needing a shot-blocker to do so.
The presence of Nichols isn't expected to change anything Virginia does conceptually on defense.
"I don't think we'll do anything differently," Wilkins said at ACC media day. "We'll still play the same defense that we've been playing. But if something does break down, we know that we have him and Jay Huff and Mamadi Diakite to kind of send some shots away and clean up some messes like we have my freshman year."
It's quite obvious that what UVA does defensively is wildly effective on the college circuit. In the NBA, this would be tougher to implement — the arc is further from the hoop (more real estate to cover), and shooters are just too good. It's worth monitoring if the Cavaliers, who are being projected as the nation's top defense, get a little more aggressive trapping/blitzing pick-and-rolls or if they work harder to deny wing passes, knowing that Nichols is lurking behind the action to curtail easy buckets at the rim.
Virginia's defensive efficiency rankings under Tony Bennett:
2009-10: 93.6 (74th)
2010-11: 94.5 (75th)
2011-12: 86.5 (5th)
2012-13: 90.2 (23rd)
2013-14: 87.7 (4th)
2014-15: 83.5 (2nd)
2015-16: 89.9 (7th)