Six ACC basketball teams took the court Tuesday night — hightlighted by No. 5 Duke's prime time victory over No. 21 Florida. There were several individual standout performances, which we will share in this space.
Something Old, Something New, Something True
Mike Krzyzewski played just eight players in Duke's win over Florida; two of those players — Chase Jeter and Marques Bolden — spent a combined three minutes on the floor. The Blue Devils managed to score 84 points, and 75 of those came from just three players: Luke Kennard (29), Amile Jefferson (24) and Jayson Tatum (22).
Those 75 points came on just 42 combined field goal attempts. Do the quick math: that's 1.6 points per attempt. They were a combined 29-of-42 from the field, which translates to a 69 percent shooting clip. The rest of the Blue Devils were a combined 3-of-19 (15.8 percent).
It's also neat that Kennard scored 29 points on 16 shots, but attempted just two free throws, and Tatum pumped in 22 points on just 12 attempts, despite not attempting a 3-pointer. This is possible when one player is lights out from beyond the arc (Kennard was 5-of-7 on threes), and the other gets to the line — Tatum was a perfect 8-for-8 on free throws.
Kennard now has a true shooting rate of 65.4 percent, which ranks 104th in the nation, according to Ken Pomeroy. Jefferson and Kennard have combined for 4.7 win shares this season, per Sports-Reference.com. There's a reason those two have entered their names into the discussion for player of the year.
Here's a look at Kennard's shot chart from last night, courtesy of ESPN.com: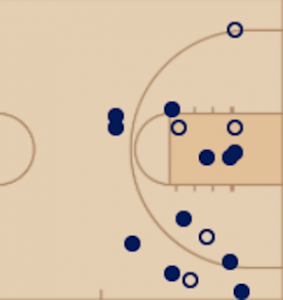 Grayson Allen was just 2-for-10 from the field for six points; it was the first time since last December against Utah — nearly a full calendar year — that Allen hasn't scored double figures in a game.
Bruce Brown messed around and got a triple-double
One of the best freshman basketball players in the ACC currently resides in Coral Gables. Bruce Brown had himself a game on Tuesday night — 11 points, 11 rebounds and 10 assists in a 36-point victory over South Carolina State. He became just the second Hurricane ever to record a triple-double. The last, and only other time, a Miami player cobbled together a triple-double was Anthony King back in 2004 against Florida Atlantic.
(On a slightly related note, I nominate that we just go ahead and rename the triple-double a "Westbrook.")
Brown is now averaging 10 points and 6.8 rebounds per game; he's also shooting 45.8 percent from the field, too.
Bonzie Colson-Bonzie Colson
There are currently five players in the ACC averaging a double-double. However, only one of those players has recorded a double-double in six-consecutive games: Notre Dame's Bonzie Colson, a favorite of ours at the ACC Analytics department.
The Fighting Irish cruised past Fort Wayne by 15 points this week; Colson led the way with 17 points, 14 rebounds and five assists. Here's a look at his stats the last six games: 16 points, 12.7 rebounds (four offensive boards), 2.3 assists and 1.2 blocks — while also shooting 40 percent on 3-pointers. Not too shabby, right?
Colson is now second in the ACC in both player efficiency rating (PER) — 33.9 — and win shares (2.3).
John Collins: The ACC's most efficient player
So Wake Forest's John Collins hasn't recorded six-straight double-doubles, like the aforementioned Colson, but he has put together four such performances in a row. Collins, who leads the ACC in PER (a ridiculous 41.1), went for 22 points and 15 rebounds in an easy win over Charlotte.
Oh, he had three blocks, too.
As a sophomore, Collins appears to have made a massive leap for Danny Manning. Over his last four games, here's what Collins has done: 17.5 points, 14.3 rebounds (which would rank No. 1 in the nation) and 1.8 blocks — while shooting 61.7 percent from the field. Wake has gone 3-1 during this stretch.