Dave Doeren's fourth season at NC State started strong with a 3-1 record through the first four games. But the last month of football has been rough for the Wolfpack, which hit a four-game losing streak.
That slide was bookended by two tough losses to Top 25 teams: at Clemson, then at home to Florida State. Doeren is now 0-8 against Top 25 teams since arriving in Raleigh.
In both of those games, NC State had the ball in the fourth quarter in a one-possession game with fewer than eight minutes remaining.
In Death Valley, the Wolfpack and Tigers were tied at 17 with just a little over a minute remaining in the game. On 2nd-and-7, Matt Dayes carried the ball for five yards, which put NC State on Clemson's 13-yard line. According to ESPN, the Wolfpack had a 90.2 percent chance of winning this game.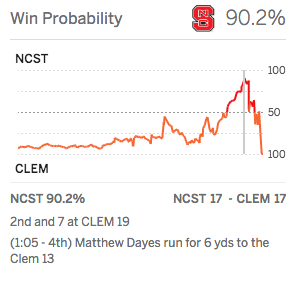 Three plays and two timeouts later, and we all know what happened: Kyle Bambard missed a game-winning 33-yard field goal. NC State would go on to lose in overtime. Three weeks later, against Florida State in Raleigh, NCSU had the Seminoles on the ropes. The height of the Pack's win probability in the fourth quarter, according to ESPN, came at the 7:22 mark.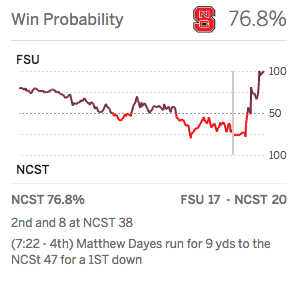 This drive, of course, stalled and NC State was forced to punt the ball back to the Seminoles. Even after Nyqwan Murray fair caught A.J. Cole's punt at Florida State's 17-yard line, the Wolfpack still had a 74 percent chance of winning. Three plays later, following two Deondre Francois completions — one to Kermit Whitfield, the other to Murray — FSU moved the ball to NC State's 19-yard line with 3:51 remaining in Carter-Finley. At this moment, Florida State had a 56.4 percent chance of victory; this was the first time since midway through the third quarter that the Seminoles were favored to win the game, based off ESPN's probability model.
Dave Doeren desperately needs a signature win; he came very close twice within the last four weeks, but ultimately the Pack came up just short. NC State will now have to win two of its remaining three games — Syracuse, Miami and UNC — just to become bowl eligible. If NC State is unable to do that, it will be a long offseason for Doeren.