Prior to the start of the 2018-19 college basketball season, the NCAA unveiled a new resource designed to help rank teams ahead of Selection Sunday and the NCAA Tournament: the NET rankings. (The NCAA Evaluation Tool.)
After two seasons of use, however, the NCAA has elected to alter the NET formula; the hope is to simplify the process. Of the metrics initial five factors, only two will remain: Team Value Index (TVI) and adjusted efficiency rating. TVI, according to the NCAA, "is a result-based feature that rewards teams for beating quality opponents."
The adjusted efficiency — net points per 100 possessions — is adjusted for a couple difference factors: location of game and opponent strength.
The changes will be put in place for the 2020-21 season.
🚨 NET CHANGES 🚨

The NCAA D1 MBB Committee is increasing the accuracy of the NCAA Evaluation Tool (NET) by reducing the five-component metric to just two.

MORE:
👉 https://t.co/FUuje73stZ pic.twitter.com/ZfGvi3eNvU

— NCAA March Madness (@marchmadness) May 11, 2020
NET will no longer take into account scoring margin, winning percentage and adjusted winning percentage, according to the NCAA. The NCAA will also update how it measures overall and out-of-conference strength of schedule.
The strength of schedule is based on rating every game on a team's schedule for how hard it would be for an NCAA tournament-caliber team to win. It considers opponent strength and site of each game, assigning each game a difficulty score. Aggregating these across all games results in an overall expected win percentage versus a team's schedule, which can be ranked to get a better measure of the strength of schedule.
During the first week of May, the NCAA rolled out the updated NET model for women's college basketball. The alterations to the men's NET model are consistent with those changes, too.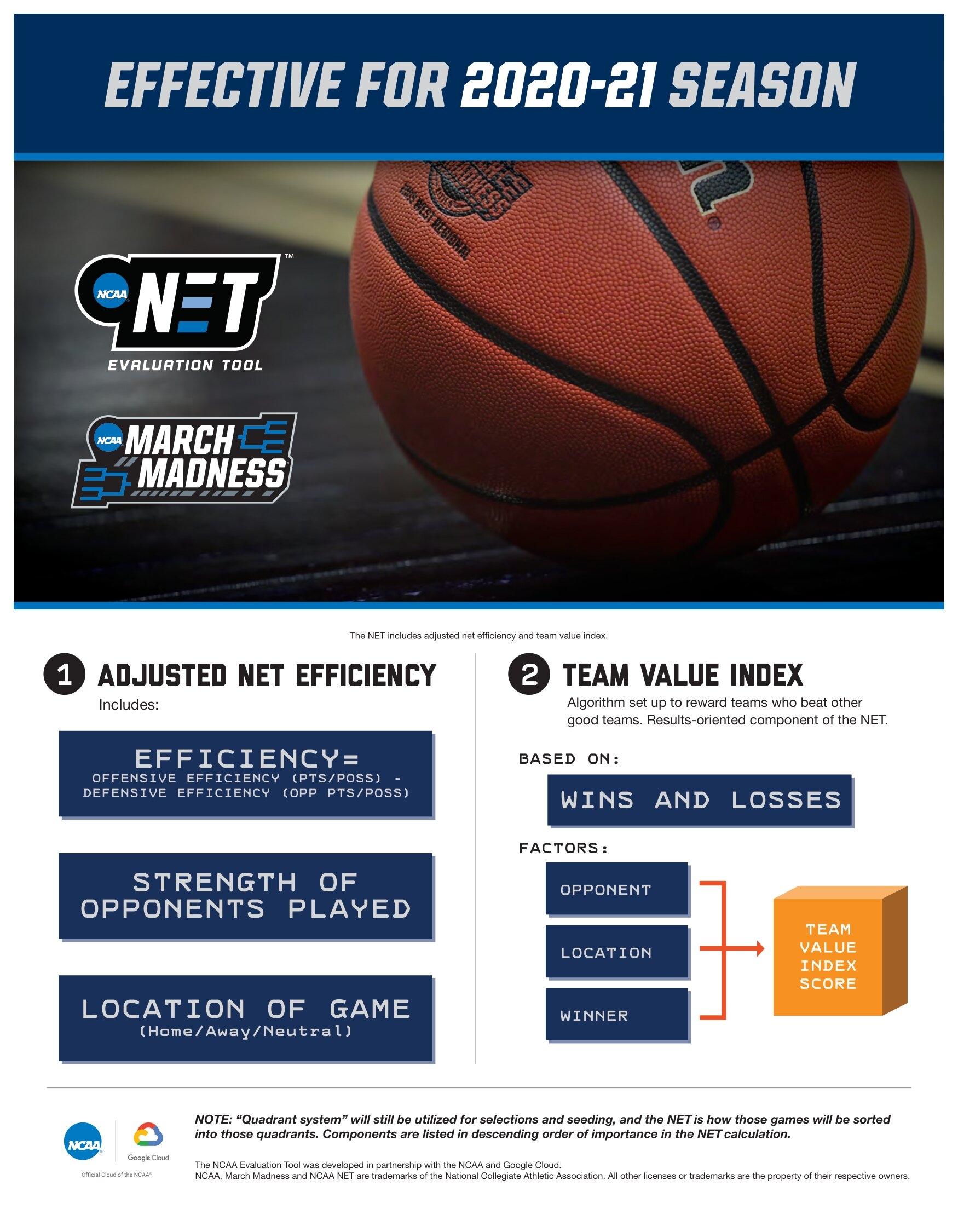 Read More on College Basketball
Carlik Jones, David Johnson form dyanmic duo in Louisville's backcourt