There are currently three undefeated teams in the ACC: Clemson, Virginia and Wake Forest. Beyond those three squads, you will find 11 teams that are either 2-1 or 1-2. With imbalanced schedules, it's not easy to sort this mess out; however, that's what we attempt to do in this week's ACC Football Power Rankings.
No. 1 Clemson
Clemson went on the road and — behind 395 passing yards from Trevor Lawrence — got the blowout win at Syracuse. It's the 18th straight win for the Tigers, which is a program record and the longest active streak in the FBS. That's also the second-longest winning streak in conference history; from 2012-14, Florida State won 29 straight games.
Trevor Lawrence and Tee Higgins doing Trevor Lawrence and Tee Higgins things. pic.twitter.com/wF7sfkzLMq

— Stadium (@Stadium) September 15, 2019
Lawrence has been a little turnover-prone so far in 2019, though; after throwing two more interceptions at Syracuse, he's up to five on the season. However, if you have Tee Higgins, just keep chucking the ball up there, right?
Up Next: Charlotte
No. 2 Virginia
After trailing for most of the fourth quarter, Virginia put together two marvelous drives — punctuated by Wayne Taulapapa touchdowns — a sensational two-point conversion and a defensive stand to win an epic contest against Florida State.
1995 all over again

— David Teel (@DavidTeelatDP) September 15, 2019
Bryce Perkins completed 75 percent of a career-high 40 pass attempts; however, his most brilliant piece of work came on a two-steppin' two-point conversion that won't be forgotten anytime soon in Charlottesville.
Even after this work of brilliance from Perkins and company, Virginia still needed one last defensive stop. FSU drove the length of the field, but UVA stuffed Cam Akers from four yards out and the celebration was on.
Up Next: Old Dominion
No. 3 Wake Forest
Wake Forest jumped out to a 21-0 lead last Friday against North Carolina; it looked like a blowout victory was in line for the Demon Deacons. However, Wake took the foot off the gas pedal, and UNC roared back — turning this into a nail-bitter in Winston-Salem.
Graham product Jamie Newman on this one. pic.twitter.com/8d9QdLTGbj

— Conor O'Neill (@ConorONeillWSJ) September 15, 2019
While the UNC contingent will gripe over a blown call on the final possession, all's well that ends well if you're a Wake Forest fan. This is clearly one of the top three teams in the ACC, at the moment.
Up Next: Elon
No. 4 North Carolina
With North Carolina's 2-1 start, the emergence of freshman quarterback Sam Howell has garnered plenty of the headlines. Obviously, though, there's enough of credit to share. This team's defense — while imperfect — has really taken a step forward.
It took about 18 minutes of football, but UNC's defense settled in at Wake Forest. Jay Bateman's crew, through three games, has given up 23 points (No. 7 in the ACC) and 398 yards per game (No. 9 in the ACC). Those are improvements over 2018, so far: 34.5 points and 447.6 yards per game.
Up Next: Appalachian State
No. 5 Miami
This was exactly what the doctor order for Miami. Early-season, one-possession defeats to Florida and UNC stung. And in the team's third game of the season, the Hurricanes celebrated their home opener with a 63-0 win over Bethune-Cookman.
DeeJay Dallas goes for 3 TDs and the Canes D pitches a shutout in big win over Bethune-Cookman!#ItsAllAboutTheU | #ACCFootball pic.twitter.com/ufuHAvEbOR

— ACC Football (@ACCFootball) September 14, 2019
Running back DeeJay Dallas continued his strong season, too, with three more rushing touchdowns. Dallas is tied with AJ Dillon for the ACC lead with four rushing touchdowns on the season. He's also second in the conference in yards per carry (8.4).
Up Next: Central Michigan
No. 6 Pittsburgh
During the 2018 season, Pittsburgh averaged nearly 228 rushing yards per game — third in the ACC. This season, that's down to 87.3 rushing yards per game, which is easily the worst in the conference.
Pitt had a chance to pull an upset on the road over a good Penn State team; however, an anemic offense and some rather questionable game-management decisions from Pat Narduzzi proved costly. This was a majorly blown opportunity.
Pitt's 18-play drive that ended in a field goal should be shown to all Big 12 teams like some sort of scared straight program.

— THE™️ David Hale (@ADavidHaleJoint) September 14, 2019
In this game alone, Pitt had three drives of 10 or more plays that produced a total of three points. The Panthers had four drives or nine or more plays that produced, again, a total of three points.
Up Next: No. 15 UCF
No. 7 Boston College
Welp. Boston College cost itself a chance at picking up a non-conference win over a Power Five opponent back on Friday — with 24-point loss at home to Les Miles and Kansas. It's probably not a good sign that over at BC Interruption — the Boston College SB nation site — that four of their top five stories involve flaming dumpsters as the header photo.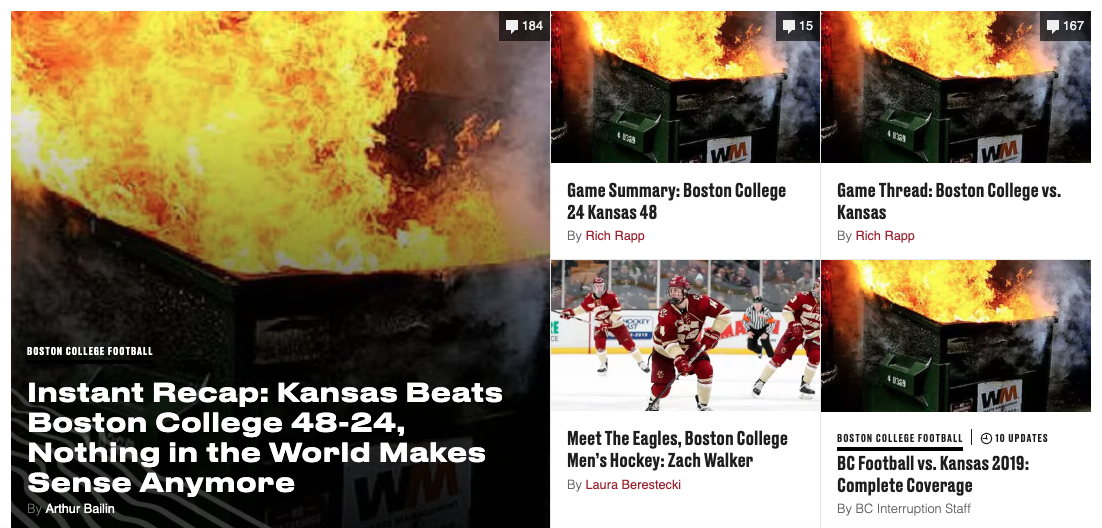 On defense, the Eagles were shredded — allowing 567 total yards.
However, once again, AJ Dillon was special. For the eighth time in his career (26 games), he ran for over 150 yards. Since Dillon arrived at BC for the 2017 season, only four players have more 150-yard rushing games in that window of time (2017-19), including Wisconsin star Jonathan Taylor.
Despite the loss, AJ Dillon was just doing AJ Dillon things against Kansas. pic.twitter.com/085luRsmuo

— PFF College (@PFF_College) September 16, 2019
Up Next: at Rutgers
No. 8 NC State
NC State missed a golden opportunity on the road, falling to a so-so West Virginia team in Morgantown on Saturday. The Wolfpack had all kinds of issues defensively stopping edge runs from the Mountaineers. Offensively, NC State avoid turning the ball over, but went just 5-of-17 on third-down conversion plays (29.4 percent). That isn't going to cut it.
If you're State, just empty it out. Get creative. There's a little too much wash-rinse-repeat to what they do.

— Joe Giglio (@jwgiglio) September 16, 2019
Up Next: Ball State
No. 9 Florida State
Florida State has held leads in all three of its game so far this season; however, the Seminoles sit at 1-2 following Saturday's disappointing loss at Virginia. It feels as though the wheels come off a little more each and every week for Willie Taggart, who caught some blowback for his comments regarding the play calling after the game.
Making matters worse, Florida State committed 10 penalties for 83 yards, including some crucial, boneheaded mistakes. Through three games, FSU has averaged 8.7 penalties committed — the worst in the ACC.
Marvin Wilson is pretty good at football, though.
Florida State DI Marvin Wilson, @PFF's top interior pass-rusher through three weeks, put on an absolute show against Virginia on Saturday.

Dude is special. pic.twitter.com/PolwpzymG6

— Austin Gayle (@PFF_AustinGayle) September 15, 2019
Up Next: Louisville
No. 10 Syracuse
Over the last two games — defeats to Maryland and Clemson — Syracuse has given up 104 points (-78 point differential) and allowed close to 1,300 yards of total offense. So, that's not great.
How are there still three minutes left in the third quarter? Feel like we've lived a thousand lives in the last 20 minutes.

— NunesMagician.com (@NunesMagician) September 15, 2019
Up Next: Western Michigan
No. 11 Duke
Duke continued to look sharp after a Week 1 defeat against No. 2 Alabama; the Blue Devils trounced Middle Tennessee State on the road to improve to 2-1.
Quentin Harris was super accurate — completing 24-of-27 pass attempts (88.9 percent) for 237 yards and four touchdowns. Two of those touchdown tosses went to wideout Aaron Young, including this gem of a grab in the second quarter.
After further review, it's a catch!

What. A. Touchdown. #GoDuke pic.twitter.com/h7ehDvE8MA

— Stadium (@Stadium) September 15, 2019
This was the first multi-touchdown game of Young's career.
Up Next: Bye Week (at Virginia Tech, 9/27, Friday)
No. 12 Virginia Tech
Man, there are weird vibes around this team right now, right? That's certainly how it feels, at least. After an awkward 2018 season, Virginia Tech is off to a 2-1 start; however, the Hokies trailed Furman at halftime and barely eked out a 24-17 home win.
Two more touchdowns for Tre Turner, who made up for a first quarter fumble.. He's very good.
Up Next: Bye Week (Duke, 9/27, Friday)
No. 13 Louisville
With Jawon Pass injured and out at quarterback, Malik Cunningham got the start for Louisville — the fourth of his career. In the absence of Pass, Louisville ran — 210 rushing yards on 51 carries — all over Western Kentucky.
Up Next: at Florida State
No. 14 Georgia Tech
After the 2018 season, Georgia Tech moved on from coach Paul Johnson and his option offense. On Saturday, the Yellow Jackets lost in overtime to the Citadel, which…runs the option.
— Ben Swain (@TheBenSwain) September 16, 2019
Up Next: Bye Week (at Temple 9/28)
Contributor Rankings
| | David Glenn | Brian Geisinger | Josh Graham | Consensus |
| --- | --- | --- | --- | --- |
| 1 | Clemson | Clemson | Clemson | Clemson |
| 2 | Virginia | Virginia | Virginia | Virginia |
| 3 | Wake Forest | Wake Forest | Wake Forest | Wake Forest |
| 4 | UNC | Miami | UNC | UNC |
| 5 | Miami | UNC | Syracuse | Miami |
| 6 | Pitt | Boston College | Miami | Pitt |
| 7 | Florida State | NC State | Boston College | Boston College |
| 8 | NC State | Florida State | Pitt | NC State |
| 9 | Duke | Pitt | Virginia Tech | Florida State |
| 10 | Louisville | Syracuse | NC State | Syracuse |
| 11 | Boston College | Duke | Duke | Duke |
| 12 | Virginia Tech | Virginia Tech | Florida State | Virginia Tech |
| 13 | Syracuse | Louisville | Louisville | Louisville |
| 14 | Georgia Tech | Georgia Tech | Georgia Tech | Georgia Tech |
Read More on ACC Football