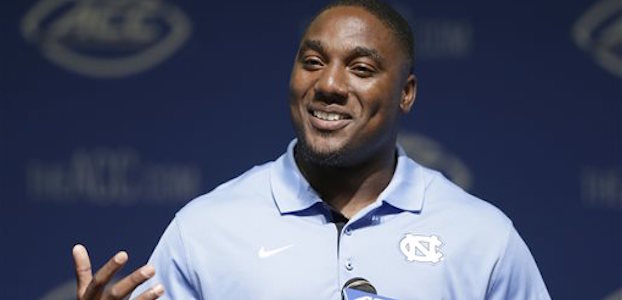 On the day he turned twenty-three ("the MJ year" they call it in Chapel Hill) and was named ACC Offensive Back of the Week for leading a record-breaking comeback win over Georgia Tech, UNC quarterback Marquise Williams joined The David Glenn Show by phone to talk about his performance.
Marquise spoke candidly on a number of topics.
-On fans wanting to see more playing time for Mitch Trubisky: "I never fault a fan because they want to see somebody win games. In the South Carolina game, I didn't get them the win. You have to win football games to keep the fans happy."
-On his meeting with Coach Fedora after being benched in favor of Mitch Trubisky: "Coach called me in on Sunday and said, 'Mitch did a great job but you're still my leader and you're still my starter. I need you to get back to how you were last year. I need you to go out there and play your game."
-On the impact of Gene Chizik on the program: "I remember the first meeting he came in. The defensive guys were like, 'Hey, Dad just walked in, so sit up and pay attention to every detail'
The interview also covered his touchdown catch against Georgia Tech, how he deals with wide receivers who think they can play quarterback, and UNC fan support. Listen to the full audio below.